Hal Hartley doesn't get to L.A. much, but he couldn't resist a great retrospective of his own work. Cinefamily will honor Hartley's contributions to indie cinema over the weekend with personal apperances from Hartley and a few of his stars, including Aubrey Plaza.
"Everyone I've spoken to says this is the place for my films to screen," Hartley told me.
The retrospective includes Hartley's feature films Henry Fool, Fay Grim, The Unbelievable Truth, Trust, Surviving Desire, Simple Men and The Book of Life.
Cinefamily's Fairfax theater will also run Hartley's latest feature Ned Rifle, featuring Plaza, Liam Aiken and Hartley stock players including Parker Posey, Martin Donovan and James Urbaniak. It's the third part a trilogy, which includes Henry Fool and Fay Grim, and his first new film in eight years.
Hartley helped usher in what we think of when we think independent cinema. Hartley's first film, The Unbelievable Truth, was nominated for the Grand Jury Prize at Sundance in 1990 and he remained a significant presence on the scene for the remainder of the decade.
Now, Hartley is pioneering a new frontier in indie films, indie financing and distribution. Ned Rifle was funded by Kickstarter and is already available online via Vimeo On Demand.
"After doing this for 25 years, I really know who my audience is," Hartley said. "I went to that fanbase first for Kickstarter for 30 days of very a intense publicity campaign."
Hartley has always been a little ahead of the curve when it came to digital distribution, setting up his own website to sell his films back in 2005.
"We were a little overenthusiastic about streaming," said Hartley. "The infrastructure wasn't there at the time."
But he was primed and interested when Vimeo approached him about taking on Ned Rifle.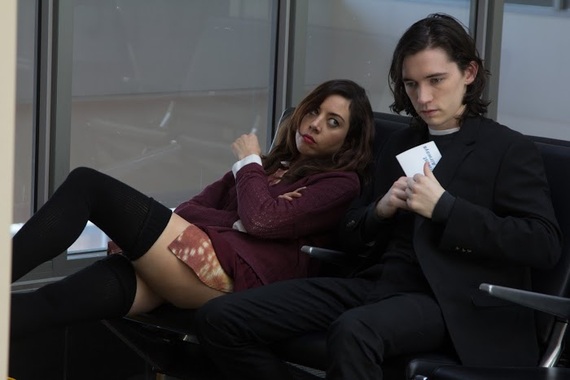 Ned Rifle, photo courtesey of Hal Hartley
"They approached me like they were distrubutors," he said. "It's kind of a clean business model."
Of course digital distribution does have its issues.
"A well-known festival invited the film but then they got back to me and said that if it was going to be on Vimeo On Demand it disqualified it because it wouldn't be a premiere in the territory," Hartley said. "I thought about it but went back to them and said my contract with Vimeo predates the invite."
Still, digital distribution is a process he can get on board with.
"It's work, but it's work I can do with fewer people," he said. "It's a lot of time in front of the computer, but it's not harder."