It's hard to miss: Pope Francis is a man with a mission - to bring his papacy "to the streets" and to comfort the "untouchables."
Last week he placed a sorely needed spotlight on the seemingly "untouchable" subject of human trafficking, bringing 100 experts in the field together to discuss actionable recommendations to tackle what the Vatican study group declared to be a crime against humanity that should be recognized as such and punished by international or regional courts.
Since Day 1 on the job, the Pope has had the victims of sex trafficking in his sights. In fact, his first trip in the papal role was to Lampedusa, an island between Sicily and Tunisia, a notorious destination for many victims of trafficking.
Less than two months after his election, he addressed the issue in a speech. He proclaimed human trafficking "a despicable activity, a disgrace for our societies, which describe themselves as civilized." Refugees, displaced and stateless people are particularly vulnerable to "the plague of human trafficking, which increasingly involves children subjected to the worst forms of exploitation." the Pope said.
There's more. In June, the Pontifical Council for the Pastoral Care of Migrants and Itinerant People published new guidelines for the Catholic Church on refugees and forcibly displaced persons, including recommendations on how to support trafficked persons. In Rome, the International Organization for Migration (IOM) is seeking ways to mobilize faith networks in strengthening the international response to trafficking.
Pope Francis has developed, in less than 12 months, an inspiring track record of words and deeds on this plague. The spotlight he has put on this issue has tremendous value to the legitimacy behind the discussion and momentum behind the movement. He is opening a critical discourse with people who may never have known that trafficking existed, let alone that it affected millions of people in a multi-billion dollar underground industry.
The Pope understands something that so many others do not. Human trafficking could easily overtake drugs and weapons trafficking to become the world's most lucrative criminal activity. It is is a 32 billion dollar industry, a core component of the economy of many countries. The root causes are cultural, economical, and frighteningly enmeshed into the society of countries across the globe. At the Somaly Mam Foundation, we see this in our work in Southeast Asia every day.
It's not hyperbole to refer to this as a "plague." And governments and civilians around the world do too little to prevent this crime from happening in the first place.
Each of us, as individuals, as communities, as government, has an obligation to protect and defend the most vulnerable of our fellow men and women.
We commend leaders like Francis for his commitment to harnessing civic and guide faith-based power to fight trafficking and for sharing his message of humanity with the world.
His commitment to this cause only reaffirms our mission of eradicating slavery and empowering its survivors as part of the solution. We stand at the ready to partner with Francis, to grow the awareness of this crime against humanity, and to take real and actionable steps toward ending this global crisis.
The Pope is leading as no Pope has ever done. He is clearly up to the challenge.
We must all be.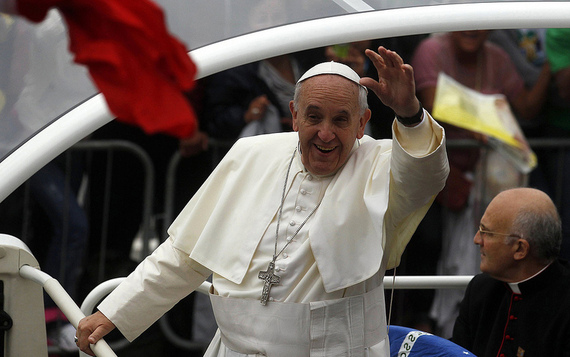 Pope Francis visits 2013 World Youth Day, Rio de Janeiro, Brazil | Credit Sumilla Luz on Flickr Creative Commons