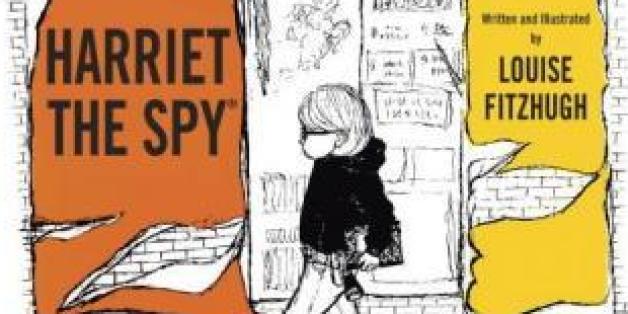 The following is excerpted from the article "Harriet and Me" in the May/June issue of The Horn Book Magazine:
Where to begin with how important Harriet the Spy has been in my life? I guess I'll have to start with my childhood. I was in fourth grade, at a school book fair. I'd forgotten to bring money that day, which was a problem because there was one book I was desperate to have. It had a bright orange cover with bold yellow type and a girl wearing glasses climbing all over it. And somehow I knew I was going to love it and I had to read it. AND IT WAS THE ONLY COPY AT THE FAIR. So I did what any right-thinking person would do under the circumstances: I hid it. Specifically, I put it at the bottom of a pile of very drippy-looking books (I'm guessing they were Winnie-the-Pooh; I detested Winnie-the-Pooh back then) and kept my fingers crossed that no one would find it and I could buy it the next day. Which I did. And Harriet has been a part of my life ever since.
Reading over this, it occurs to me that this is probably the sort of thing that Harriet herself would have done in a similar situation. And that in turn tells you why she's a character that's endured for so long. She's resourceful, quick, a little unscrupulous, and entirely recognizable. A real person, in other words. You might not like her (and I'm still not sure I do), but you know this girl.
That was the first time I remember Harriet being important to me. The second time came much later. I was a young assistant editor, starting out in children's books. I'd been promoted and assigned a mass market series to edit. It was a steady-selling series for the publisher, and I was excited to be working on something so substantial. Needless to say, I took my responsibilities very seriously. This manuscript was going to be IN PRINT, after all. It was going to be a book! It had to be good! The future of the nation's youth and the success of the series were resting on my shoulders alone! (I'm exaggerating just a bit, but I really did feel this way.) Unfortunately, the manuscript was about the worst thing I'd ever read. I couldn't even articulate why it was so awful, but it was complete dreck, and I had to fix it. Or at least make it readable and enjoyable enough to sell ten thousand copies. And I had absolutely no idea how to do this.
Okay, I said to myself. Think about some other books, books you love. What makes them so great? That's when I remembered Harriet. And I went back and read it--really read it, this time. I took it apart, technically. And that's when I began to understand how good it is. And even though the manuscript I was working on was a YA book and Harriet was a middle-grade novel, I learned things from Harriet about dialogue, structure, character, action, and pacing that I was able to apply, in a different way, to the problematic manuscript I had to edit. Harriet saved my bacon that time, and also made me think about books and reading and writing in a new way. It's actually ironic that Harriet helped me edit a conventional YA romance, because Harriet is the complete opposite of that; it is in fact a wildly subversive novel. Which of course only makes me love it more.
What's so revolutionary about it? Let's start with the fact that Harriet is not a nice little girl. She does illegal things, actually, when she spies. If she doesn't break into Mrs. Agatha K. Plumber's house, for instance, she comes pretty close. She writes terrible things about people--not just the people she spies on, but also her best friends. The thing is, she's not doing it because she's mean (although she certainly has her mean moments). She's doing it because she's honest and because she's compelled to do it. The note-taking is part of who she is, what she is training herself to be: a writer and observer. It's work, and she takes it very seriously. And her friends accept this about her, even after she hurts them with her observations about them. They know she can't change. Even when she's forced to apologize, she does it out of practical necessity, because she wants to keep her friends, not because she really means it. And then she goes back to doing exactly what she was doing before. She hasn't changed one bit, and her friends know it.