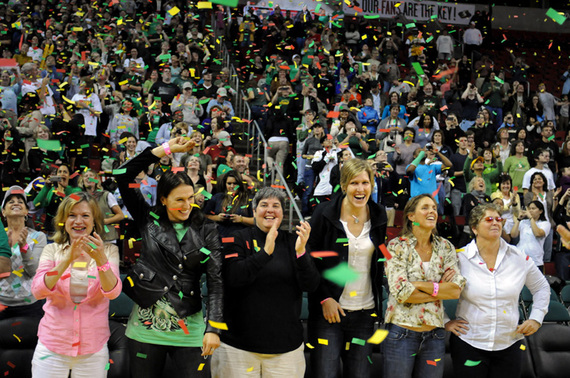 Force 10 Hoops - 2010 Storm Championship Celebration (Photo credit: Aaron Last/Storm Photography)
I had no idea what an adventure owning a professional sports franchise would turn out to be back in the early summer of 2007. Never in a thousand years would I have predicted I would want to do something like this, much less sign up to, or be granted the chance. Yet somehow, I teamed up with my current co-owners, Dawn Trudeau and Lisa Brummel, to attempt to purchase the Seattle Storm eight years ago, when it became abundantly clear that Clay Bennett, the then-new owner of the Seattle SuperSonics and the Storm, would be transforming our Emerald City into a professional basketball-free zone. It has definitely turned out to be one of the best decisions I've ever made.
I love to think back to my first conversation with Dawn, at one of the season's first Storm games back in June 2007, that got me started down this road. The Washington State legislature had definitively killed Sonics fans' lingering hopes that their beloved team would remain in the great Northwest. No knight in shining armor with buckets of gold would step in to meet both the NBA's and Clay Bennett's demand for a $500 million new arena. Not only were the Sonics doomed to head southeast to a distant state, but it seemed the Storm would follow, collateral damage that would add insult to injury.
I was a relatively new Storm fan, smitten when my family and I had attended the 2004 postseason run to the championship. Prior to that, I'd been a diehard baseball fan, thanks to my father who'd initiated me as a New York Yankees fan back in the early 1970s when the team was decidedly mediocre. I still remembered my favorite players, Thurman Munson and Bobby Mercer, and their autographed photos crowding my bulletin board when I was a tween. However, baseball's inability to deal with its steroid problem soured me on the game, and I sought solace at Key Arena. The Storm and the WNBA were a welcome change, from the pace of play to the wholesome characters of the players. As a parent of young kids, I couldn't resist the allure of the energy in the stands and on the court, the ticket prices, and the delight of my children seeing that women could play pro sports too.
I'd known Dawn for years by then, but not because I worked at Microsoft, as she had in its early days and seemed to know everyone who was anyone there. She and I served as board chair and co-chair, respectively of a local non-profit together, Seattle Girls School. We had gotten to know and trust each other then, working through the challenges that accompany start-up non-profits. I knew her well enough to know that if anyone would gird themselves to fight to keep the Storm in Seattle, she would.
From my seats (row 14, section 128, the same as today), I could see Dawn at her courtside location. I tried calling her on my cell phone, but in the din of the crowd's roar, she missed the ring. Because I wasn't a courtside ticket holder, I couldn't gain access to her seats. Finally, I got as close as I could, standing just beyond the entrance to the courtside seats, yelled her name and waved wildly, and she came to meet me.
We left the arena and stood outside in the hall together, leaning against the back wall, out of the foot traffic, where it was quieter. We chatted for a few minutes about the legislature's decision not to save the Sonics and Storm, but not long because there was a game on, after all. It seemed unbelievable that the Storm would follow the Sonics, not to mention a gloomy prospect. As we parted ways, I innocently offered: "Well, if you decide to do anything and you want some help, let me know."
Was I ever shocked a few weeks later, when I got the call. Game on!
The wheels starting turning early that summer. Dawn, Lisa, and I met at Microsoft during one lunch hour to explore our individual reasons for pursuing a purchase of the Storm. Turns out we were incredibly aligned: viewing the franchise as one of the city's gems, we wanted to keep the team in Seattle, honor the diehard fan base, help strengthen the league, which was just over a decade old at that point, and build the business into a profitable one. Nonetheless, we agreed the likelihood of prying the Storm out of Clay Bennett's clutches were low, so we didn't get our hopes up.
However, by year-end, we had successfully negotiated a deal. The rest, as they say, is history.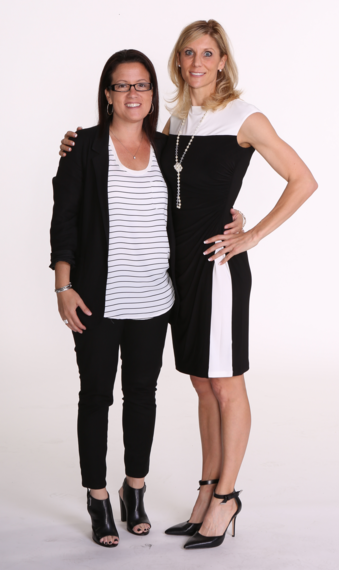 Alisha Valavanis and Jenny Boucek (Photo credit: Josh Huston/NBAE)
It's been an incredible ride. We have owned the team for seven years and are about to usher in the start of our eighth season as owners. We presided over the franchise's second championship, won in 2010 with a record-setting run to the final win, going 7-0 in the playoffs. We helped celebrate the organization's 10th and 15th anniversaries, and the storied and successful 15-year tenure of the team's first executive, Karen Bryant, which ended last year. We have now ushered in the Alisha Valavanis era, with high hopes and anticipation for all she will bring. We supported the franchise's extremely competent and competitive Brian Agler during his seven year reign as the team's head coach and now we are excited to witness the start of another era in Storm basketball history, the reign of our new, extremely competent and competitive head coach, Jenny Boucek. And, we will enjoy the exquisite pleasure this year of watching and cheering on our franchise player, Sue Bird, guide our newest No. 1 draft pick, Jewell Loyd, and a host of additional, top-notch younger players, as they step up to play at the highest level of women's basketball in the world.
It all starts this Saturday, June 6th, opening night of the Storm's 2015 season at Key Arena. Be there for the fun, the excitement, the community and the great basketball that will unfold on the court. What could be better than being in on the early stages of another championship run? Make no mistake about it; when it comes to women's pro basketball, the Seattle Storm means to make winning its business. Good things take time, but our franchise is determined to make it back on top. And the odds of that happening are a lot better than the odds of my becoming a professional sports franchise owner were ten years ago.