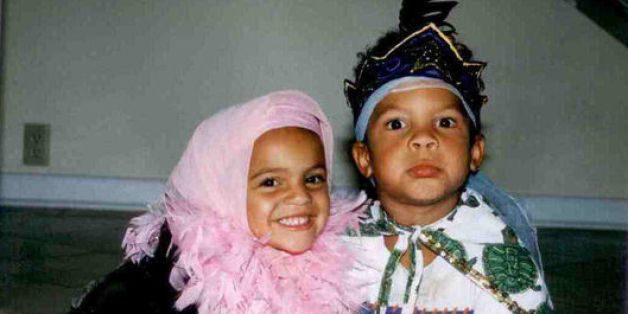 I confess that I don't know what all the fuss is about. I didn't back 25 years ago, when I started investigating the adoption process, and I sure as hell don't today, having raised two children virtually from birth who didn't enter our family via birth canal. Every time someone tells me how lucky my children are for having been adopted into my family, I want to gag. Instead, I politely tell them I'm the lucky one.
Clearly, they think they know what lucky is. After all, my kids grew up on Capitol Hill in Seattle, a safe and beautiful neighborhood. They attended good schools, played musical instruments and sports and had the opportunity to attend college. Their adoptive parents also subjected them to a divorce before they turned 10; they lost the close connection they'd enjoyed with their father since birth; they had to contend with a hard-a** mother who pushed them hard, struggled with a poisonous temper and broadcast her displeasure at full volume all too often. In fact, in high school, my son Max informed me that whenever I yelled, he and his siblings simply stopped listening. Sigh.
What about the luck of knowing your birthmother gave you away, before she even got to know you? Or the luck that she kept your older brother, but gave you away? How good would that make you feel, wondering -- as we humans are wont to do -- if it was something you did wrong, even at just a week old, when she signed those papers? Imagine living with that life-long question. No adoptive family in the world can answer the question of why you weren't lovable enough to be kept. Don't get me wrong; I'm not saying every adoptive child feels that way, but is that a lucky way to start life?
Any parent who adopts should count themselves as lucky, not their children. I will never forget holding chubby newborn Max and marveling that his birth mother was entrusting him to me, a perfect baby, with silky dark hair, piercing black eyes and chipmunk cheeks. That sunny March morning, I resolved to do my best by her, for him. When Sierra landed in our family less than 14 months later, I felt doubly blessed.
Sure, we've had countless scary moments and tear-my-hair-out, I'm-going-to-kill-that-kid times: When 3-year-old Max concocted a paste of peanut butter, oranges and honey and smeared it all over the kitchen floor; when 6-year-old Max employed an office chair to sled down the icy curve in front of our house during a winter snowstorm; when 10-year-old Max convinced 12-year-old big brother Gilder that duct-taping his arm to the side of his head was a good idea; when 13-year-old Max, following a school visit to Planned Parenthood, informed 12-year-old sister Sierra he knew more about her vagina than she did, then regaled me and his step-mother with stories of why teenage boys wear baggy shorts. And of course those tidbits represent just the tip of a life-long iceberg.
Really, I don't know if my kids are lucky; that's for them to decide, not for an outsider to declare. But I know one thing for sure: I am. Adoption gave me children to love, a family to enjoy, myriad lessons to learn, and a life that is never boring. If that isn't a giant stroke of luck, I don't know what is.