In my never-ending quest to become hip, cool and trendy -- and of course to feel younger and assuage the ravages of time -- I have subwayed to distant Williamsburg to eat at the latest bohemian restaurant, I have taxied to the Lower East Side to hear contemporary classical music, and I've even attended a concert featuring the foremost virtuoso of the toy piano (don't ask!). So when I read one of my favorite galleries, American Medium, in Bed Stuy Brooklyn of course, was hosting a pop-up show in Manhattan, I simply had to go.
Until recently, I didn't know about pop-up anythings, except the muffins. I first learned about the pop-up restaurant phenomenon watching the HBO series Looking, where Dom, financed by his older boyfriend, commandeers a defunct restaurant, serves his famous Portuguese Chicken for one night and closes before the cops can shut him down. I tried to get into wastED, a pop-up restaurant in NYC where star chefs fashion meals from food discarded from other restaurants and supermarkets. As appetizing as that sounds, I'm rather glad I couldn't get in. I assumed a pop-up gallery was the same: here today, gone tomorrow -- but hopefully without the police or edible garbage.
This pop-up show was called "Three Generations: Dorothy Braudy, David Fitzgerald & Travis Fitzgerald". Travis is not only the co-director of the American Medium and a fine artist himself, but the son of sculptor David Fitzgerald, an artist with whom I was not familiar; he is also the grandson of Dorothy Braudy, a painter who's work I've seen and adored at galleries in Santa Monica. Thus the three generations.
According to Travis,
With mammals there is a certain amount of learning from one generation to the next. The young adopt the traditions of those that came before while also implementing newly found implications, thoughts, and skills, continuing a line already laid out while at the same time reacting against those traditions. Artists make this process explicit.
There is no better evidence of the creative gene being passed on than the show that Travis Fitzgerald brought to the Home Studios on 873 Broadway. By the time this piece is posted, the show will have been dismantled, and that's a pity. "It's an amazing thing that we all are artists," said Braudy, "and even more amazing that the three of us can show together. Even the Wyeths never managed to pull off three generations at once." There is no pictorial theme to this show; rather the three generations provide the theme and the underlying unity, one as profound as it is organic. Again from Travis, "The work is all quite different and coming from our very personal ideas of what art is and what we want to make."
Braudy paints with oils on canvas. Usually working from photographs, she transforms those static images with bold and dynamic color. As her grandson says, "Dorothy's paintings are more traditional, but making figurative painting from photographs was radical when she began her career." Looking around the room, I was overwhelmed by her sensual bursts of colors which have the soaring emotional impact of fireworks on July 4th.
The show opens with her Tossing, (1979, 36 inches, oil on canvas) a circular painting of a father in a large swimming pool tossing a young child up in the air. The toss is an explosion of joy as the water cascades around the pair. The father's expression of cautious enthusiasm contrasts with the unbridled delight of the boy. The water seems warm and inviting, so unlike the cool, clinical pools of David Hockney, another artist who, like Braudy, was seduced by the strange beauty of Southern California. The father/son (or so I assume) relationship seems a direct line from the mother/daughter masterpieces by Bertha Morisot.
Another highlight in the Braudy canon is Leo in Italy, a feast of Mediterranean colors -- modulating ochre and sea green -- with Leo (Braudy's husband) lying asleep in a wrought iron bed, the iron casings casting their own geometric art on the wall, the shadows playing happily with the iron. Leo is sleeping deeply and heavily, perhaps spent from an afternoon liaison; I see him as a descendant of Mars in Botticelli's famous "Mars and Venus."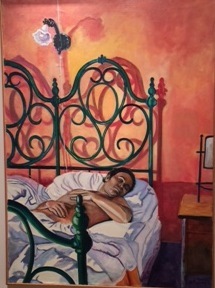 One of Braudy's signatures is her "Film Noir" series where she works from black-and-white movie stills. By subtly adding brooding colors, she transforms a shot into a vivid representation of the entire movie, actually the entire world of this film genre. The dark tone of these searing but non-sentimental works contrast with the gaily colored domestic paintings in this show, highlighting the depth and breadth of Braudy's exploratory powers.
One of my favorites is Raw Deal: Ranger, (2005, 36×47 inches, oil on canvas). It features a figure in a muted orange/brown coat and threatening fedora, his back to the viewer, stalking another figure in silhouette just emerging from a structure (trees? a building?). Despite its bright Diebenkorn background, the entire painting is foreboding, producing a palpable sense of dread. I'm going to call it an oxymoron: Braudy has created a black-and-white painting in color.
Another haunting work is Gun Crazy: Rain (2005, 35x46 inches) -- a cityscape, a sole street lamp in the background illuminating nothing but rain-drenched streets and a dilapidated feed and grain store. Here Braudy's "black-and-whites" are rendered in muted pinks and purples with TV antennas looking like crosses on the roof of a store and on the houses in the background.
David Fitzgerald, the baby-boomer of the three generations, created disturbing and frighteningly beautiful works for the show. "My dad's work is the most inscrutable," said his son. "And yet he's always been interested in encaustic and the figure. That's the basis for the busts, but there is obviously more there." Obviously: the 13 busts of women were all based on mug shots of female sex offenders.
Artists have worked with encaustics for millennia; no surprise these busts have an Egyptian feel, reminding me of the famous Nefertiti in the Louvre. It's hard to get any sort of detail from this medium so the sculptures radiate a primitive but luminous quality, very much like healthy skin.
Before even I knew who the ladies were (David supplied the names and a condensed rap sheet in the artist's statement), they all felt, well, creepy. Maybe because I am currently binging on Orange is the New Black, I felt a sad familiarity with the dead-eye look of the busts, the look the actresses on the series so brilliantly portray. Some of the women wore dime-store wigs, like the one based on Katherine Cervantes, "a 35-year-old woman from Sellersburg, Indiana ... arrested and accused of drinking with a group of teens, including her daughter and her daughter's 14-year-old ex-boyfriend. Cervantes was accused of giving the boy alcohol and marijuana and having sex with him."
Some had no wigs at all. I'm not sure which were more unpleasant, perhaps "Abbie Jean Swogger, 34-year-old former exotic dancer and teacher's aide at Highlands Senior High School, who was arrested in February 2008 for allegedly contributing to the corruption of at least four minors, including her own 15-year-old son."
David, who is disarmingly quiet, said, "All these ladies, I don't what I'm going to with them." He laughed. "You can't put them your living room."
Travis Fitzgerald, the millennial of the group, had the most "cutting edge" work, pieces that would be in a gallery in Brooklyn. No surprise there. "My work is a direct result of running two galleries today. I don't hold myself to a medium, but rather follow the work where it wants to go."
In addition to a monumental self-portrait he drew early (!) in his career, and a painting of some evocative, quasi-realistic colorful chairs, his latest works were found cornered off in a small room, isolated from the sex offenders and the colors of Grandma Dorothy. As he and his father designed and installed the work, he clearly chose to "go to his own room," so to speak, by placing his newest pieces in such a way. He exhibited several gorgeous, but subtle, tapestries and an installation of a boy's room related and inspired by Jan Steen's paintings, "Woman at her Toilet". While I didn't know these paintings offhand, I assumed they were the Dutch genre paintings made to sell to the newly formed merchant classes. The Steens, said Travis, "portray prostitutes sitting cross-legged in bed in a moment of domestic intimacy with their items of comfort and objects of importance strewn about them (lapdog, chamber pot, clogs). They have an inner sexuality, and the portraits pose questions about the objects we transfer desire onto." For his "Object of Permanence I" (2014, Woven blanket) Travis, working with a dark blue woven background, deleted most of the woman's body and left us with two sets of legs -- one grey, one orange -- along with three small articles of her toilet, a chamber pot, a glass and a pair of shoes, perhaps all that's important to a potential John. For one of the installations, he was inspired to sculpt nine copies of the dogs in the Steens ("Kooikerhondfe Reclining", 2014, acrylic paint) and position them in the center of his room so the overflowing crowd had to carefully avoid stepping on the sleeping pups, a piece of performance art unto itself.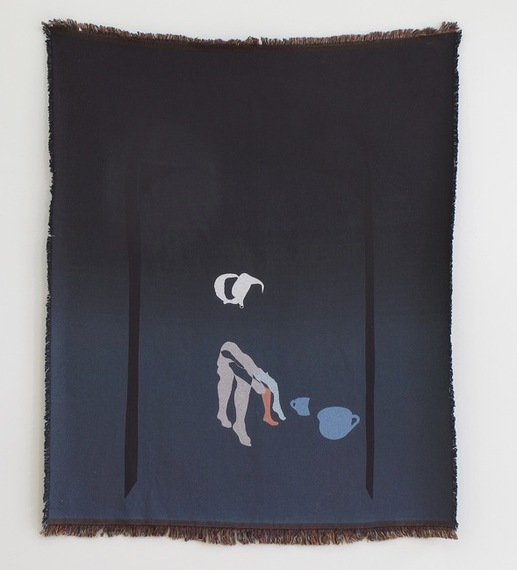 This multi-generational show was particularly moving to me. I am a musician and have worked in music now for almost 30 years, although my parents, having no interest in music whatsoever, did their utmost to discourage me. They thought I was from another planet, an alien plopped into their domestic life to torture them about orchestras, musicals and operas. In fact, my 93-year-old mom still sees my career as a personal affront to her. (Ah, parents!) I can't imagine what it would have been like with parents supporting my artistic endeavours, despite the personal and financial risks of the future. Travis explains, "I was always super supported in whatever choices I was going to make." Wow. "It's a wonderful privilege that I get to show with two of the people who supported me in my decisions, both artistic and personal, throughout my life."
Travis was so inspirational that I will give him the last word here:
We are all unsure, questioning as we go. That, in part, is the nature of making work. The goal is to be sure-footed, striking out with determination as you go, but it takes time and a certain perseverance to get there. All three of us work, question, rework, worry, rework. A familial cycle I am happy to continue.