It won't be noted in any of the trade papers, but Oct. 15 marks the 40th anniversary of my first public performance with my wife and musical partner Suzanne Smithline.
I left my hometown of Syracuse, NY in late August, 1974. I was to begin my studies at New York University, but my real goal was to be near Greenwich Village. I was determined to break into the folk music scene and become a successful singer/songwriter.
I got together with Suzanne quite by accident. I was living on the third floor of Joe Weinstein Residence Hall. My roommate was a pig of a fellow who smoked heavily and used the drawer beneath his bed as a cuspidor. The third floor RA was a friendly schlub named Sid. The fourth floor RA, by contrast, was an exotic woman named Tanya. When I stopped up to visit she was teaching the residents how to drink tequila from a properly salted glass. It seemed like a cooler place to hang out.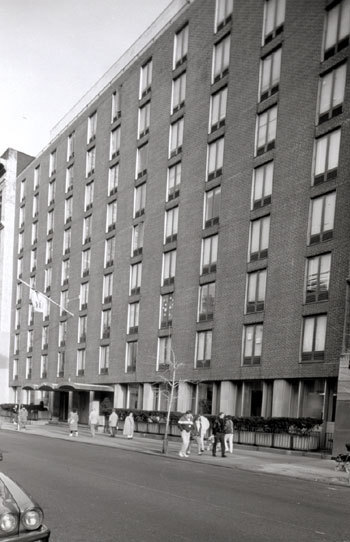 One day, I brought my brand-new Martin D-28 upstairs and found myself visiting two Great Neck South graduates named Debbie and Suzy. Suzy told me that she used to sing folk songs with a friend of hers in high school. I had tried singing with some young women I met through NYU's Choral Arts Society. Kathy Barr was a real Village native who lived in the apartment building on Fifth Avenue where both Carmine DeSapio and Buddy Holly had once lived. She had co-written a wicked John Denver parody I liked. I also tried singing with a sweet-voiced African-American girl I met In Choral Arts Society. But Suzy lived literally right upstairs, so we decided to form a musical partnership. In a burst of originality, we called ourselves "Suzy and Glenn."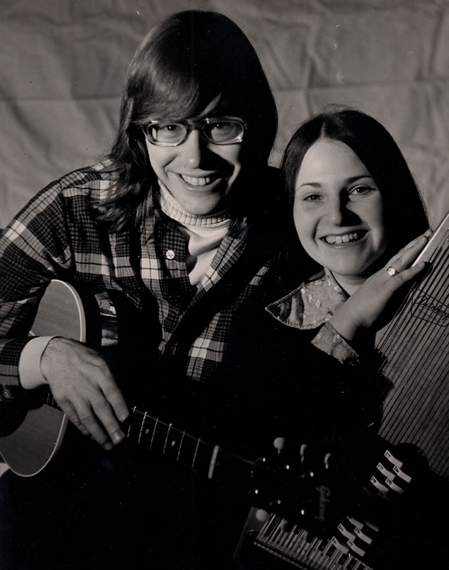 What was the musical environment like in 1974? Only a few blocks from NYU, a small club on the Bowery called CBGBs was hosting unsigned bands playing original songs in an energetic, aggressive style. Eric Clapton released his cover of Bob Marley's I Shot The Sheriff, which brought new attention to the Jamaican musician and reggae music in general. Gloria Gaynor's Never Can Say Goodbye and the Hues Corporation's Rock The Boat featured a new dance beat that came to be called "disco." ABBA, Jimmy Buffet, Hall & Oates and Barry Manilow were breaking into the charts for the first time.
But all this was irrelevant to"Suzy and Glenn." The folkie singer/songwriters were the artists we covered and my first attempts at songwriting owed a heavy debt to people like Don McLean and Harry Chapin. I was a big fan of a New York duo called Aztec Two-Step who opened for Randy Newman when he played at Syracuse University. I was also in love with the Welsh singer Mary Hopkin. Suzy's voice had the same wistful quality.
Tuesday, October 15, 1974 was the regular "Hoot Night" at Gerde's Folk City, on West Third Street just east of Sixth Avenue.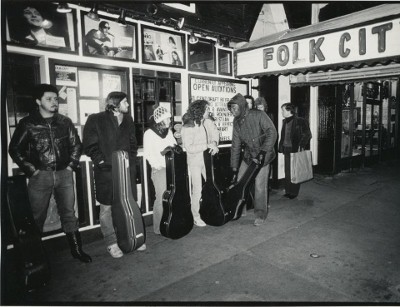 Hosted by the irrepressible Rosie, anyone could sign up for a performance spot around 7 p.m. First come, first to perform. I had checked out this scene on my earlier visits to New York and quickly realized that you did not have to be particularly accomplished to get up on a stage in Greenwich Village. That night, I got a good spot at a reasonable hour.
I opened with a Jim Dawson medley called City Song/Simple Song whose lyrics mirrored my ambitions:
When I was a young man I came to the city
To sing for my living and live for my fun...
I was just a young man, I think I have told you
I really knew nothing of what I'd find there
Suzy joined me onstage to sing an Aztec Two-Step song "The Persecution and Restoration of Dean Moriarty," based on the character in Jack Kerouac's book On The Road, which I hadn't yet read. Kathy Barr came up to help finish the set with the John Denver parody:
Almost heaven, up in Harlem
Lower East Side, the dirty Hudson River
Life is dangerous, you can't walk on the street
Always getting ripped off by everyone you meet
City Roads, take me home to the place I belong
West Side Highway, Midtown Tunnel
Take me home, city road
We got a good round of applause, enough to encourage us to continue working together. Suzanne acquired an autoharp and we generated a nice complex sound that complemented our harmonies.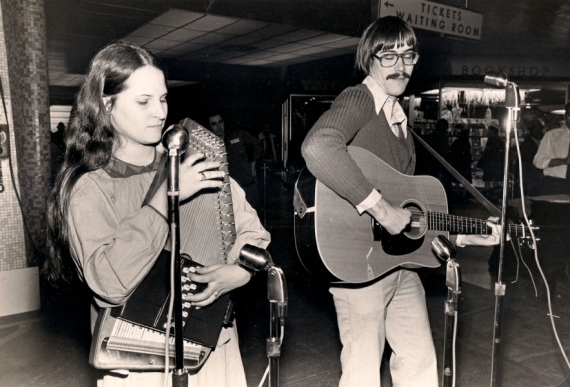 I believe the first song we performed with the autoharp was the Lovin' Spoonful's Coconut Grove. We auditioned at Bleecker Street clubs like The Other End and the Back Fence. We regularly gigged at on-campus coffeehouses at NYU.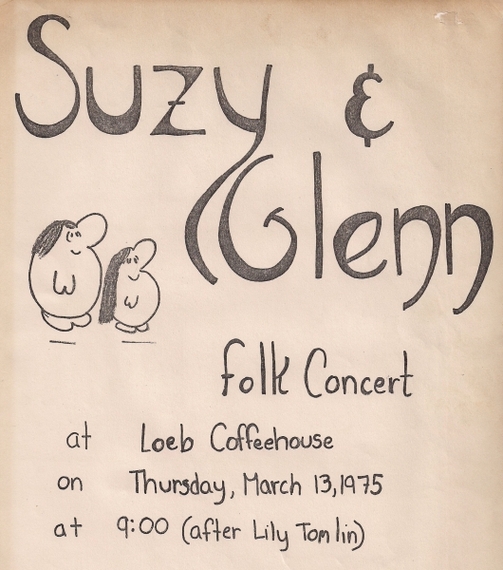 A Choral Arts Society member named Mike Soloway, who was actually signed by Columbia Records, invited us to share his gig at the Cowbay Café in Port Washington, Long Island. We even got some paying gigs, including a surprise engagement after our audition at the Basement Coffeehouse on East 22nd St.
At the end of our freshman year, we felt confident enough to record a demo tape at a professional studio recommended to us by the Choral Arts Society conductor E. Jon de Revere. The studio was on West 43rd Street and was normally used to record music to accompany music education books. I invited my buddy Paul Jerge, who played guitar with me back in Syracuse, to join in the session. We went live to two-track, with no edits and no overdubbing. The seven tunes reflected our musical universe: an obscure Everly Brothers single from 1969, two songs recorded by Mary Hopkin, one by Aztec Two-Step and another by a similar duo called Batdorf & Rodney, a weird Donovan song and one original song called "So Easy."
We left the sessions feeling exuberant. We made several reel-to-reel copies and dropped them off at the New York offices of the record labels where our musical heroes had contracts: Warner Brothers, Elektra, A & M, etc. We were as blindly confident as two 19-year olds could be.
But it didn't take long for reality to set in. Record companies are always looking for the next big thing, and singer/songwriters were on the way out by the mid 1970s.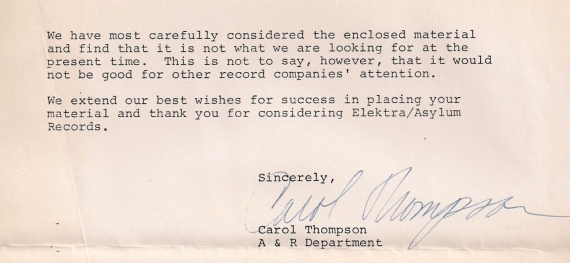 Disco, reggae and punk were going to be the next big trends in music and fresh-faced folkies (absent strong original material, like Steve Forbert) were not getting signed. By September, the rejection form letters were coming in and we were both pissed off and amazed that the record companies did not appreciate our brilliant efforts.
But there was not much time to lick our wounds. On September 17, my guitar and I left for a semester of study in Paris. I promised my girlfriend Eina that I would be faithful and true. Suzanne and I made plans to resume our conquest of the music business when I returned.
Thirty-nine years later, the quest continues....