Photographer Carla Andrade creates beautiful images that purposefully straddle the line between dreams and reality.
Global Yodel recently partnered with Carla on a new print of Panxón Beach in Nigrán, Spain.
We caught up with Carla to learn more about her, her work, and Nigrán. Read on to learn the best spot to grab a beer in this seaside paradise.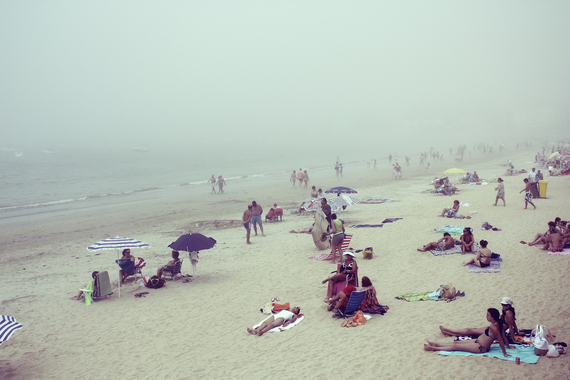 Name: Carla Andrade
Place you live: Nigrán, Spain
Location your photos were taken: Panxón Beach, Nigrán, Spain
Tell us about Nigrán: Nigrán is a seaside town in the northwest of Spain near Portugal. The town's population increases substantially in summer. It is a very nice place to live because the weather is mild all year. It has beaches, mountains, rivers, and a large city nearby called Vigo. I have a special love for this place, its landscapes and the light here. This is where I spent the happiest moments of my childhood.
Tell us about your photo: The idea of this photo is to turn the unconscious dream that tends to be our life into a lucid dream. To do that, I try not to be involved in, or identified or absorbed by, reality. It's about creating a separation, seeing everything from the outside. Attending the moment as a spectator to separate my subjective perception of what constitutes objective reality. It's equivalent to the act of making an effort to remain lucid in dreams and lead them, but applied to life.
Occupation: Visual artist
Preoccupation: The passage of time and the void.
A perfect day in Nigrán? In winter, any stormy day when there are no people on the streets and I go for a walk by the beach, taking photos. In summer, any nice day and night spent on the beach with friends.
What is the best thing about Nigrán? The changing weather, and that it is a place of retreat.
What is the worst? It is a paradise. As with all paradises, sometimes it can be boring. There are not many cultural or interesting events.
What would be surprising about Nigrán to an outsider? The long beaches and beautiful islands. Also, of course, the food.
Best place to grab a drink in Nigrán? Penjamo Bar
Best restaurant? Any of the seafood places near the fishing port of Panxón.
If someone was visiting what must they do? Go to the Cies Islands
Who are three of your favorite photographers right now? Jochen Lempert, Yamamoto Masao and Bernard Plossu.
For daily travel inspiration be sure to follow Global Yodel on Facebook and Instagram. Guaranteed to awaken your travel bug!