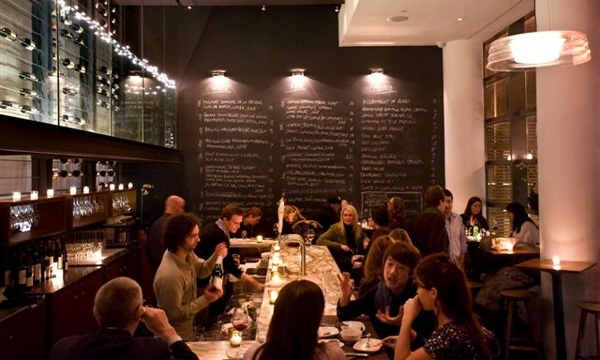 In Hell's Kitchen, where so many new things have been brewing lately, the drink of choice is unequivocally wine. How do we know? The neighborhood has become a veritable hotbed for wine bars. From Riposo 46 to Casellula (where you can also nibble on some really fine cheese), you can't walk down Ninth Avenue without being lured by the pop of a cork easing from a bottle.
Here are some of the standouts:
Medi
Medi is the new kid on the block. Just opened, the restaurant has a Mediterranean wine list with more than the usual Italian, French and Spanish suspects -- like bottles from Lebanon, Croatia and Israel. There's a full dinner menu inspired by the same region, including a number of reasonably priced small plates (lamb meatballs, goat cheese fritters, marinated anchovies). I recommend taking a seat downstairs in Medi's lovely and somewhat secretive "wine cellar" that sports a big communal table.
Xai Xai
Manhattan's first exclusively South African wine bar, Xai Xai (pronounced "shy-shy") shows off the wealth of that region from sparkling to dessert wine. This includes, of course, not only a great selection of organic wines, but South Africa's signature pinotage, which they serve in a small decanter to let the wine really breathe. Xai Xai's space is dramatic -- with brick walls and columns made from cypress logs. Be sure to sample their African-inspired tapas too.
Ardesia
With a huge chalkboard wall announcing the day's wines and snacks, Ardesia is stylish but unpretentious and a place where you'll find lots of locals kicking back after work. They have a significant wine-by-the-glass menu, and tasty small plates that they put a lot of love into -- from making their own sausages to pickling their own vegetables.
For more insider New York tips by Raphael Pallais, Chef Concierge at The Plaza, read GloboMaestro.com, where top hotel concierges dish the inside scoop on their cities in HD videos and personal blogs.