Ping . Vermont's presidential primary with its 15 delegates split 9-6 is called as expected for Obama.
I'm watching CNN and thinking about my first and only Texas precinct convention, in 1972. I'd learned from the League of Women Voters how my natal state's Byzantine primary system worked, and I'd decided to participate from the ground up. As I recall, only a few dozen people showed up and we met in someone's living room; consequently, though I was a first time attendee, I was elected to attend the county convention. I did attend that convention, but realized it would be impossible for me to participate further because of family obligations. So despite the friendly county judge who offered to put my name in the hopper for the state convention (that's how it was done and probably still is), I declined.
Just as the predominantly Democratic Texas I grew up in changed its stripes to majority Republican (I allege that after I left for Arizona, the state went to hell), the current Texas Democratic party rules in which 2/3 of delegates are decided in voting primaries and 1/3--the superdelegates-- are decided in precinct conventions or caucuses could well have changed over the years. But some fundamentals stay the same.
Pong. Early in the evening John McCain was declared the far and away winner in Ohio and Texas.
Republicans don't have to pretend to be democratic. They understand elections are about gaining or retaining collective political power. That's their big advantage. The Democrats turn themselves inside out trying to look democratic while in actuality their convoluted rules shore up the entrenched power of the party operatives as much or more than the Republicans. Their pronouncements express their egalitarian principles but their results tilt toward the political machine.
The Republicans will fall in line behind McCain, just as McCain sucked it up, accepted Bush's hug and carried his water after being viciously assaulted by the Bush-Rove disparagement machine in 2000, and just as Mike Huckabee submitted himself graciously after the Texas numbers put McCain's delegate count over the top and sealed him as the Republican presidential nominee.
The Democrats, says pundit Paul Begala, want to fall in love. More than that, I think, Democrats want to believe they are voting for the best ideas and ideals. And they love to put a fine comb through the arguments about who has them in purest form.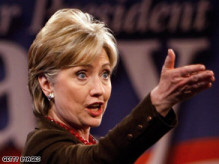 Ping . Rhode Island is called for Clinton.
Begala--sounding like the Texan he is--came forth with a hearty "thank you Jesus" upon hearing that Bush is ready to endorse McCain. "I'll rent the hall," Begala declared.
Bill Bennett pours on the kool aid that McCain is very different from George Bush and people will recognize that. Obama talks about the"Bush-McCain war in Iraq".
The Texas Republicans voted in far lower numbers than the Democrats. Their contest wasn't nearly as interesting. Or maybe, just maybe, the more moderate Texas of my youth is finally coming back, and the Republican right is losing its hegemony at last. A girl can hope anyway.
Oh honestly. At 9:53pm Obama called McCain to congratulate him on winning the Republican primary and tell him he looked forward to running against him in the fall. Now that's hubris way beyond the confidence Clinton exuded in the now-famous Katie Couric interview when she said she'd be the Democratic nominee.
Pong. Clinton wins Ohio handily, noting that no candidate in recent memory has won the general election without first winning the Ohio primary. Her speech reflects that she really has found her voice now. Her courage as a leader who doesn't take her eyes off the prize even when all around her have lost hope, her hard work and her propensity for learning have once again stood her in good stead. Including sending Bill to Wyoming to stump for her there, in a state where not much is at risk because it wouldn't go Democratic in the general if hell were to freeze over.
Texas is still too close to call at midnight but she has pulled ahead there too.
Ping. Before the clock strikes 1 am, Clinton is declared the winner in Texas, though the outcome of the caucus delegate selection won't be fully known for some time. Whaddaya know.
She's already made a rousing acceptance speech in Ohio, sporting a new pink suit that is perhaps symbolic of Clinton having summoned the courage that lives deep within her authentic self to stay in the race despite Tim Russert's assumptions last week that she was about to quit:
"For everyone here in Ohio and across America who's ever been counted out but refused to be knocked out, and for everyone who has stumbled but stood right back up, and for everyone who works hard and never gives up, this one is for you," she said.
As the crowd chanted, "Yes, she will! Yes, she will!," Clinton said she is in the race to win. "You know what they say: 'As Ohio goes, so goes the nation,' " she said to cheers from supporters. "Well, this nation's coming back and so is this campaign," she continued. "We're going on. We're going strong and we're going all the way."
So the match continues. We'll have to wait for the next Pong to come, perhaps in April's Pennsylvania primary, perhaps before that as the superdelegate persuasion battle goes on.
I might be super sappy, having cut my teeth in grassroots Texas politics those three eventful decades ago, but I do believe both candidates keep getting better at their game and the American people are being served well by the experience of engaging with top seeded political athletes and with one another in the most interesting campaign of my lifetime.