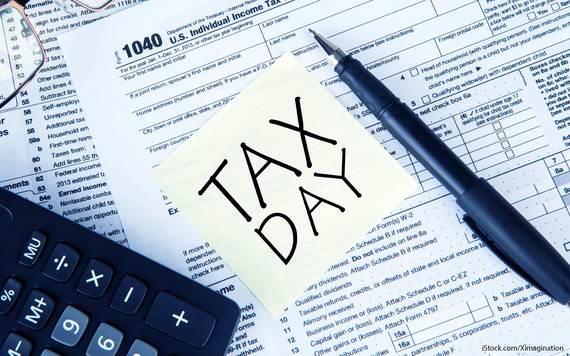 By Michelle Smith, Contributor
This year, most of us get three extra days to file our federal income tax. Since Emancipation Day falls on April 15, Tax Day 2016 has been pushed back to April 18, except if you live in Massachusetts and Maine where you'll be celebrating Patriots' Day that Monday; you have have until Tuesday, April 19 to file.
Visit GOBankingRates for the best deals, freebies, discounts and more >>>
But no matter what the tax deadline is where you live, you can take advantage of many special tax season offers. With the help of BeFrugal.com and PromoCodeWatch, here are food freebies, last-minute tax filing deals and more for Tax Day, April 18.
Related: 15 Tips and Deadlines to Filing Your Taxes Last Minute
Tax Day Food Deals
Don't spend more of your hard-earned money than you have to on food and drink. Instead, use these special offers to save money this Tax Day.
Learn: How to Get Free Gift Cards at Your Favorite Retailers and Restaurants
Tax Day Sales on Entertainment and Relaxation
Once your taxes are filed, it's time to treat yourself to a little entertainment. From movies to free massages, have some fun and relax on April 18 with these great deals.
Read: 5 Best and Worst Deals at Best Buy
Tax Day Discounts on Apparel and Beauty
If you already got your tax refund and plan to spoil yourself or your loved ones a little, shop smart with these special clothing and apparel sales.
Tax Day Home Sales and Hobby Promos
Get more done for less with these special offers for your home and hobbies.
Tax Filing Discounts and Business Deals
Here are some Tax Day deals to help you keep your business and finances in order -- from tax preparation to office supplies.
Now that you've filed your taxes -- and have maybe even gotten your tax refund back already -- reward yourself with a little something special. But remember to use the deals above and more to help you save money along the way.
Jamie Young contributed to the reporting for this article.
This article, 47 Tax Day 2016 Deals, Discounts and Freebies, originally appeared on GOBankingRates.com.
More from GOBankingRates: