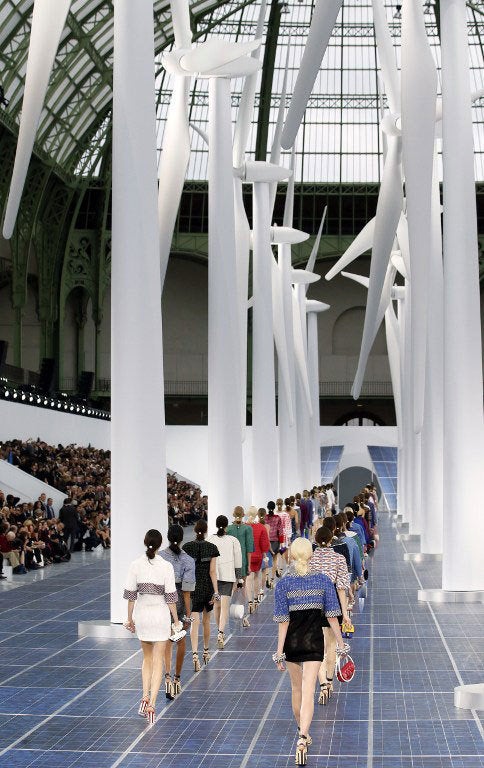 Earlier on Tuesday, the same day as the disappointing and yawn-inspiring second presidential debate, I joined my lovely girlfriend Shiva Rose to view Chanel's cruise 2013 collection at a replicate of the original fashion show in Versailles this past summer.
Eye-popping, pastel-colored wigs on punk-rock Marie Antoinettes marched down a sandy gravel garden which was a "mini-me" version show of Karl Lagerfeld's vision he mastered last May.
Bringing Versailles to Los Angeles for one day and recreating that runway show was no easy task. Saks Fifth Avenue partnered with Chanel and all the proceeds from this exquisite fashion event and lunch, which was generously hosted by Susan Casden in her grand home, were to benefit AVIVA. The models looked flawless, even in the heat that seemed to be at its worst when the show started at noon. The cinched waists and structured shapes of the 1780s were met with a 1980s retro, punky fly-girl-who-wears-metallic-platform-sneakers with a splash of 1930s cool-elegance. The chiffon dresses were a favorite of mine, they looked to be a timeless investment that would be perfect for many occasions. The mini-dresses with exaggerated width in the hip area made me gasp with delight. Can it be true that we are going back that far? Fashion has repeated these past, recent decades so exhaustingly often that Karl is pushing us way back... like about three hundred years. I say, let's go with him on that adventure. After all, he will most likely be followed by the rest of his peers.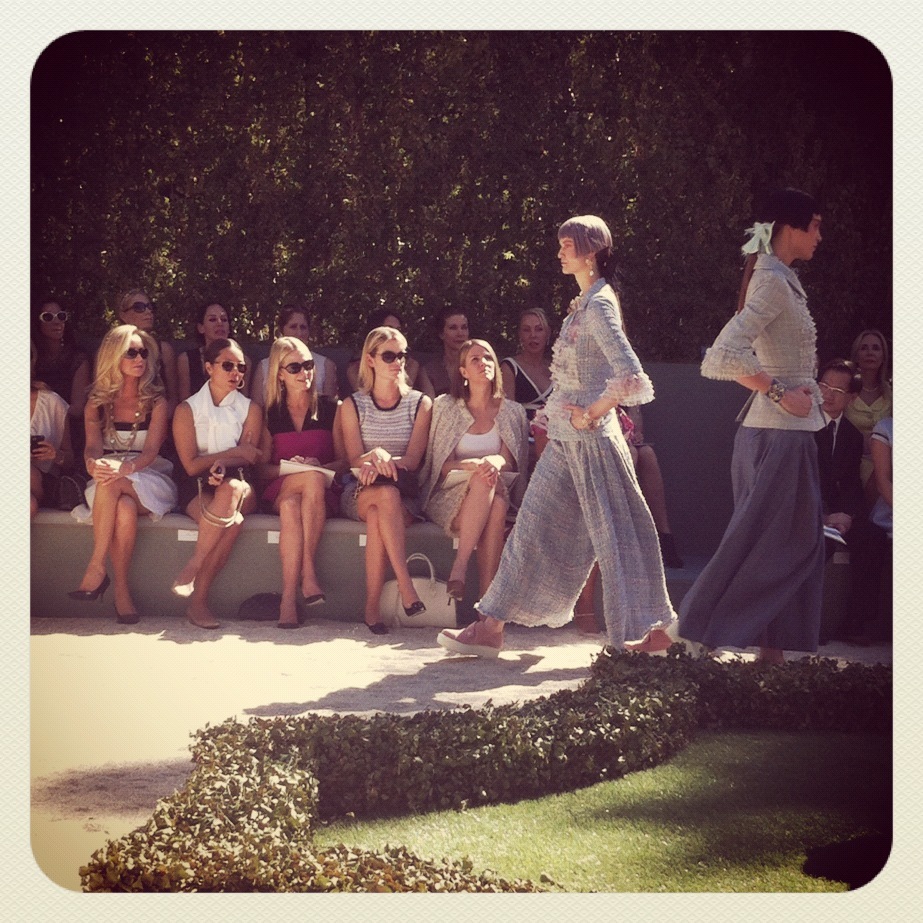 There was wearable ensembles that went beyond resort to day and evening fineries for the daring woman. Rock and roll-infused with sophistication, knickers and tweed jackets, swimsuits with mesh, lacy details on poofy skirts, macaron colors so enticing to look at I did not know whether I'd be more satisfied to wear them or to eat them. The oo la la fabulous wide-cut slacks in blue tweeds and denim were particularly strong, but feminine.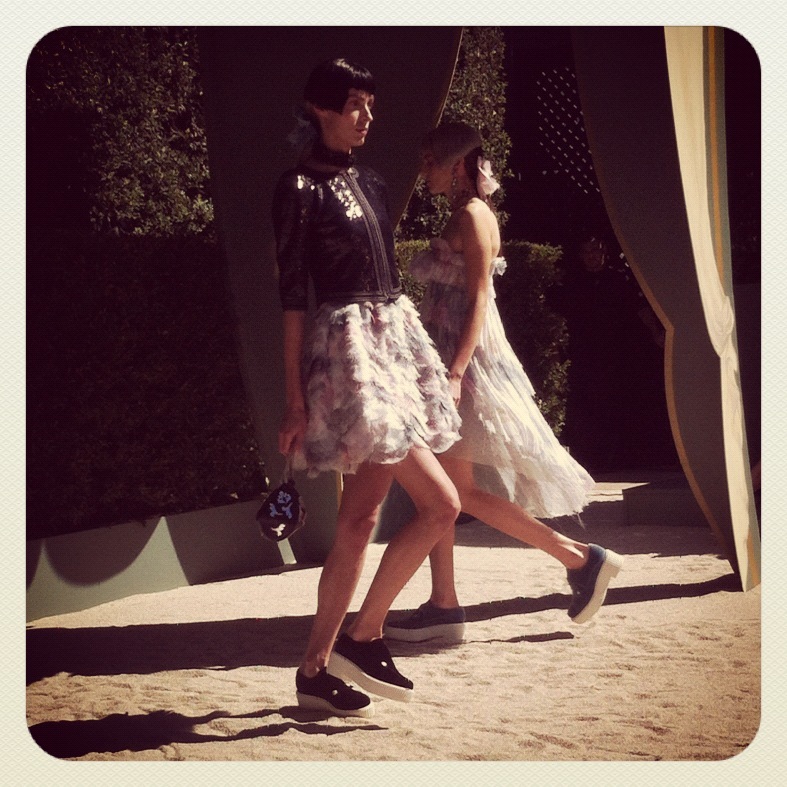 The long feather-light dresses with heavy dᅢᄅcolletᅢᄅ embellishment especially reminded me of Sofia Coppola's 2006 film Marie Antoinette. Sofia's story of a modern, young queen frolicking in her personal retreat near the palace, played beautifully by Kirsten Dunst, was filmed mostly on location at Versailles.
While watching the show, and using my Instagram app, I felt I was in a sort of fairyland since any theme with Marie Antoinette or Karl Lagerfeld makes me feel so joyful -- and so it was twice as magnifique.
After the show, the elegant guests, mostly wearing Chanel, of course, were escorted to a lunch buffet in a tented rectangular-shaped area in the garden. In the tent were several chandeliers, white curtains, perfectly manicured trees, red bouquets and white furniture.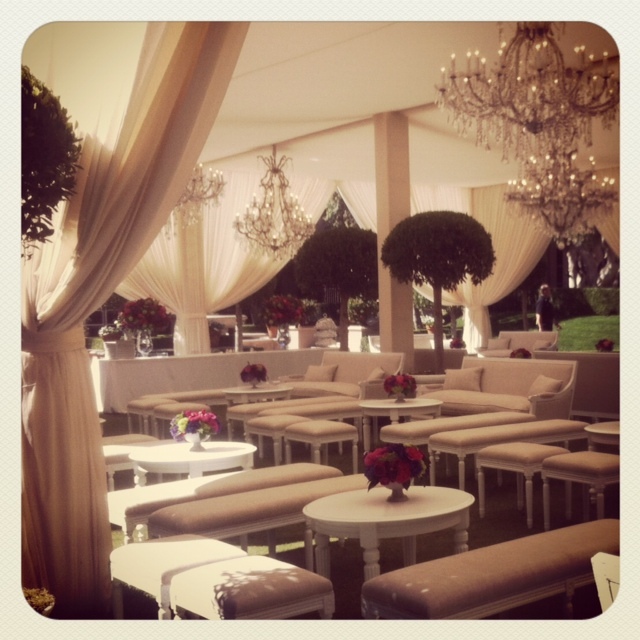 Lovely Robin Provart-Kelly, brand ambassador for Chanel at Saks Fifth Avenue, graciously asked me how I felt about the fashion show. I told her it was, of course, as to be expected, perfect, and I told her of when I met Karl in Paris next to his book store a few years ago -- and the circumstances which led me to know him as absolutely humble and genius at same time. He ultimately directs the Chanel brand himself entirely, not just as a designer but like a conductor of many hats. Karl Lagerfeld, even when he is not present, was present at the show.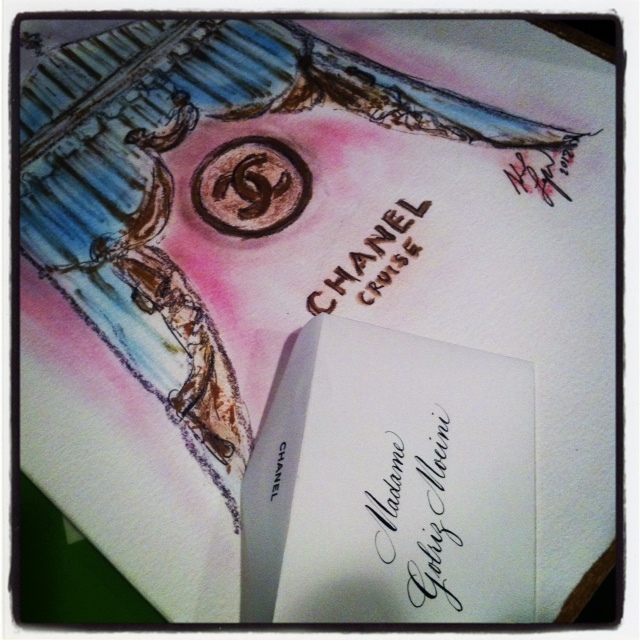 All photos taken with my iPhone.