Several years ago, I was introduced to Mariel Hemingway and I invited her to host a gala fashion show for a children's charity that I was co-chairing. I asked Mariel's older daughter, Dree, to model in the show, she was gorgeous and it was evident that she was on her way to becoming a big star, even at first glance. Dree's sister, Langley (Mariel's youngest who was a pleasant teenager at the time), reluctantly modeled in the show with my insistent persuasion, she was such a beautiful, delicate waif. I styled Mariel in a red Valentino Couture gown, and I am certain that Valentino himself would agree she looked radiant in that dress: so long, lean and statuesque. During the event, I felt like I had known these three gorgeous creatures for years and instantly loved them straight away. Dree and I became fast friends -- after only knowing her a few short minutes, when she complimented my enormous ring that I had bought in Paris (only weeks prior), I gladly slipped it off my finger and handed it to her.
Soon after that first meeting, I started working for Mariel as her assistant and personal stylist, and we became very close. I think of her as a kindred spirit. Of my friends, Mariel is the least affected by her own celebrity and remains incredibly grounded. She has given thousands of interviews, of course, but she still amuses me by lending her voice and time. I asked her about her favorite fashion moment, and to my surprise, she responded, I "don't have one..." My own favorite fashion moment of Mariel was when she was invited to speak about her book at a luxury yoga retreat, and this was one of those trips that I was lucky enough to accompany her. The room they provided for her had a deck with a fabulous infinity pool, and she hopped on the ledge and did her yoga routine in the serene sunset -- it was like watching grace happen. That was not only a stylish, uncaptured moment, but it was a very spiritual and peaceful one. It was in those kinds of instances that I knew she is, in a way, unearthly and one with nature. We hiked together on so many occasions, her hair and skin shined like opal in the light, like she's really meant to be on that hill she hikes, and nature really calls her and craves for her to climb.
Traveling with her to promote her second book, Healthy Living From the Inside Out, and being involved with her third book, Mariel's Kitchen, has provided some of my favorite experiences (all her books available on Amazon). Now Mariel is finishing her fourth book with her partner Bobby Williams. This brand-new book is all about adventure and an active healthy life. We should all learn a thing or two about their everlasting youthful playfulness. Mariel is an amazing source of knowledge in many regards, but certainly on how to live stylishly healthy.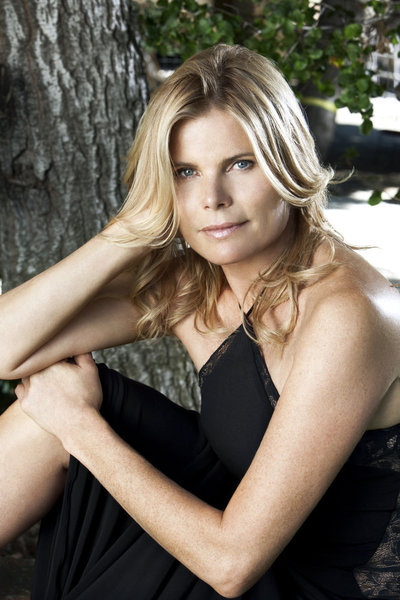 GM: What book is on your nightstand right now?
Mariel: Sunset Before the Dawn -- a very spiritual book that reminds me of a fantasy, I am enjoying it. It is a vacation-kind-of book.
GM: Do you have a certain exercise regimen that you prefer?

Mariel: I love yoga, kettle bells, jumping on my trampoline, but I especially love paddle boarding in the ocean and climbing in Malibu Creek with Bobby.
GM: What is your favorite food to make?
Mariel: I am a salad connoisseur!
GM: I love your delicious, healthy salads. You've written several successful lifestyle books, but will you ever write fiction? If yes, what sort of story would you write?
Mariel: I would write a book about sisters and their dynamic. Not sure.
GM: That sounds amazing, your fifth book perhaps? Favorite: day or night?
Mariel: Early morning!
GM: Mine is night time. Adventurous African safari or relaxing spa retreat?
Mariel: Safari!
GM: Me too, my dream is go to an amazing safari! We should go to Africa together, how amazing! So which is more fun: rock climbing or yoga?
Mariel: Both! Not fair!
GM: What was your happiest moment as a mother?
Mariel: Watching my girls do anything they felt they wanted to show their talents through -- whether it was ballet or running as kids, and now Dree when she models is like the dancer she was as a girl and Langley in her illustrations shows me the sensitive heart she has always been.
GM: They are both incredible girls. How would you describe yourself in a few words to someone who's never met you? Let's say one who is clueless of your legendary Hemingway roots.
Mariel: I am an all-American girl who loves to run, jump, play and eat good food. I love the outdoors and all the adventures that come with it. I am a mountain- and tree-lover, and I love to act and share my passion for being healthy and happy with everyone I come into contact with.
GM: It's definitely fun to climb trees with you, and I still have that scrape from your tree from last year, but I want to do that again! Favorite take-with for traveling?
Mariel: A cooler of all the food I like, plus a yoga mat.
GM: What's you're favorite show on television right now?
Mariel: The Newsroom, and I love Downton Abbey
GM: I love both of those! Shiva told me about Downton Abbey and I got hooked!
I'm curious, what sort of art expression is your favorite?
Mariel: Love Cubism.
GM: What is your favorite thing to do when you are not on a schedule?
Mariel: Paddle board!
GM: After knowing you personally, I noticed more obviously that in Paris every corner has "Ernest was here," almost in such an owning way -- the French are absolutely head-over-heels for the persona and brilliance, and do claim Hemingway as though he was a great Frenchman. Is it not surreal at times for you that everywhere in the world people have named things with your last name because of such adoration for your grandfather? I'm sure you're totally over it, but sometimes?
Mariel: It is amazing and an honor, but you have to remember that for me it is not new or unique -- it is the reality of my life.
GM: And you are very uniquely special because of many reasons aside from your genetic makeup and regardless of being Hemingway.
They recently banned bull fighting in many regions of Northern Spain. If Ernest was alive today, what do you think he'd say about that?
Mariel: To be honest, the cruelty to the bulls is intense and it is a different time. There has to be a way to do it with out the pain and injury to the animal. I would likely not be in Papa's good graces, as I am too much of an animal lover.
GM: I know in your career there's times you've strayed from acting to pursue many other interests, but before you decided to put it off and do it once in a while, did you ever feel acting was your passion? The reason I ask, is because you fell into it so young. Was it ever a real choice you made at one point that -- yes, I want to be an actor more than anything? What would you have done at age 20 if acting was not a consideration?
Mariel: Architect or farmer.
GM: Who are your favorite top three directors, and why? Which directors that you haven't worked with before are among ones you'd love to collaborate with?
Mariel: Bob Fosse -- it was like working on Broadway, and Woody Allen for obvious reasons... he is great. I would love to work with Scorsese, Ron Howard and Clint Eastwood and the best, Frank Capra.
GM: I have such an obsession with Scorsese that it is truly embarrassing, I just warn anybody that introduces me to him one day, I may bow. What sort of genre film do you personally like to watch best? Comedy? Drama? Action? Horror? Mystery?
Mariel: Chick flicks, romance.
GM: Your daughters are both very fashionable, I am certain your own easy fashion sense and cool approach to fashion really influenced them when they were little. Did you suspect they would both go into fashion while you were raising them?
Mariel: Yes, I did know they were always very fashionable.
GM: Which film that you did you felt most comfortable with the costumes?
Mariel: The Sex Monster!
GM: You modeled quite a bit, yourself, throughout your career, and worked with some amazing photographers. Who was your favorite photographer to work with and why?
Mariel: I loved Bill King, and Annie Leibovitz is genius!
GM: What era are you most intrigued with fashionably speaking?
Mariel: '40s -- Katherine Hepburn and Audrey.
GM: Love that. What do you prefer: heels or flats?
Mariel: Both.
GM: Dress or pant?
Mariel: A good, simple dress.
GM: Chanel or Dior?
Mariel: Dior.
GM: You're in love and it shows. What do you love about Bobby most?
Mariel: Everything about him makes me smile even when he makes me mad -- I adore him, because he allows me to be me. I love Bobby.
You can check out what Mariel is up to by going to her website.
Photo of Mariel Hemingway is her own -- used here with permission.