A little over a week ago during Milan fashion week, and on our last night in Rome, I invited my trip companions (mother and sister), to a rare dinner as a "thank you" to our mother for taking us along with her to Italy for holiday.
After a stunning evening of strolling and shopping near the Piazza di Spagna, our gloved driver picked us up exactly at 8:15 p.m. We drove through the incredible Borghese gardens, past beloved Ferdousi's statue, where our mother had to take a few moments to fully cherish and admire it. Back at our hotel we quickly dressed for dinner. My mother looked radiant in her camisole, lace cardigan, wide-leg pant ensemble, my svelte sister looked like a Hitchcock heroine in a black Sandro dress with sheer shoulders. I wore my black satin Le Smoking jacket (very YSL circa 1970s à la Bianca Jagger) that I picked up a couple years ago, black over-the knee suede boots I purchased a few days prior in Florence. The three of us floated into the gardens, ready for this sorprendente dinner. Lit with candles, orchids on the tables, the outdoor patio with it's beautiful bar was reminiscent of a gorgeous Italian film set. The patrons consisted of ultra chic ladies and fashionable men that had deep tans and that oh-so Roman elegance.
The anticipation of each course was intoxicating, champagne helped with that. The delectable entrées had fascinating names. Europeans understand best to add flare in food titles and menu narratives to arouse appetites. This theory was relevant with dishes such as "Branzino al vapore con ostriche e gelatina di mare al profumo di anice stellato" (Steamed sea bass with oyster and sea jelly flavored with star anise). The dinner was escorted out to tables with magical presentation, haute cuisine. Every slow bite, I imagined my tastebuds awakened, never before paired combinations. I felt melancholy in knowing that after this night a many other very mediocre dinners before I experience this same sort of affair with food again as Oliver Glowig has mastered a superb culinary experience by extensive research and experimentation. That moment and that taste will be gone forever. I reluctantly reassured myself that this was my food frenzy moment in Rome.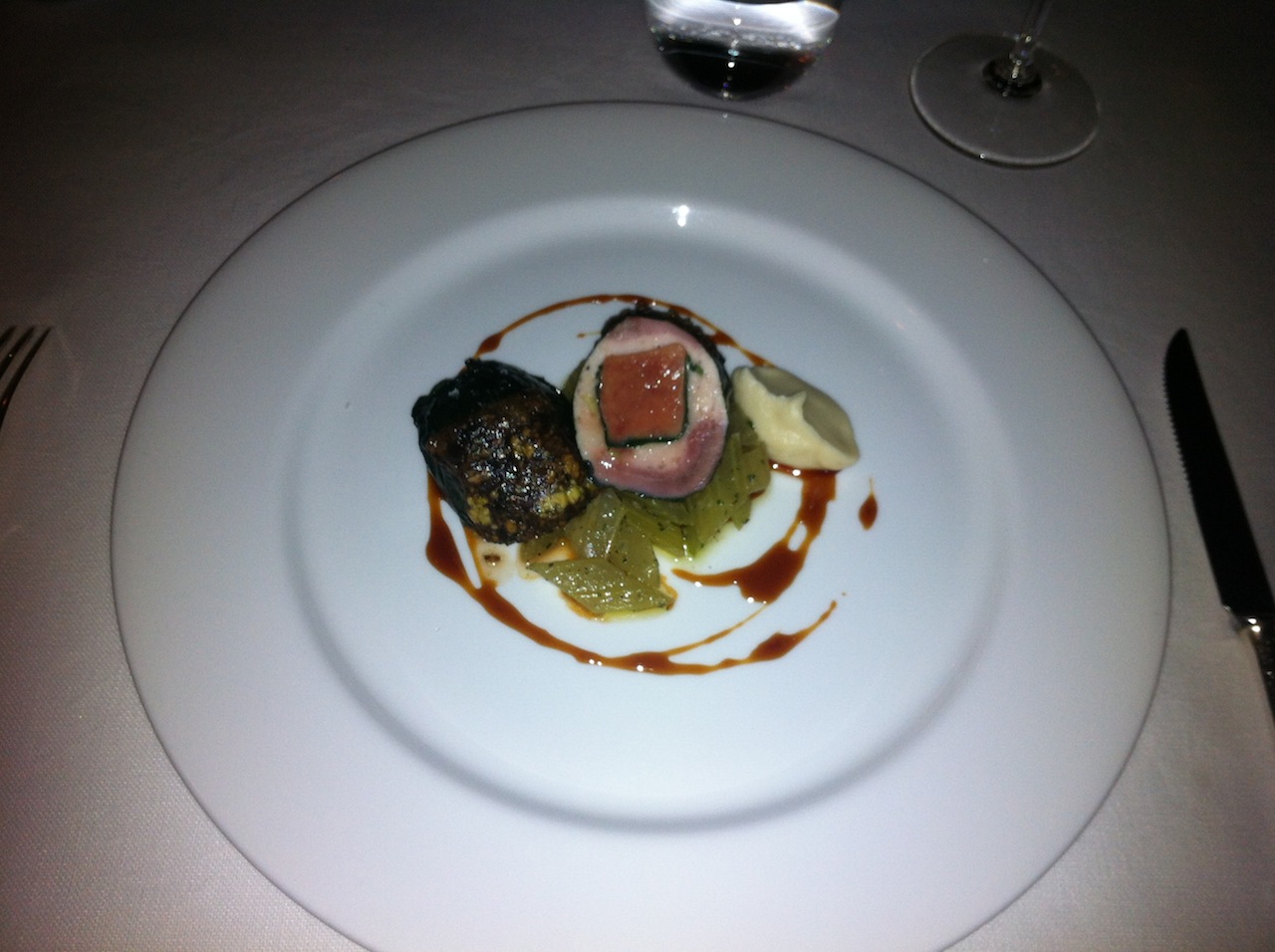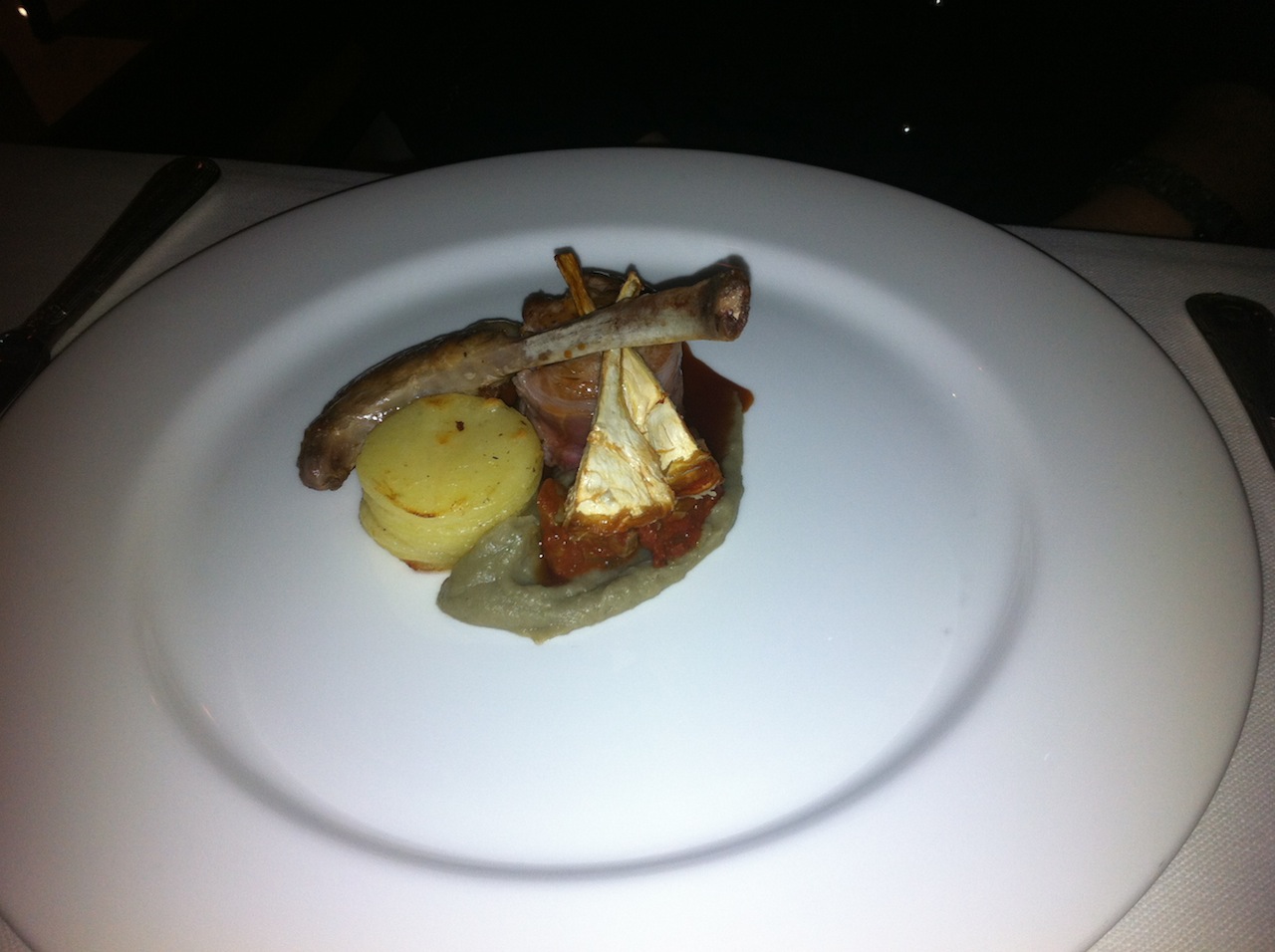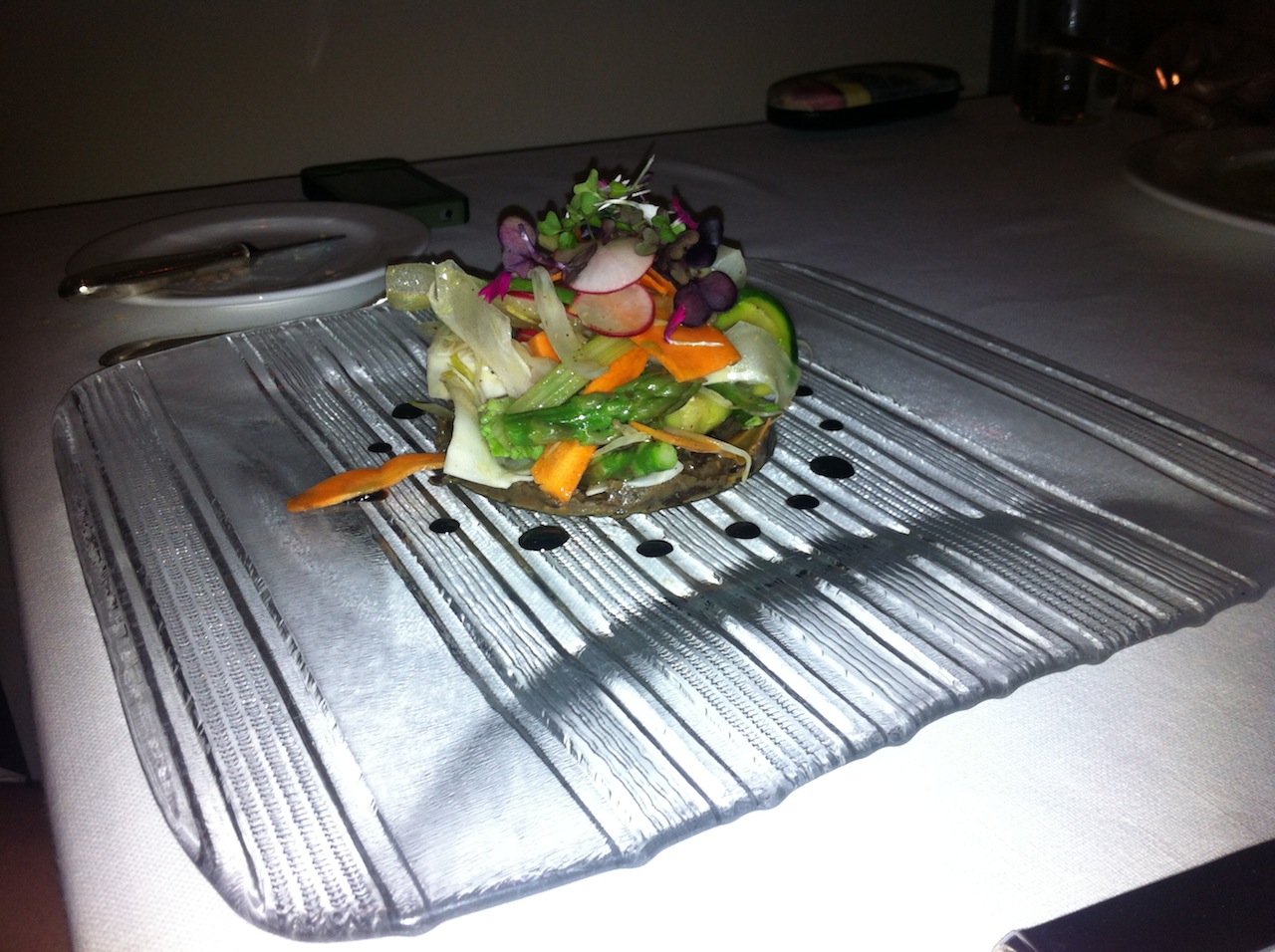 These photo's 1-4: Delectable dishes at Oliver Glowig, all taken with my iPhone.
My impression at Oliver Glowig:
The Restaurant
Namesake of haute cuisineist Chef Oliver Glowig. Modern, elegant. Inside Aldrovandi Villa Borghese our hotel during our stay in Roma.
Compliments
Chef Oliver Glowig sent over tasty morsels of edible art for each table to experience. My sister a vegetarian was satisfied with her choices.
The Clientele
Politicians, Italian celebrities, fashion set, wealthy Romans, tourists, and people staying at the hotel, like us.
The Food
Rarified experimental explosions of flavor that have never been shared on a plate together. Presented like a fashion show, small portions, huge on flavor.
The Wine List
Expert sommelier. Exclusive list.
The Ambiance
Garden patio dining, subtle Italian breeze from Borghese gardens, neighboring sumptuous trees, hotel pool area and beyond the Eternal City.
The Staff
White gloves, tuxedos, up to four waiters for each table.
Chef Oliver Glowig deserves the 2 Michelin Stars awarded him.
Oliver Glowig, photo from Aldrovandi website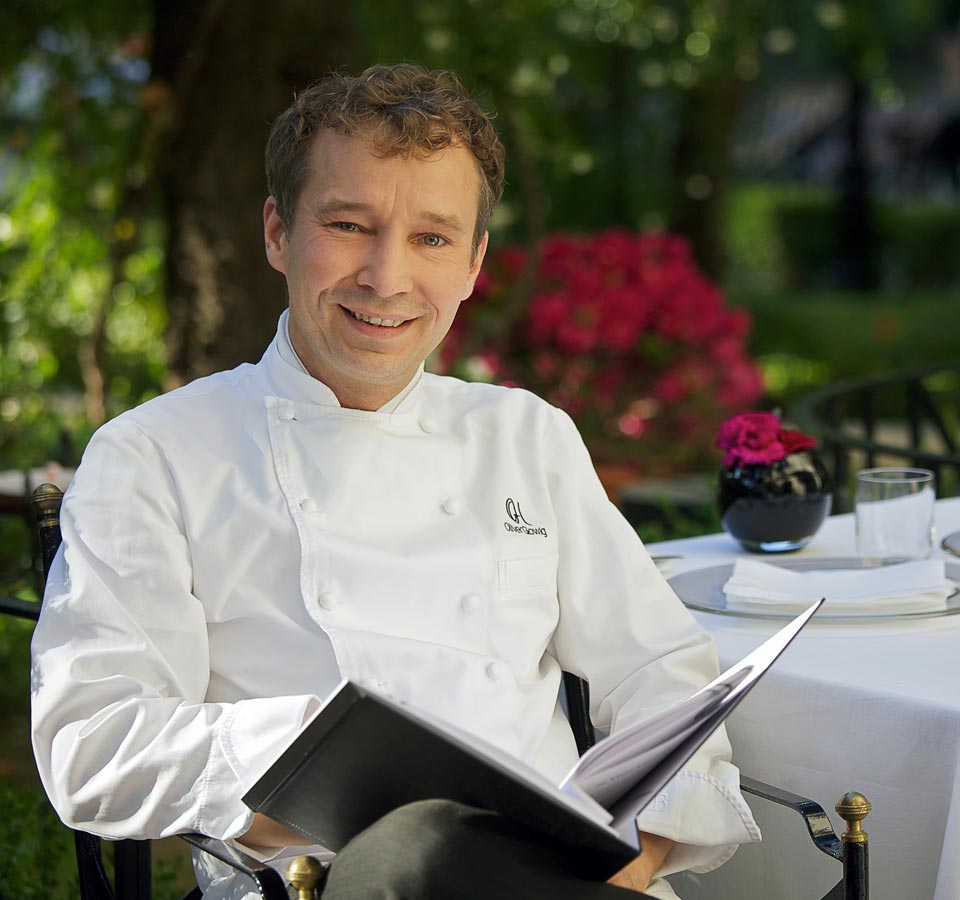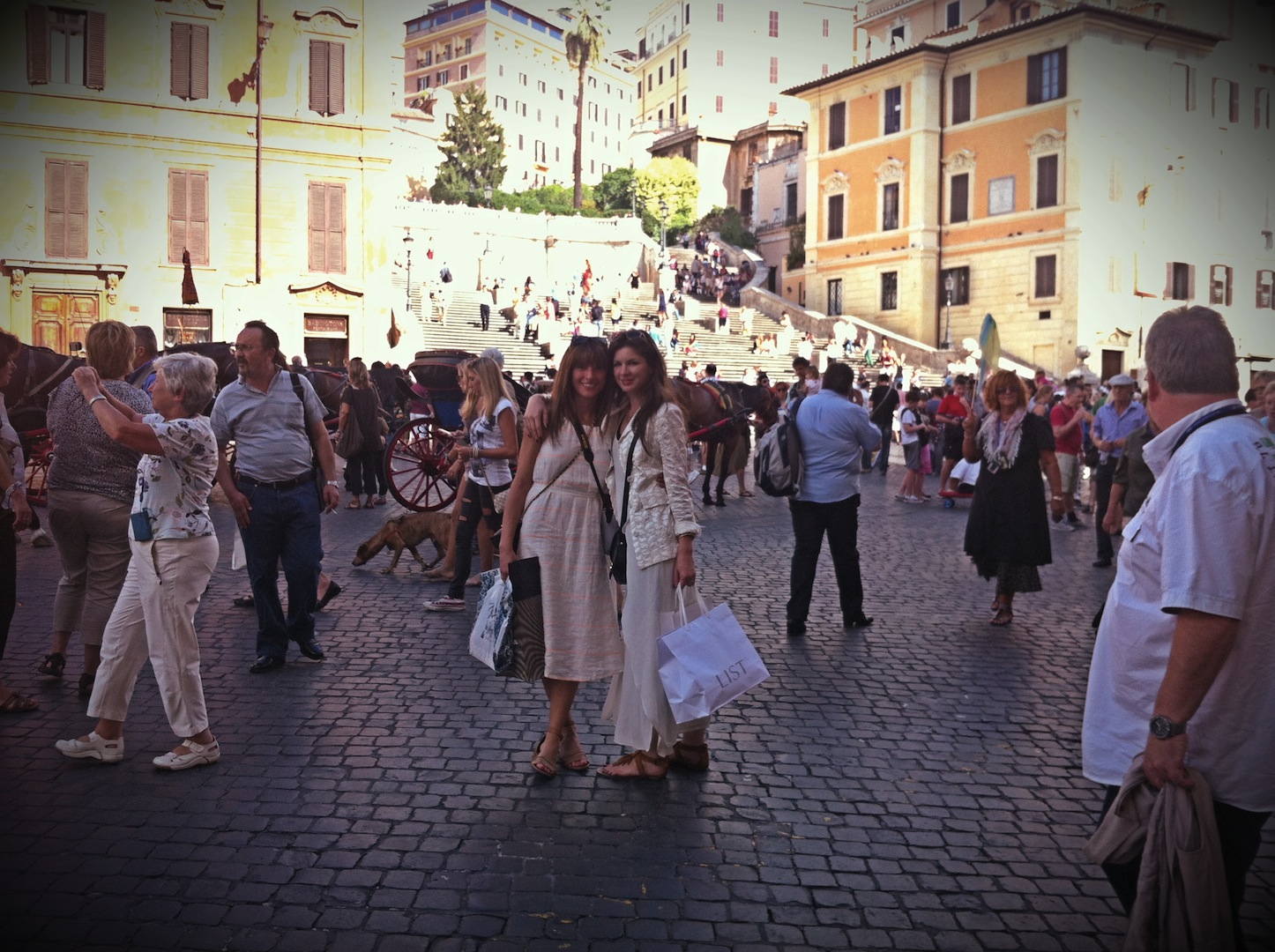 My sister and I at Piazza di Spagna, Rome, during food and shop therapy, taken with my iPhone.
Historically, savory food and fashion was derived from the impeccable style Romans had in general -- and walking around this city makes you very hungry!
More pleasurable feasting earlier in the week, we went to Osteria Margutta, a truly authentic Roman-style epicurism. In the heart of Rome's historical center, there's gastronome for the most discriminating palates at every corner of the Eternal City. To our surprise, Osteria Margutta was as cozy as it was romantic. An old world theater like venue with blue glassware, warm room filled with long rows of golden framed mirrors, charming famous modern pop art collaged together in a harmonious mix of antiques. Outside, the patio seating was nestled on a lovely quiet street, every table reserved for frequenting patrons. We sat inside, listening to jazz music, view of a lively bar. I ordered the spaghetti carbonara -- the best! My sister admitted her first real tiramisu she's ever ordered was here. I was wrong to think that my favorite dining experiences will only come about on my trips to Paris. As an admirer of pasta, it's challenging to live in carb-free Los Angeles. I felt satisfied that this holiday was a savory success, certainly in regards to sala da pranzo. Italian fashion and decor really inspired me, but I am definitely looking forward to my next food frenzy.