Following is the text of my speech at a recent presentation, sponsored by Artillery magazine. I was proud to share the stage with speakers Josh Strickland, CEO of Hawaii Camera, and artist Troy Wong.
Hello art lovers. As everyone in this room knows, Hawai'i is a fertile land for artists. I cannot think of a better place to make art. The rampant growth and renewal parallels an equally aggressive death and decay; both unrelenting actions are inspirations that make great art. The Hawai'ian islands are home to many contemporary working artists... But where are they? If art is a conversation, why isn't anyone talking?
A Life in the Arts is a difficult road. The struggles are many and the joys are hard won. For me, the best part of a Life in the Arts is the relationships with my fellow artists, that family of kindred souls with the same goals and most especially, intrinsic sensibilities. Together, artists are no longer solitary beings; fun is a given. Everywhere I have traveled on the mainland, I can find the local artist's community in a heartbeat. Not so, here in Hawai'i. I have met many artists, but I have found no artist community. I had to ask, "Why is that?" "Why not?!" And I began to look for answers.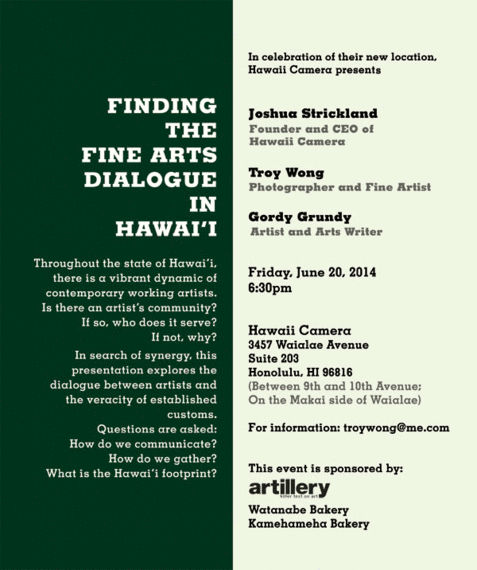 In medium to large-sized cities across the mainland, there are active and busy communities of working artists, art collectors and art supporters. These societies revolve around a collective of art galleries with monthly openings exhibiting local contemporary artists. Each gallery generally has an aesthetic or academic identity defined by a stable of artists. Local media features critical reviews and the efforts of all are explained, championed and encouraged. A narrative evolves.
The Underserved Community and the Lay of the Islands
By terrain and circumstance, there are very few venues for an artist to exhibit their artwork in Hawai'i and therefore an identifiable community of visual artists has not evolved. There is no centrifuge, no engine, no axis from which to revolve. The small Hawai'i art gallery economy is aimed at the tourist and decorative trade. It does not provide a consistent hub of activity or endeavor to the local artist. Hawai'i media does not cover the fine arts critically, nor have they ever been compelled to do so.
Hawai'i is a second home to a large art collector base, most of whom buy their art elsewhere. This market and, more importantly, support lies fallow.
Answers cannot and should not be found in the local museum. Museums must serve the general public. Besides, museums generally have a healthy and adversarial relationship with the local arts community. And that is a good thing.
Not to be understated, Hawai'i offers a large number of community groups that celebrate the arts. These family fun events serve the general public. None of these community centers have a contemporary visual identity; they are not a part of the national and international art world dialogue. (There are exceptions. Pow Wow, for the street artist and Oahu Fringe, for the performer, are seeking an international participation.) Civic arts groups are valuable and viable, but they do not serve the contemporary working arts.
In my encounters, I have found a growling hunger among the many working contemporary artists in Hawai'i for action, an identity and expression. A collective is just waiting to be born.
To replace the electricity and conversation of an art gallery system, a new group can be organized upon the axis of an academic dialogue. These are the ideas that get us thinking, stimulating, working and talking. Organically, great things will happen.
A circle and a line are the most primitive marks of all visual expression. This notion can serve as our identity.
The Circle/Line offers the Hawai'i working artist a community and a banner under which to gather. Ideally, in this Hawai'i art climate, the Circle/Line should serve a larger institution. Open to all, the Circle/Line is focused upon the individuals who make or support art. Whatever the medium, this is the contemporary artist that is cognizant of the international scene of art fairs, academia and the arts media. Hawai'i is a bunch of islands; Hawai'i Art is universal.
The glue of the Circle/Line is a schedule of monthly lectures or panel discussions. The focus is not art appreciation or education, but how and why artists make art.
Programming and Fundraising
The Circle/Line monthly lecture replaces the gallery system as the hub of the artist's community. Speakers are artists, art writers, academics and art theorists. The focus is contemporary art of all mediums. This is our axis.
This program can offer an unprecedented stellar line-up of Blue Chip art world superstars. The generating publicity will call attention to Hawai'i and the definition of an aesthetic. Thirdly, partnerships with national institutions will be formed as the program evolves and grows.
What would Jeff Koons, curator Jeffrey Deitch or famed critic Roberta Smith of the New York Times say of Hawai'i? What about the influence of the islands upon the work of Ed Ruscha? Would John Baldessari open our minds in unusual ways? Gallerist Mat Gleason could inspire new artist strategies for this high rent land. I'd like to hear what Dave Hickey, the brilliant arts thinker, would say to us.
How can we get the best that the world has to offer here on our shores? How does one bring a worldwide scope, on a budget, to a few small islands in the Pacific? I have a novel idea but I shall save that for later.
As an organization, the Circle/Line is designed to be as edgy and fun as we are. The Bal des Quat'z Arts might be an annual bash with a nod to the Parisian Art Students romp in the Jazz Age. The Circle/Line Yearbooks can document our work, progressions and art issues. Consider an all-islands Open Studio Showcase Tour; the Hawai'ian Tourist Authority would love it. Would you attend a film series with programming for artists only? And with a laugh, I'd like to title a fundraising art show, the Circle/Line Circle Jerk. Every organization needs support and money to put stamps on the envelopes. We don't have to think conventionally.
There is much to discuss and much to grow. If we don't start talking, we are nothing more than a Koa tree falling silently in a very large forest. We stand on American soil, the closest land there is to the Far East and Japan. Next door, China and Russia are the most aggressive art markets in the world. Opportunity is everywhere. We need a Hawai'i footprint. So what are we going to do about it? Let's start talking.
--
Gordy Grundy is an artist and arts writer. He has served in leadership positions with many arts organizations. His new book "Artist's Pants" is available on Amazon Books. His visual and literary work can be found at www.GordyGrundy.com.