The Mystery of Artist Masami Teraoka
The art world is a swiftly flowing river. The currents shove every artist along, indiscriminately, at a fast clip. A few pass by twice while most flow through only once. Sometimes, an artist can get lodged along the riverbank, snagged onto a hold. Sometimes this "new land" grows into a promontory. Most times, the pull of the river yanks an artist back into the flow and out of our sight, never to be seen again.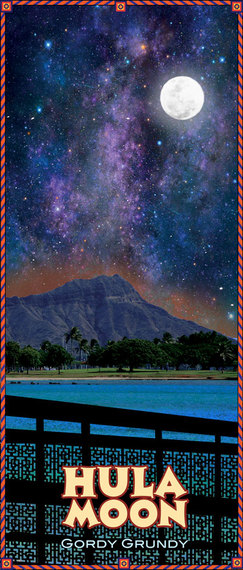 That said, I still don't understand why Masami Teraoka is not better known. His talent is unbelievable and incredible and worthy of our rapt attention. Not only is his technical skill exemplary, his interests and ideas are smart, fascinating, entertaining and with varying degrees of humor. He is a quiet warrior.
Most of you will never know that his show at the Honolulu Museum of Art is titled "Feast of Fools: The Triptych Paintings of Masami Teraoka."
As an artist once based in Los Angeles, we were always having a never-ending dialogue on the benefits or detriments of moving to New York, the art world citadel of the universe. Los Angeles based artists would never have the advantages and attentions that a New York artist had. From the Sixties to the recent present, this has been a much talked about topic. (Today, New York no longer seats the art world, a revolution of city gentrification, the vacation fun of art fairs and the easy-access of the internet.)
Within the language of the art world, if LA is backcountry, then how far removed is Waimãnalo?! Teraoka lives on the Hawai'i island of O'ahu. These islands are remote. Messages are still sent by ship and bottle.
Whatever the reasons, Masami Teraoka is sublime in every way.
In a recent article, I ask the question "Why Isn't Masami Teraoka More Famous?!" A list of impressive curators, editors, columnists and contemporary artists answer the odd question with fascinating insight. Click Here.

Something Like The Hawai'i Fine Art Volcanist and Drinking Club
The plan is quite brilliant and the goal is worthy. Find a missing artifact and recover a priceless artwork. The discovery will be a great boon to Hawai'i in many ways, for the object was once known as "Hawai'i's Wonder."
Like Shackleton, the posted ad will read: "Men and women wanted for hazardous, yet fascinating, journey. Small wages, pack for all climates, sunscreen and skiwear, potential R&R. Safe return likely. Honour and recognition in event of success." The adventure sails under the Hawai'i flag.
A painting has gone missing, for several generations. The painting is unique for its massive size and unique shape. The painting features a fascinating, inside 360 degree view of the Kilauea volcano crater. This cyclorama must be found and returned to Hawai'i.
The Volcano School, an official art world designation, very hard to get, belongs to Hawai'i. The dramatic lava flows and the violent architecture of the cauldrons captivated a group of artists. Their bold interpretations were a cohesive lot, during a specific period of time. While the Europeans were defining Impressionism, these artists wrestled in a world that very few have ever seen, let alone imagined.
Recently James Cave wrote a fantastic article on the Volcano School in the Huffington Post. The artist and creator of the cyclorama Jules Tavernier was one of the most devoted and prolific artists in the Volcano School.
Cave writes, "Tavernier was able to bring out the volcanoes' demons -- and paint them on large scales. In 1886, he painted a cyclorama of Kilauea's erupting crater, an immersive 360 degree canvas meant to be viewed from the inside. It was 11 feet high and 90 feet long." The scale of this artwork is important.
"After touring Maui and Honolulu, the cyclorama was scheduled to be sent to Chicago, Philadelphia, Boston and London," writes Cave, "But it was claimed by a creditor and stored in an attic somewhere in Maine, and has never been seen since."
Let's find it! A little mystery for a Charlie Chan. Clues for a Mr. Moto. The daring of a Phineas Fogg. The dash of Nick and Nora Charles. This is a Hawai'i fine art Maltese Falcon!
What happened to The Great Panorama of The Kilauea by Jules Tavernier?
The huge work is too big to hide forever. The painting is too interesting to ever forget or destroy.
Someone, somewhere, knows something. Let's find it!
For more on the Volcano School, Click Here.
Aloha says Hello and Goodbye.
Gordy Grundy is an O'ahu based artist, arts writer and libertine. His visual and literary works can be found at www.GordyGrundy.com.
HULA MOON is a celebration of Hawai'i. Send Hula Moon tips and scoops to e-mail address hulamoon [at] GordyGrundy [dot] com. Anonymity always guaranteed.