Duke Kahanamoku and the Great Rescue of 1925
On June 14, 1925, a chubasco, an unexpected swift and violent squall, came barreling through Southern California, specifically Newport Beach. A chubasco is a very intemperate storm, shocking in its violence and strength. The harbor entrance was swollen and badgered by unrelenting big swells, growing to 20 and 30 feet. The troublesome and unseen sandbars were shifting. Unable to ride out the storm, The Thelma a 40-foot sport fishing boat made an attempt to enter the harbor.
It is hard to believe, but at one time, Newport Beach was a rough and tumble town, struggling to call itself an actual port. In 1925, the Newport harbor entrance was very dangerous to ship and sail. On the bright side, it also offered the "best surfing in the world," according to the global surfers of the time.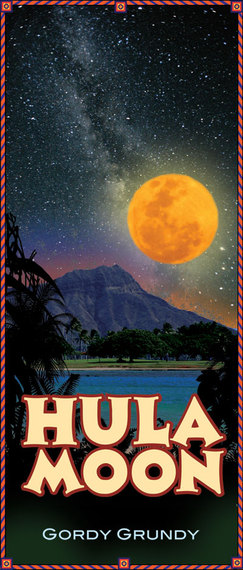 A huge wave smashed across the bow of the Thelma, flooding the engine room. 29 fishermen flew into the roiling waters. According to the Los Angeles Times, the Thelma "was caught broadside in the teeth of three tremendous breakers and rolled completely over three times from starboard to port on the sand of the shallow bar." No shipmate nor weekend fisherman had time to grab a life preserver.
Duke Kahanamoku had motored down from Los Angeles to catch some waves. At the time, Duke was giving swimming exhibitions at the Los Angeles Athletic Club and living the good life as an Olympic hero in Tinstletown. He was not rich of pocket, but rich in spirit. He was thirty-four years old and pals with everyone. He had a large car filled with Hollywood swells and a few long redwood boards.
Kahanamoku knew his beaches and he loved surfing Newport at Corona del Mar. The long ride was like Waikiki. Authors Claudine and Paul Burnett write in their book Surfing Newport Beach, "(Kahanamoku) rode the waves of Newport Bay in a canoe, and when he could, he borrowed an actual surfboard from his friend Felix Modjeski, grandson of famous Polish actress Madame Helena Modjeska, who owned a nearby beach cottage. Eventually, Duke and some of his friends brought their own surfboards to Corona del Mar and left them at the Sparr Bathhouse, starting what would become one of the first surf clubs in the United States--the Corona del Mar Surf Club."
In those early days, "The Duke asked me to watch over their boards (at the Sparr Bathhouse) and see to it that no one stole them," wrote Judge Robert Gardner in his book Naughty Newport, "Steal them? An average man couldn't even lift one. They were made of mahogany, twelve feet long, probably six inches thick, and must have weighed well over two hundred pounds." Gardner recalls, "Nevertheless, the Duke asked me to watch over the boards. I did so, and in return, he would take me out for a ride on his shoulders. He was a powerful man, and I weighed less than a hundred pounds, so by what seemed no more than a flick of the wrist he had me on his shoulders and probably didn't even know I was there during the ride."
In an interview quoted by biographer Malcom Gault Williams in his book Legendary Surfers, Duke Kahanamoku says, "From shore, we suddenly saw the charter fishing boat, the Thelma, wallowing in the water, trying to get to safe water and it was a losing battle. The prospects for picking up victims looked impossible."
Instinct kicked in and Kahanamoku and two of his surfing buddies leapt onto their boards. "Neither me nor my pals were thinking about heroics, we were simply running - me with my board and the others to get their boards - hoping to save lives."
Unthinking of their personal safety, Duke paddled through the madly pounding waves to the struggling men and began a fast roundtrip to save the drowning. Kahanamoku says, "Don't ask me how I made it, for it was just one long nightmare of trying to shove through what looked like a low Niagara Falls." The waves were, in his words, "building up to barn-like heights."
The Thelma had rolled over three times. Everyone was in the water, with nothing to hang on to. The water was mad chop. Clothing was heavy. Kahanamoku says, "Fully clothed persons have little chance in a wild sea like that."
In 1925, surfing and surfboards were an oddity, a strange ancient Hawai'ian phenomenon that had only recently been introduced to the mainland. "I brought one victim on my board, then two on another trip, possibly three on another, then back for one. It was a delirious shuttle system," Kahanamoku recalled.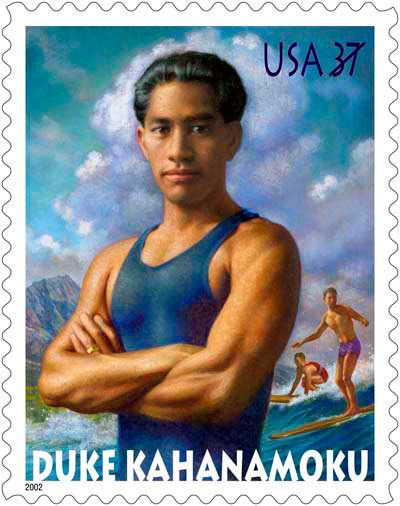 "In a matter of minutes we were making rescues; (people were) screaming, gagging, thrashing. Some victims we could not save at all," Kahanamoku recalls, "We lost count of the number of trips we made. Without the boards, we would probably not have been able to rescue a single person." Before this moment, the mainlander had never considered the surfboard to be a life saving device.
On that day, seventeen souls perished and twelve were saved from drowning. Duke Kahanamoku was responsible for eight of those rescues. Captain James Porter, the Newport Beach Chief of Police, told the Los Angeles Times, "Kahanamoku's performance was the most superhuman rescue act and the finest display of surfboard riding that has ever been seen in the world."
Befitting his humble personality, Kahanamoku didn't stick around to try to grab headlines. He left the scene before reporters even arrived. The story made national news. The event is often referred to as "The Great Rescue of 1925."
Kahanamoku was legendary, again. At this time, the nation was already enthralled with South Seas culture. Two-thirds of all published music was influenced by Hawai'i and the Pacific. I wonder how much of this craze was due to the four time Olympic medalist, two Gold and two Silver. His fresh smiling face exposed his fundamental genuineness. He is a man of aloha.
This year marks the 90th Anniversary of the Great Rescue of 1925. The dramatic rescue is significant in surf history.
Duke Kahanamoku introduced the Sport of Kings to the mainland in the 1920s and planted a seed of thought that grew into the gentle, respectful and earth-conscious ways of the beach culture. He lived a charmed and fortunate life. He is the acknowledged Father of Modern Surfing and an innovator of lifeguard technique and water safety. He traveled the world with the greatest of welcome. The Duke was a Prince.

My Two Dukes, Part Two
I can't remember the name of the group art show or its conceptual theme, but I fondly recall my piece, "My Two Dukes." In some ways, I live with the influence every day, as it forms my conscience and character.
A small piece, "My Two Dukes" was elaborately and expensively framed, as if to present a relic of a saint, a God or a sacred deity. Two commemorative postage stamps from the USPS were carefully positioned and centered on a depthless black velvet background. The first stamp featured Duke Kahanamoku and the other, John "The Duke" Wayne. Both men, My Two Dukes, were a big part of the lore and legend of my hometown upbringing.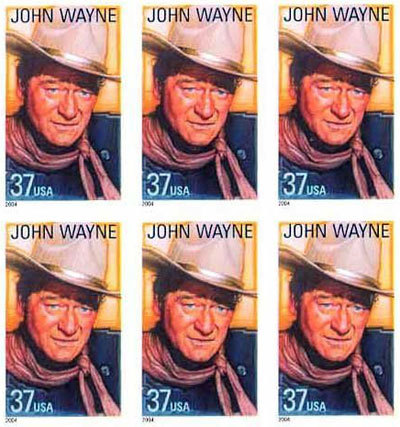 Growing up in Newport Beach, CA, we had a few celebrities littered about. Just 45 miles southwest of Los Angeles, Newport had always been a suburb of Hollywood with a rich history of big talent. From Errol Flynn to Bogart and his yacht Santana to James Cagney who bought a lotta property, Newport was the place to drink and play on Newport Bay.
John Wayne called Newport home and he made a presence. The 552 Club was a local hospital support group and every Christmas John would sing-a-long with the other good ole boys and read the inspirational poetic bio of Jesus, "One Solitary Life." Not an eye was left dry. According to my Mom, God could not have done a better job.
Every time the Duke powered by on the Wild Goose, his restored WWII minesweeper, my Mom would run out and wave passionately and patriotically. He would always wave back. She was his biggest fan. There are some places a son does not go, but I wonder what would have happened if the Duke had stopped and invited her aboard.
It just wasn't the women that were in a Wayne tizzy. The macho megastar set the bar for male behavior. It seems like all of my Dad's friends had nicknames like Hondo, Boomer and Cochise.
As a kid, I remember seeing the Duke at Richard's Market. I clearly recall him pushing a shopping cart and observing his pigeon-toed, "just off a horse" gait. In Newport, everyone swaggers. Guess who we learned it from?
Orange County, California, has since become iconic in pop culture. Before it became the OC, one could easily define the socio-political makeup of America's Riviera in two words: Duke Wayne.

A Slap Upside The Head
On a recent Friday night, I took my mainlander friends, from Newport Beach, to hear Taimane Gardner play her ukulele at the Hyatt Waikiki. After the show, we walked onto Kalakaua Avenue and twelve year old twins Alexa and Grant pointed to the bright statue of Duke Kahanamoku across the street and asked, "Who's that?!"
The bronze statue of Duke Kahanamoku is huge. His arms are outstretched in welcome. Fans and comrades honor his memory with garlands of fresh leis.
I slapped those kids upside their head and replied, "Let me tell you about the greatest waterman who ever lived, Duke Kahanamoku!"
Aloha says Hello and Goodbye.
Gordy Grundy is an O'ahu based artist, arts writer and libertine. His visual and literary works can be found at www.GordyGrundy.com.
A collection of HULA MOONs can be found here on the Huffington Post or on Facebook.