On Father's Day 2013, actor and artist Viggo Mortensen accepted the Dennis Lee Hopper Award at the AMFM Fest in the Coachella Valley. The award is in honor of the fierce independent spirit of the late actor and photographer. The tagline of the inaugural AMFM Fest (art, music, film and more) is "hip, cool, funny and strange." Just like Dennis. The ceremony was poignant, as Hopper and Mortensen shared a close and familial relationship. Happy Father's Day Dennis!
Dennis Hopper was a passionate man. The passion and challenges of making art were the theme of the four-day Fest. Mortensen reflected on Hopper's advice to be fearless with art and life. "Art demands the artist to be alone. An artist must come to terms with the fear of death and the unknown mysteries of life. In these absurd aspects of making art, an artist can also find great joy."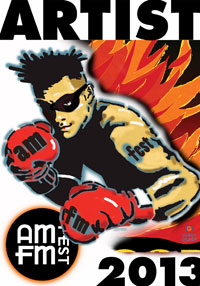 The event began with whimsy. The fledgling fest only had one microphone. Comedians Chris Mancini and Graham Elwood are the Comedy Film Nerds. They served as hosts, fighting over the microphone. Actor Ed Asner was introduced. He was there to laud Mortensen and promote the documentary "American Road" for which he served as narrator. With great sincerity, Asner confessed, "Viggo is a hero of mine." Like a cranky comic news editor, Asner kept interrupting the proceedings. "Award ceremony? Who are the judges? How many are there? Who picked 'em?" The comedians grasped for answers, killing it with the need for "another mike just for Ed Asner."
Many awards were given. Most significantly, the Film 4 Change Humanitarian Award was given to Ellin Jimmerson. Passionate and concerned about our immigration crisis, this Baptist minister set down the bible and took up the camera. She screened her film The Second Cooler at the festival. Her original intention was to copy a few DVDs and pass them out to friends. As a neophyte, she was not aware of the film fest circuit. Now the vet is a multi-award winner.
Photographer and actor Craig Semetko received the Film 4 Change Photographer of the Year Award. Semetko is the lensman of the famous photograph of the rollercoaster, twisted by Hurricane Sandy that rises from the ocean off the Jersey shore. Speaking enthusiastically on the challenges of making art, Semetko concluded with a rally cry, "Don't let the bastards get you down!"
Comedians Chris Mancini and Graham Elwood got a huge laugh when they announced the winner of the No Show Award was Michael Madsen. The previous night, the Quentin Tarantino regular didn't show up for his own poetry reading at the Ace Hotel & Swim Club. Instead, he sent his publicist. The flack staged an impromptu open mike and then tried to sell Madsen's poetry book. Yeesh. In his next film, hopefully Tarantino will shoot Madsen in the foot.
The Dennis Lee Hopper Award is a gorgeous hunk of metal. Camera lenses and spray cans form a spiky bronze sphere. It looks like a naval mine for visual artists. The bomb will look great on Viggo's mantle.
The event gave me great pride to be a fine artist. Painters weren't categorized for an award despite having a loud involvement. Fine artists tend to look inward, never seeking applause. Those film and fashion folk sure love to slap their backs.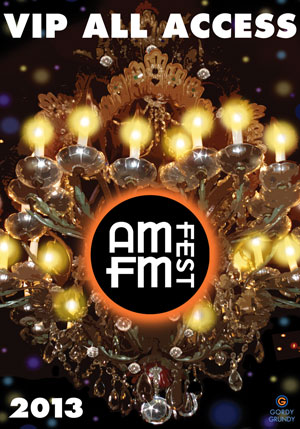 The event is produced by Film 4 Change, dedicated to the power of film and its ability to generate social change. As co-directors Rich Henrich and Robert Galarza aptly stated, "Film has the power to create societies and inflame revolutions. Art creates change, even as simple as a thought, a laugh or a feeling."
Most appropriately, Henrich introduced a significant clip from a long forgotten TV show. Young Dennis Hopper was a guest on the Johnny Cash Hour. Dressed like a Sunset Strip cowboy, Hopper recites a poem on national TV. Rudyard Kipling's "If" spoke to the soul of the AMFM Fest. How cool is that?
Viggo was preceded by a series of film clips that demonstrated his depth and range of character and accent. The actor later quipped, "It must be karma. In the first clip, I kill Dennis (Hopper). In the last I kill myself." Mortensen spoke of his deep connection and close friendship with Hopper. "Hopper was always sharing his creativity and wild excess with others. Dennis was the Life of the Party." "Dennis said, "Take art seriously. You treat it like a job. Make one and be one." "Everything is possible. Laugh at life." "Art is fearlessness and curiosity!" Well said.
Years ago, when Hopper received his terrazzo star on Hollywood Boulevard, Mortensen read a poem by William Stafford, "For My Young Friends Who Are Afraid." The actor repeated the performance.
There is a country to cross you will
find in the corner of your eye, in
the quick slip of your foot--air far
down, a snap that might have caught.
And maybe for you, for me, a high, passing
voice that finds its way by being
afraid. That country is there, for us,
carried as it is crossed. What you fear
will not go away: it will take you into
yourself and bless you and keep you.
That's the world, and we all live there.
--- William Stafford, COLLECTED POEMS (Graywolf Press)
Mortensen appeared truly grateful for the award. He even confessed to being a little nervous. The award and Dennis Hopper meant a lot to him. Referring to the pomposity and "self-important crap" of the Academy Awards or the Nobel Peace Prize, he claimed, "This is the real deal. This (AMFM) festival will grow and grow."
The actor left the audience with a slide show of his paintings, photography and poetry. His artwork is lush with saturated colors, often times incorporating text. His color photos are also rich in color. Nature is his greatest influence. The few black and white photos, primarily from film locations, did not have the same impact. Mortensen works best in color. The poetry is clean, sparse and heartfelt. Viggo has a good soul.
CLICK HERE to see Mortensen's artwork.
About a decade ago, there was a period when I would see Mortensen all of the time at various Los Angeles art events and openings. He was always with his young son. I never saw them apart. Viggo Mortensen is a very good Dad. Therefore, it is highly appropriate and poignant that he received the Dennis Lee Hopper Award on Father's Day.
GORDY GRUNDY is a Los Angeles based artist and arts writer. His visual and literary work can be found at www.GordyGrundy.com

PHOTO GALLERY
Viggo Mortensen Proudly Receives the Dennis Hopper Award at the AMFM Fest