The text message was terse but it explained everything. "Been awake for 50 + hrs." Filmmaker Samuel Ali had just completed his first entry for this years Showdown In Chinatown competition on the Hawaiian island of Oahu. Sammy's crew and nine others had scrambled to make a seven-minute film in 48 hours. 72 hours after the contest began, the films were screened to an audience of several hundred fun-loving, party-hearty cinemaphiles.
On Wednesday at 5pm, the Facebook page for Showdown in Chinatown announced this month's topic: Swede! The competitors must follow the pop culture format. Normally, in each contest, the filmmakers are given three elements that must be applied to their new original creations. 1) The film must address a topic or a genre. Sci-Fi, urban legends and "Once upon a Halloween" have been demanded in the past. 2) A line of dialogue must be incorporated into the script. "It's not about being right", "I don't speak Spanish" and "Bumbai" have been worked into the plotline. (Bumbai is a Hawaiian, pidgin English term for "S'OK, you'll learn later.") 3) A specific prop must appear. Filmmakers have had to place a compass, a phone booth or marbles, slyly into the frame or purposefully into the plot.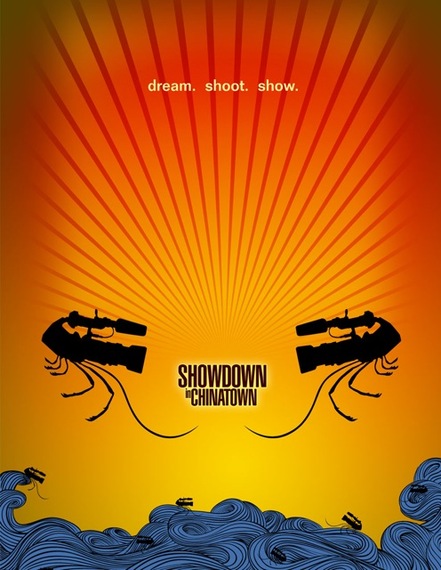 The topic of this contest broke from the norm. The filmmakers had to produce a Swede. Fortunately, the organizers were not demanding a Swedish actor, a potentially scarce commodity on a Pacific isle. Swede-ing is the pop culture pastime where one recreates a low-budget and highly condensed version of their favorite film. A Swede lets the screenwriters off the hook. It's a Fan Boy hobby time-killer. Now it became a challenge for these professional filmmakers.
Sammy Ali was huddled with his core crew when the new topic was announced. Paul Yau and Jerimiah FireSoup Simpson complete a driving force that can grow to a hundred if needed. They are part of a creative community in Honolulu that is loosely tied to the world famous DJ haven Asylum AfterHours. When the Swede-ing topic was announced, the trio had a creative leg-up. Last week in a brainstorming session, the three discussed their love of Wolfgang Petersen's 1984 epic The NeverEnding Story. On a whim, FireSoup had broken down each scene in the film. With serendipity on their side, the crew began to marshal their troops.
Paul Yau usually serves as Director of Photography. With a specialty in choreography, he would also need to stage a dramatic fight sequence. This children's film would not require the blood and guts makeup talent of J. Clyde Swink, but it did need his technical help with a Steadicam. Assistant director and score composer Jerimiah Simpson, also known as music producer FireSoup, began to list the many elaborate wardrobe requirements for the short fantasy film. Fortunately, the team has an ally. The world knows Marilyn Keller as a famous psychic; a few in Hawaii know her as the Costume Queen, a rental outfit with a warehouse of colorful costumes.
In our digital world, Showdown In Chinatown is open to contestants from all across the United States. The competition is an outlet for underground, established and aspiring filmmakers to cut loose and create. Each challenge varies in length, from a week to 24 hours. There are always fresh requirements and specifications. No planning ahead, creators must be spontaneous and true. Over the year, five challenges will be made and a finalist will emerge.
Eight years ago, the event was created, founded and established by Torry Tukuafu. As the legend goes, Tukuafu was looking for a stretch and a creative outlet. Working on Lost and Hawaii Five-O, he knew others with the same needs. The contestants are varied. Film production companies compete alongside individuals and ragtag teams. Everyone is flexing their creative muscle.
The screenings were originally held in the loud, smoky bars of Chinatown. This year the event has moved to the industrial hipsterville of Kaka'ako, a section of Honolulu where creative things happen. Showdown In Chinatown puts on a class act. Fortunately, there are sponsors who recognize this and step up to the plate. Hawaii Photo Rental, Pabst Blue Ribbon, Honolulu Magazine and many others have given their support.
The first screening of the year was a party. Hale Mawae explains, "The Showdown brings all of the Hawaiian filmmakers together, all of the industry people from Hawaii Five-0, Lost and the Last Resort. It's a perfect place for new and up coming filmmakers too. Everyone's welcome." Between screenings, a DJ would crank up the beats. Cyrina Hadad, the event coordinator and master of ceremonies, kept a lively pace. People danced or talked. Hale Mawae served drinks and popcorn at his donation bar. He is raising money to launch a Kickstarter campaign to finance his feature film project. The Hawaiian and English language film is set in the 1870s. When an archeologist starts digging into Hawaiian culture, he discovers the truths of his own past. Good luck, Hale. What a perfect excuse to drink heavily and support the arts!
Another team produced a Swede of Castaway, the story of Tom Hanks's love affair with a volleyball. Will Oak Wild played the castaway and served as ringleader. This group of seven is friends from an acting class at the Scott Rogers Studio in Honolulu. Actress Liz Letchford came up with idea. The film offers beautiful underwater photography, lush Hawaiian landscapes and much humor. After the filmmaking marathon, Wild was bleary eyed. Compadre and actor Brandon Wardle shook his head and laughed. The last 48 hours had been a delicate balance of filmmaking while keeping awake at the day job.
The winner of this round of the Showdown was the Titanic Swede. There was no contest. Kids and dogs are always crowd pleasers. The Leo DiCaprio part was played by a cute little blonde-haired boy. When he stood on the bow of his cardboard ocean liner, spread his arms wide and exclaimed with a squeak, "I'm on top of the world", the game was over. The kid sank the competition.
Throughout the year, Showdown In Chinatown will offer four more competitions, edging each team toward the finals.
At the screening bash, the Samuel Ali Crew was still caught in the whirlwind of their production frenzy. Sammy and FireSoup had been so busy, both were still dressed in their NeverEnding costumes. Sammy was sandwiched into the shell of a turtle. FireSoup remained the genie. This group has successfully participated in more than fifteen Showdowns and will continue to compete in the future. "Hawaii is a gathering community of dreams and big ideas," says Sammy Ali, a native of San Antonio Texas. "These are magical and mystical islands. Showdown in Chinatown is just one part of that magic."
Gordy Grundy is a Hawaii based artist and arts writer. His visual and literary work can be found at www.GordyGrundy.com.

PHOTO GALLERY
Speed and Passion Highlight This National Filmmaking Challenge: Showdown In Chinatown