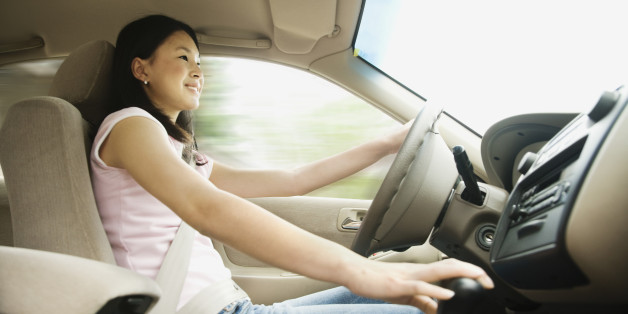 Originally appeared on HoneyGood.com.
My daughter, Lizzie, and I were sitting over lunch a week ago reminiscing about her childhood. We laughed and laughed over some of our mother-daughter experiences. There were some corkers!
I would like to share one mother-daughter story. It is laughable, and yet comes with a serious message on values. I had my responsibility as a mother. She had a willfulness to try and teach me a lesson in an unexpected manner.
Motherhood comes with awesome responsibilities. When my first child, Jenny, was born, I remember looking at my beautiful little rosebud and whispering in her ear, "I will teach you a superb set of values." And I kissed and held her close to me. When my second daughter, Lizzie, was born, I promised her the same thing. I kept my vow, taking the high road, doing the right thing, even if it was not popular. I told them ultimately they would become a collection of their thoughts, actions and choices.
This story has to do with value teaching -- with a twist!
As you know, my daughters were raised in Hawaii. The weather was glorious all year round and that may have been the reason that young teens were allowed to take their driver's license exam at age 15.
My daughter, Lizzie, turned to me the day of her 15th birthday and asked me to take her for her license. I agreed. The moment the examiner told Lizzie she passed her test, our problem began. I should have known... because this daughter of mine was never boring!
"Mom, will you and dad buy me a car?
I was taken aback because, Jenny, our firstborn never approached us with this request.
After much thought I answered, "If we buy you a car, you will have to take on some of the responsibility."
"I will do anything, mom. I promise. I promise!" said this daughter of mine.
"You will have to get a job, Lizzie!" The wheels of my mind continued to turn as I blurted out, "and co- sign a note with me at the automobile agency which is a promise to pay for the car. You are going to have to earn the right to have the privilege of driving your own car at age 15."
There was silence as the wheels in her head were spinning.
And then, in a burst of excitement, she responded, "I want to be partly responsible for my new car and I will get a job, mom! I will ride my bike over to No Ka Oi (meaning 'the best' in Hawaiian) flower shop right now and ask Mr. Chow for an afterschool job. You know how I love flowers and nature, just like you do, Mom! Oh, Mom! I love you so much. Thank you from the bottom of my heart!" And off she ran to get her bike before I had a word to say! I smiled.
Lizzie came home with the job. I knew she would. She could wrap anyone around her little finger. I remember that she got only $2.50 an hour! She did get a $.50 raise a few months later. She loved her little job, did not miss a day of work and learned the important value of the rewards and benefits of working.
A few days later the two of us went "car shopping." We settled on a Honda. We would pick up the car a few days later, after my husband finalized the purchase. She was in love with her new car. I felt the car was safe. We were both happy.
As we drove home, Lizzie was talking a mile a minute about the car and expressing her appreciation. I was listening and smiling.
And then, she said -- and this is where our problem began -- "I want to drive alone at night, mom."
"No way, Lizzie! Out of the question," I replied. "It is too dangerous! You could have a flat tire or car problems. The only way I will let you drive at night is if you have a car full of girlfriends."
My strong-willed daughter would not take "no" for an answer, saying, "What if I want to go somewhere at night and my friends don't want to go or can't go? My night will be ruined! You are not being fair, Mom!"
I was an easy mom and my girls knew it. I would ask myself how I felt at their young age before making a call. But, there were times I held my ground and this was one of those times.
"I will not let you drive alone at night and I am not going to change my mind." I said. In my heart, I knew this was not the end of our tug-of-war, but I had no idea to what extent.
A few days later around two o'clock in the afternoon, my phone rang.
"Hello Suzi, this is Genevieve Painter." She was a psychiatrist and a friend of mine.
"Hi Genevieve! How are you?"
"Well I am fine... but today I had an experience that I have not had in my 35 years of practice! My phone rang and I heard a young voice say, "Hello, my name is Lizzie Forman and I am calling to make an appointment for my mother. She needs help! I am out of school at 3:05 everyday. I want to bring my mom to see you!"
My friend said, "Suzi, I was in shock! I then asked this child, 'Who gave you my name and number?'"
"My girlfriend told me you are helped her. So, I thought you could help my mother."
I asked her, "Is your mother Suzi Forman?"
Now she was in shock! "How do you know my mom?"
"We are friends." Genevieve told me, "There was a long pause in our conversation as we both tried to collect our thoughts!"
She went on to say, "I couldn't believe that after 35 years as a psychiatrist, I found myself speechless! Your daughter could not believe she called a doctor who knew her mother!"
And what were my thoughts as I sat listening to this unbelievable story? I remember shaking my head in disbelief, but with a smile on my face. How resourceful of this daughter of mine! How determined she was to bring me to the table with a mediator.
Immediately, I said to her. "Let's make an appointment as soon as possible. If my daughter can be so resourceful and determined, I want to give her her day in court!'"
Lizzie and I met with Dr. Painter. This was the outcome: We compromised! She could drive at night, but had a curfew and she had to have at least two friends with her. As we walked out of Dr. Painter's office hand in hand and got into "her car," I looked at her and said,
"You were very smart at your young age to reach out to someone to help us, Lizzie. What you did is an important value to store in your beautiful little head. Life is a compromise."
She squeezed my hand and said, "I know Mom. You taught me. I love you so much!"
I squeezed her hand. "I love you more, Lizzie."
And we drove off laughing and talking about how shocked Dr. Painter who could not believe a 15 year-old would call her to make an appointment for her mother. And quite frankly, neither could I!