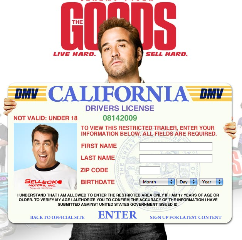 Get the Goods and learn how to bring it in the market place or you will be punished. This is not a review of the movie, The Goods where Jeremy Pivens portrays a guy that knows how to get results but rather how important having 'The Goods' is to every individual in this economy.
'The Goods' can relate to inventory (goods), but more often relates to a person who have the abilities to get the job done. In this economy you better have both what people want and even more importantly, you must have the ability to deliver in today's business environment. You could have a great product and the great price but still blow the transaction by not having the right attitude, the right approach and taking the right actions. The market place is brutal on those that don't have the goods. For the 20+ million that are out of work you don't need a great resume you need an interview with the decision maker where you can sell the idea that you can truly make a difference. If you are selling a product or service you had better bring the goods or will miss an opportunity to ring the register.
The pain you are experiencing today in the market place is not simply about a bad economy but is simply reduced to whether you have the goods or not. Is the economy tough, of course, which makes the point of having the goods even more vital. Your abilities by themselves is what will see you through at this time. The Fed says that the economy is recovering but the Fed does not improve your abilities. The government's next batch of programs or stimulus will not make you more valuable or more able.
No one can get you 'the goods' but you! Your abilities are the only thing that can provide you with security. Security cannot come from outside of you, can not be giving to you and can not be provided by a government program. If the economy miraculously improves tomorrow your skill set (abilities) will be the same as what they are today. Your value in the marketplace is determined only by your skills not by the condition of the economy.
Companies today must make ability development their number one concern today. If you want to land a job, or if you want a better job or want to grow your company you have to increase your abilities. The economy will not provide whatever treasures it has to those that are not able!
How to get the Goods:
(1) Break your dependence upon waiting for others to save the day for you,
(2) Know that all solutions rely only with you.
(3) Learn something new each day to increase your abilities.
Regardless whether you are the CEO or unemployed, your abilities are the only thing that will ensure your future. Anyone that depends on anything other than merely making sure they have the 'goods' will become a slave to the promises of others. The current economy is not a movie, it is as real as it gets. Learn everything you can about selling yourself, your company, your products and services and you will succeed in any economy!

Grant Cardone, Author and Sales Expert
800-368-5771