Last night, I went to the Miami chapter of the New Leaders Council event "Why Cities Are Important" at The Miami Center for Architecture and Design.
Panelists were the author of Miami Transformed, former Miami Mayor Manny Diaz and Knight Foundation's Carol Coletta.
During introductions, MCAD presented the building's history in photos -- from Miami's first Post Office to bank lobby to big box retailer Office Depot who remained in tenancy through my high school years nearby in the 1990s.
When the night's host showed a photo of the big box store interior, which stripped out all of the curvy Roman arches inside the building, a hiss arose from the crowd.
I'm not sure if the young urbanists in the room knew, but the tweeting and charmingly engaging former Mayor Diaz decided to take 30 pieces of silver from Bettonville, Arkansas last year, in exchange for pushing through a deeply unpopular Midtown Walmart proposal at City Hall.
Recent post about Manny Diaz by NoWalmartinMidtown.com
For the record, I don't have anything personal against Manny. I appreciate his sense of humor, the good things he accomplished like building the tax base, and the power of some of Manny's better ideas, like the one that non-politicians can improve government through engagement.
Given a glass of whiskey and some fat to chew -- both being talkers -- Manny and I would become fast friends, no doubt.
However, when a former high ranking government official purports to be an urbanist leader, but brings an auto-centric development into a budding neighborhood, is he still an urbanist leader?
Clients are important, and obviously bills have gotta be paid, right? If anyone knows the importance of a good client, it's Manny Diaz; he won the race for Mayor of Miami in November 2001 after representing Elian Gonzalez.
In light of Mr. Diaz's obvious benefit from legal representation of Elian, it lead me to question his current choice of Walmart as a client.
At what point does a public person stop being a politician and represent solely their own economic interests?
Mr. Diaz has been out of office for many years now, and legally nothing is stopping him from taking anyone's money for his law practice at Lydecker Diaz.
Still, is it really ethical to have accepted salary payments from taxpayers for serving in public office, then turn around accept private funds to undo one's very deeds of office once in a private law practice?
My answer is no. Morally, it's no different than notorious Greenberg Traurig lobbyist Jack Abramoff infamous ripoff of Native Americans -- by selling a casino license to one tribe, and services to revoke that license to another. For the record, it appears that Mr. Diaz -- unlike Abramoff -- isn't breaking any laws by choosing Walmart as a client.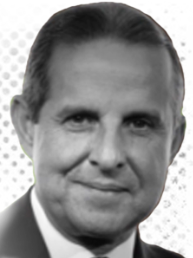 Former Mayor Manny Diaz
Throughout last night's chat former Mayor Diaz's tweets kept coming, even as he tried to talk the last questioner out of the room. While I waited patiently in the front row with a microphone, Manny -- who refused eye contact with me all night -- spent five minutes nervously riffing about transit issues, hoping to cutoff the room.
Last question in hand, I asked Manny to explain how he could simultaneously represent himself to be an urbanist Leader, while working hard, twisting city rules and using connections to install a deeply unpopular Midtown Walmart in an area underserved by mass transit?
His entire unscripted answer was barely a sentence under his breath: "Walmart is not responsible for transit." He spent another couple of minutes recalling the story of Midtown, effectively dodging the question.
After the event, Manny tweeted: "Midtown today looks like exactly what residents and elecred officials wanted. I hope u enjoy." He could've finished the sentence by saying "Hope u enjoy now. Walmart is going to build an asymmetrical neighboring building in Midtown with 40 percent more parking and loading zones than the zoning code my administration allocated."
Plainly, Mr. Diaz will continue behave just as he has written in his book; ignoring or white washing the messy reality of history. Just last year, the SEC charged the City of Miami and Diaz's former budget director with fraud related to 2007 and 2008 Bond issues giving our city the dubious distinction of first Municipality charged with fraud by that agency.
Manny Diaz is a public speaker on urban issues. He's also frequently mentioned as a possible candidate for higher office.
I believe it's vital that Manny answer some tough questions about his Transformation from Urbanist to Walmart advocate, if he wants to keep traveling the country speaking about city planning.
Last night, I gave Manny the chance to answer my questions in person, to explain to an audience of young professionals how he sets his moral compass. He could've walked right up to me afterwards too, and explained in private how his current financial needs aren't being met, or just said anything -- but chose not to say anything further.
Because we have at least a few of Manny's thoughts from last night on Twitter, I've decided to assemble here a few more reasonable questions and invite Mr. Diaz to answer them on twitter. The results will be published.
Miami has gone a long way to shed image of urban sprawl poster child, but still have a long way to go #nlcblueprint

— Manny Diaz (@Manny_A_Diaz) March 25, 2014
How will Miami eliminate urban sprawl by giving Walmart special building privileges to add more auto parking than code should allow?
A physical presence is important at public meetings, but u can also reach elected officials other ways, email and Twitter #nlcblueprint

— Manny Diaz (@Manny_A_Diaz) March 25, 2014
Avoiding public meetings (or personal meeting with officials) skirts city lobbyist registration requirements. Is your lesson to New Leaders Council members "Don't leave fingerprints"?
If you fail to plan, you plan to fail #nlcblueprint #MiamiTransformed

— Manny Diaz (@Manny_A_Diaz) March 26, 2014
How does one plan for their former civic leader to sell his professional services to undo your plans?