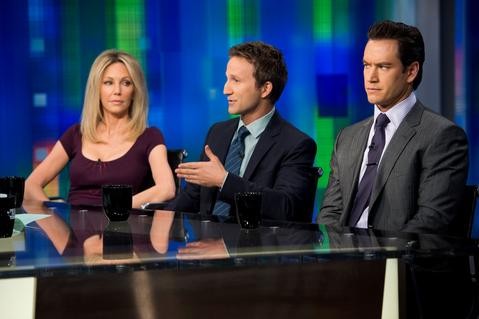 Photo: TNT
If anybody can heat up summer programming, it's Heather Locklear. The famous Melrose Place and Spin City grad enters the fold of TNT's playful legal romp Franklin & Bash premiering June 19. In its third season, Locklear's character, Rachel King, is the new boss at the law firm where man-boys/legal titans Jared Franklin (Breckin Meyer) and Peter Bash (Mark-Paul Gosselaar) frolic with reckless abandon. Expect the guys to be pushed out of their comfort zones. All of it promises to make for good TV viewing, which is why I caught up with Locklear to learn more about her new role. In between, she muses about TV's evolution and a few other anomalies. Read on ...
Congratulations on everything.
Wait? Did I get married or something?
On the new role.
[Laughs]. Yes. It's great.
What made you say yes to playing Rachel?
The show is really funny and written well, and with good actors and people surrounding it, so it wasn't that hard to say yes. But also because it wasn't a straightforward legal show. I liked the comedy in it.
It has some spunk.
So good. They are so cute together, those two [Meyer and Gosselaar]. They should be a couple.
You know, maybe they should. Perhaps in a dream sequence.
[Laughs]: My dream sequence. The kind of stuff I like.
Well, we seem to be on the same track. But I digress. So, tell us more about your character, Rachel King.
She's the boss. She likes to be the boss. She likes to be in charge. She's brought in fix things up in the office. Not that they were really bad, but it's been just these two hot shots kind of taking over and they have a reputation, and at times, it hurts the law firm. So, she wants to make sure the reputation is cleaned up.
You have a history playing strong characters, I wonder if that is by choice, or something that may have began back when you played Sammi Jo on Dynasty? Is it something you consciously choose?
I don't choose. But I do think it started with Dynasty and it just sort of became ... Well, and then I did a cop show and it became this good girl/bad girl kind of thing. I think that sort of followed me around and it's always been good and welcomed. But I don't plan. And ... I don't play any dumb roles. But I don't think I am offered any.
How's the chemistry between you and the guys?
Well, let me tell you: I have never had a scene with one of them. It's always the two of them. I wondered: Wouldn't it be great to do one-on-one, but so far, no. The actors are really good. Wait -- what was the question? [Laughs] Okay, now I can play a dumb person.
You're funny. But yeah... the chemistry...
First of all, they were really sweet; really welcoming. I had to get used to their banter. I got thrown a bit, not knowing when to come in with my lines or... But they helped me out. On the show, Rachel is entertained by them in the beginning, but when they don't really take her seriously, she has to treat them like kids. There are still rules you have to follow.
Any curious surprises to expect in these next 10 episodes?
[Pauses]: There are curious surprises. Very curious. There's a little scandalous one toward the end.
Involving your character?
Yes. Well, not scandalous. Just a little... frisky.
So take me back. You mentioned you were a bit surprised by some of the success early on, but did you feel pigeon-holed into playing a certain type of character? Sammi Jo on Dynasty; Amanda on Melrose Place?
You know, each time I did something different. After Dynasty, I did T.J. Hooker. Then I did Melrose Place. So, each character was different. That kind of helped. It was like, 'Oh, thank you Michael J. Fox for putting me on Spin City. l mean, I loved Amanda, but it was time for her to go to bed. And stay in bed -- and not hop around. So, that was a godsend. I've been grateful for the characters.
Is there any one you are most fond of?
I have a fondness for Melrose Place. I love those people. And a fondness for Spin City because of those boys--both of them; Michael and Charlie [Sheen]. They are both so different.
How about some of your earlier influences? Who encouraged you to pursue showbiz?
I don't know if anybody encouraged me. I would play little skits in front of my parents and sisters but I was always shy. I think it's when I got to UCLA and I did something in a catalogue and somebody saw it and suggested I go into a commercial workshop, and it went from there. And then people encouraged me.
So, what are your thoughts on how the television industry has evolved since the '80s? You've been through it all -- many series and we're in a very different era now what with social media.
Well, I wish there were more episodes of shows, like the shows that are on TNT, but I guess on cable, they only do about 10 episodes, maybe 15. I wish everybody had more money to do that. For me, on the shows that I have done, it's always been fast paced. But I like that today, there's more opportunities for actors to work. Everybody gets a shot. And with the Internet and all, you can cross over. There's so much. We're lucky as an audience because there is so much.
A big diversity.
And Netflix is coming out with original episodes.
And Amazon.
Isn't that crazy?
It's shifting. And it's weird, too, for writing and writers.
Like what?
Well, many, many, many people blog now. And many, many, many of them aren't really compensated. It's interesting.
I know. I think: 'Why are they doing this if they are not getting paid?'
Right? There are a number of times when I even do it. And I have to stand back and ask: Why am I doing this? It used to be that it was a privilege to have a story published; it was something to work for. But now, almost anybody can get published. Yet not all of those stories are done by professionals.
So, I have a question. So, you're a writer and then you see somebody doing a blog and do you think: 'Wait a second, I'm a professional writer, a paid writer ... why are they doing that blog?'
Yes.
Like, who is that person?
Exactly. I think the traditional publishing world -- writers -- may be going through a kind of identity crisis these days.
I can feel that with Reality TV. I think: Wait -- are they actors now?
Yes. I can see that. I would imagine that a variety of actors might feel that way. Like -- what's going on? And it's not as if it's "real"... they seem to be acting.
And they are.
Did you ever feel like, what's going on?
Yeah, I have. But then I think, well, we all have to get a break somewhere.
So, what's some of the best advice you've been given about life?
Oh my God ...
I know. It's like therapy -- sorry.
Wow. Well, I want you to give me advice.
Okay, I can give you some.
Please.
I've been hearing this a lot lately: 'Get out of your own way.' But I don't think you're in your own way. You seem to be in a good flow. You got it going on.
Today. [Laughs]. Well ... live every moment as if it were your last? How's that? Wait -- that's horrible.
To live in the moment, maybe.
Yes. The moment. That's better. Not, 'live like you're going to die in two seconds' [Laughs].
Well, what are you most excited about for the rest of the summer?
I'm going to Paris with my daughter [Ava Elizabeth]. A piggyback with Richie.
How old is your daughter now?
Sixteen and a half. She almost has her license. How did that little young person get to drive on a freeway with all those cars?
What's the best thing about being a mom?
Having my daughter as a daughter. The best daughter in the world. The best part of being a mom is being her mom.
Catch new episodes of Franklin & Bash at 9 p.m (EST/PST). Wednesdays on TNT, beginning June 19. For a look a Locklear through the years, see the slideshow below.

PHOTO GALLERY
TV Time Capsule: Locklear Through The Years