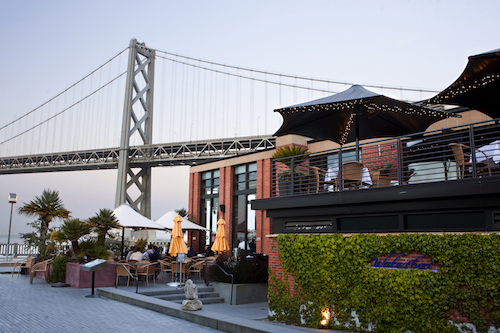 Waterbar in San Francisco
As 2013 speeds rapidly to a glorious fork in the road and the path to 2014 comes into much clearer view, reflection seems to par for the course around this time of year. Deep personal insights are good--have at it!--but it's best not to forget to toss some fun into the mix, too. For that, travel certainly wins out as the viable go-to. Reviewing some of my own 2013 excursions proved illuminating, especially since a gaggle of them took place in San Francisco, perhaps one of the nation's most eclectic, diverse cities-- culturally and on the culinary front. That said, take note of five unforgettable finds that the venerable City By The Bay has to offer in this Best of 2013 list.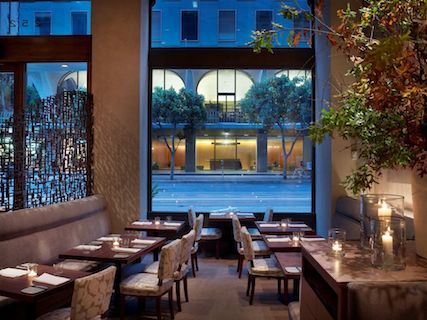 1. Michael Mina
Back in 2011, this indelible San Francisco restaurant nabbed top honors in Esquire Magazine, which named it Restaurant of the Year. Two years later, Michael Mina, located in The City's Financial District right along the California Street cable care line, continues to prosper on so many creative fronts it would be impossible to list them all here. Suffice it say, executive chef Ron Siegel has so wonderfully captured the distinctly original culinary menagerie that founder and brainchild Michael Mina has given birth to here--and in other restaurants in Las Vegas, Scottsdale, Washington D.C. and Miami, to note but a handful. You do not have a "meal" here in the traditional sense. You have an unmatchable dining experience. The food presentations are culinary works of art--from concept to execution, few culinary pros out there have managed to infuse a dining experience with such panache or creativity. Some of that has to do with Mina's penchant for marrying Japanese ingredients with divine French influences. The dinner menu is a wonderfully inviting à la carte experience and visitors have the option to have the chef actually prepare food for the entire table. Appetizers such as the lobster corndog, as well as the poke with pine nuts is backed by imaginative verve. Other presentations--sashimi dishes with slivers of shaved radishes and dollops of pomegranate gel, or the Maine Lobster Risotto with butternut squash, pomegranate seeds and baby greens--defy efficient description. And how does one properly salute the inspired birth of an ensemble starring parsnip, squash, dates and duck breast with a pistachio crumble to boot? And on and on it goes. Consider: the chef's 6-course tasting menu. There is also the chef's 9-course "Ketto" menu, which features even more provocative fare. Bright sides: A extensive wine list, imaginative dessert offerings, enchanting atmosphere and employees that are not only schooled on what they are presenting, but actually pass along a sense of love and wonder to their guests. Bottom line: Stunning. It would not be a huge exaggeration to claim that this is, indeed, one of the best restaurants in the America.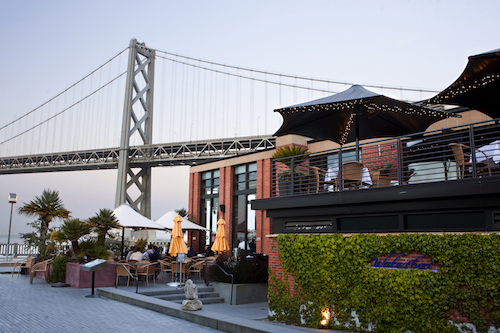 2. Waterbar
It has consistently grabbed honors as one of The City's top restaurants and it might just continue to do so in the years ahead. For starters, Executive Chef Parke Ulrich's love for festive social gatherings is downright contagious. Few San Francisco hot spots boast such an energetic atmosphere and such a glorious oyster bar to boot ($1 oysters daily from 11:30am to 5:30pm.) Wonderfully located on San Francisco's enigmatic Embarcadero, Waterbar also finds itself in another delicious position: In direct view of the Bay Bridge--no doubt 2013's launch of The Bay Lights has made this unique haven even more popular. Beyond location and its dynamic vibe, the success of Waterbar originates from Ulrich's vision to unite two things very well: His dedication to using sustainably-sourced seafood with a variety of fresh, local, organically-grown produce. (Locals may recall Ulrich's tenure at the popular Farallon Restaurant.) The menu changes daily here, which suggests continuous attention to invention. Guests are offered healthy portions of dark bread, baked daily at 9am. Dishes mesmerize: from a succulent lobster appetizer to a pork belly entrée or duck ravioli dish that wins points for presentation. A grilled Hawaiian ono arrives with braised leeks, enlivened by a cauliflower puree. And yet the oven-roasted Sablefish is hard to resist during the holidays--red curry braised pumpkin, pea leaves, black rice and black twig apples all vie for attention. Sides such as baby kale or the spirited Parmesan French Fries stand out as well. Not to be missed: dessert from the creative mind of Chief Pastry Officer Emily Luchetti, the author of several books, including 2011's "The Fearless Baker." An ice cream sandwich may seem rather simple, but here, culinary CPR affords it new life by way of pecan shortbread, butterscotch ice cream and buttered pecans. The house-made sorbets and ice cream are to be seriously considered. Bottom line: One of the very best dining portals along San Francisco's Embarcadero.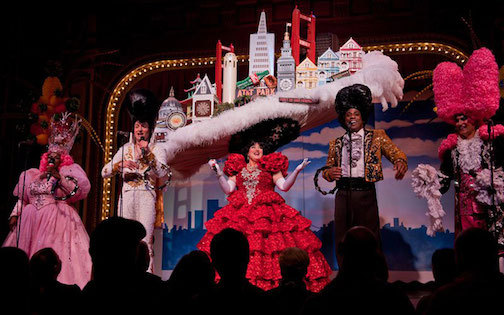 3. Beach Blanket Babylon
It celebrates its 40th anniversary next year, making it America's longest running cabaret/revue show. And, by the looks of it, middle-age is only adding more spunk to this venerable if not unforgettable outing. Birthed by the late Steve Silver back in the '70s, the idea was to offer The City a festive musical romp that was loaded with hot talent and also poked fun at national and local headlines. It has done that in spades--and all loosely wrapped around the tale of Snow White setting off on a whirlwind--and worldwide--misadventure to try to find her Prince Charming. The best thing about this quirky yet thoroughly dynamic outing in the thriving North Beach district, aside from the mind-bending talent assembled here, is the ongoing efforts of its producers and writers to keep the show fresh. Depending on what's trending out there, the production can add a number of new elements--a recent outing found a performer resembling Miley Cyrus coming on stage for twerking and more. Last year, when the film Les Miserablés was all the buzz, the creative team infused several Les Miz-themed musical numbers with political characters. Another new addition: New Jersey's Chris Christie. In the meantime, everyone from The Royal Family and Louis XVI to Oprah and Adele are parodied for good measure. Few productions manage to withstand the creative wear and tear of time, and yet BBB has. Bottom line: As fantastical as it is fantastic. It remains one of San Francisco's most thoroughly invigorating must-sees. (Catch the holiday shows.)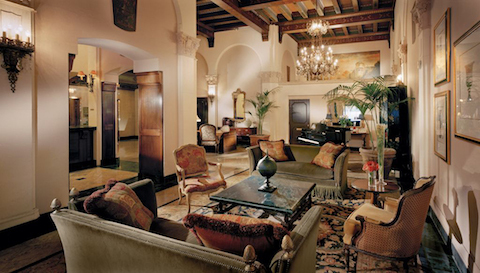 4. Kensington Park Hotel
What's not to like about a chic hotel less than a half-block from Union Square and the Powell Street Cable Car Line? True, location may win high marks for this place, but everything from its staff to its style certainly stands out. About the former ... mentioning the professionalism of a hotel staff may seem like a toss away line, but in this case, be assured: It is not. We live in an ever-frenzied world these days--we can barely look up from our SmartPhones for more than a minute. That said, imagine genuine kindness and care being given--all to you. One might think that this to be a case of practiced "professionalism" but one gets the sense here that the hotel staff not only enjoys and/or loves what they are doing, but that they also care about a guest's stay. Beyond that, how can you really complain about a 1925 Gothic style building that takes you back to a part of historic San Francisco? The spacious lobby boasts hand-painted ceilings, a number of modern art pieces and a grand piano--several pianists rotate nightly performances during the week and complimentary tea and sherry is also offered nightly. The rooms: comfortable, clean and many overlooking San Francisco's glorious skyline. Rich mahogany found in the rooms are a nice element and each room has its own distinctly original unique style. It really does feel as if you're tossed back 100 years and being spoiled rotten. Other perks include a full concierge service, use of a fitness center (at nearby Hotel Diva), town car service and preferred seating at the popular Farallon Restaurant. Better still: San Francisco Playhouse is right next door and theater lovers will appreciate the hotel's proximity--just one block away, in fact--to San Francisco's American Conservatory Theatre. During the holidays, catch the skaters at the Holiday Ice Skating Rink at Union Square. Take note: it's OK to wag here--the hotel is dog-friendly. Bottom line: Charming and unforgettable.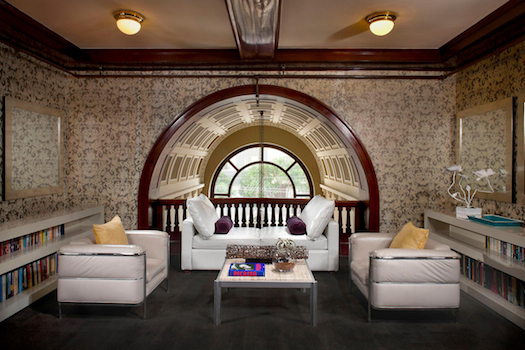 5. The Steinhart Hotel
Ideal for business travelers staying for an extended stay, this intimate hotel is several minutes walking distance from Union Square and it completely captures the essence of "residential living" in The City. It does not hurt that the renowned William Sofield designed these fashionable--dare we say, chic--apartments. For those in need of a refresher course on Sofield, he's the man behind those famed Gucci and Ralph Lauren boutiques. So, what we have here is ample rooms in a building that wonderfully celebrates its original 100-year-old architecture. You may be won over by the lobby itself. A stellar throwback to days long gone, everything from its dark woods and wide stairwells to the old safe, which has yet to be opened behind the front desk, smack of an era that embodied a resilient classiness that often seems to be missing in modern-day hotels. The old elevator, complete with its own swinging door and push me/pull me iron gate is a terrific touch. As for the rooms, it's all about spaciousness here. Refreshing, too, is that this well-aged apartment hotel is clean and spacious. Perks: each of the studios and one-bedroom apartments are completely furnished and accessorized. Deluxe studios and one-bedroom apartments include an operational kitchen. High-speed WiFi, housekeeping and discounted health club passes are a nice touch as well. Bottom line: Memorable old-world allure meets modern-day business chic.
Photos (from top): courtesy Waterbar, Michael Mina, Beach Blanket Babylon, and Personality Hotels.