Diamond anniversaries are rare, so when they do arise, it's best to appreciate the sparkle of the subject being celebrated. This year, the City of San Francisco delivers honors to two of its icons -- the Golden Gate Bridge and the Stern Grove Festival. After a monstrous celebration earlier this month for the cherished Golden Gate, the big buzz is now on Stern Grove, which has just unleashed its summer-long, performance-packed list of events.
Most locals (and tourists) have come to appreciate the creative groove of the Grove, which for decades has featured a powerful mix of local and international talents on its outdoor stage. The fact that it has also been operating as a nonprofit for many decades, and that its concerts are free is a plus, but the bottom line: Stern Grove is one of the most uniquely imagined outdoor festivals in the nation.
So, what's the secret to its success?
The talent, no doubt -- everyone from the dynamic Preservation Jazz Hall Band (which first took the stage in 1969) and Huey Lewis to Lucinda Williams and, just recently, Anita Baker have performed in the amphitheater. And, there's nothing like a no-cost affair to lure in the masses, but much of the festival's true success has to do with intelligent planning and its ability to book top talent. This summer's current 10-week concerts series, in fact, includes a colorful group of pop and jazz greats -- Sheila E, Al Jarreau, OK Go, Ozomatli, the San Francisco Symphony, Ballet and Opera, and many others.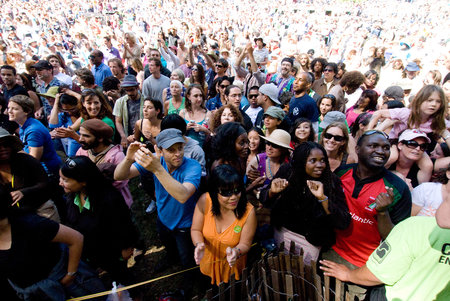 Photo courtesy of Stern Grove
"The fact that this festival has been doing what it is doing for so many years is completely unbelievable, especially for a nonprofit organization," says Steven P. Haines, executive director of Stern Grove. "Our mission has always been to bring high-quality art and culture that is still relevant."
The Grove's history is, naturally, interesting to note here. George Greene was the original homestead of the Grove, which in the 1840s was populated by sand dunes and marshes. It was the Greene family that first planted the eucalyptus trees for which the Grove is revered. There was also the Trocadero Inn, a popular recreation portal, that eventually closed in 1916. More than 15 years later, in the early 1930s, Rosalie Meyer Stern purchased the 12 acres that reside just below the corner of 19th Avenue and Sloat Boulevard. She gave the land to the city in memory of her husband Sigmund, who was a prominent civic leader at the time.
But Lady Stern was smart. And she appreciated the natural elements of the Grove, wanting it to be preserved as a park. Her idea was to offer a spot in which the public could enjoy "admission-free music, dance, and theater performances." Stern Grove was officially dedicated on June 4, 1932. Several weeks later, the San Francisco Symphony performed the very first concert in the Grove. Stern eventually formed the non-profit Stern Grove Festival Association in 1938, with one rule in mind: all concerts were to be free to the public. It has remained that way ever since.
But, as many already know, keeping a nonprofit afloat in the oft maniacal economic times we suddenly find ourselves living in, can prove to be challenging.
"Every year is a challenge," Haines notes, but remains entirely upbeat about how things come to pass. "The organization has tremendous support -- from various individuals to corporate sponsors and foundations to the city of San Francisco, and more. It truly does take a village. But, really, the community supports this organization and without that support, we could not do it.
"The challenge is that over 85 percent of our budget is derived from contributed revenue," he adds. "We don't have ticket revenue, and we've had our ups, and our downs, but I think because people so respect the organization and the mission and the work, that we've been able to continue. We always meet the goals we establish."
Another perk in the admission-free concept, Haines points out, is that the Grove has more artistic freedom.
"You don't have to 'program' to sell tickets," he says. "Therefore we can be a little more experimental; we can bring in more artists from around the world that would have never even played San Francisco because the producers or promoters would have been concerned about selling tickets. I think the audiences recognize that talent; they will come to performances of artists of whom they've never heard and just know it will be good."
Well, more than good. So, let's keep this creative diamond shining.
Learn more about the Grove's summer lineup here. Take a trip back in time with the Stern Grove slideshow below:
PHOTO GALLERY
Stern Grove: Through The Years