Few would have thought a rock musical about depression and the messy emotional waters we humans have to swim through would, well, rock. But it did, and on so many levels. The good news about Next To Normal, the powerful Tony Award-winning Broadway musical? It's hit the road.
The next stop on what looks like a long national tour: San Francisco.
Next To Normal is a rare, delicious surprise. A mindbending production, it so boldy touches upon the topics of depression, anxiety, bipolar disorder and other fierce, yet tricky mood-swinging themes that are often considered taboo to explore -- especially in a tale set to music.
The tale. Think dysfunctional family and stir in a bevy of high -- definitely low -- notes. It's all brought to life with such creative, vicious verve by Tony-winner Alice Ripley who has signed on for the entire tour. As a internally shaken family matriarch, she's a walking, singing lightening bolt of emotions, both hidden and exposed. (I'm reminded, too, of the brilliant August: Osage County and the stunning work of Estelle Parsons in that creation.) But under Michael Greif's direction, Ripley is a fascinating force on stage.
"I'm drawn to raw material and raw emotions," the actress told the San Francisco Chronicle earlier this week.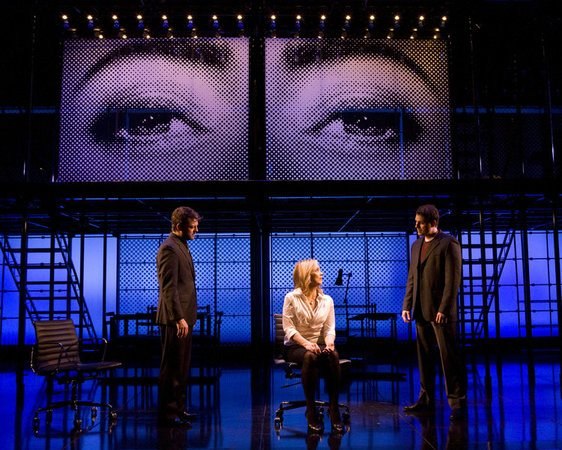 Jeremy Kushnier, Alice Ripley, and Asa Somers in Next To Normal. Photo by Craig Schwartz.
Meanwhile, what lurks beneath the inner workings of this production is interesting to note and I found the show's lyricist Brian Yorkey compelling. Yorkey, also a playwright, shared the 2010 Pulitzer Prize For Drama and the 2009 Tony Award for Best Original Score with composer Tom Kitt here. (Something to note: the previous musical to nab a Pulitzer was Rent.) I caught up with with the man whose words were set to music to further discuss the show's origins and what lies ahead for the production as the bold, gutsy beast leaves Los Angeles behind and hits San Francisco this week.
Greg Archer: The awards have been doled out. New York has raved. The work is a moving, fluid thing. How does it feel to be on this side of it?
Brian Yorkey: Mixed emotions. It's been a very humbling experience, actually. Tom and I didn't set out to create something that would generate this kind of response. It's been a very interesting, very gratifying ride, but also very surprising. We didn't know what kind of response this 'strange' show was going to have.
So, how did you create this type of story; a story about the underbelly of deep emotions?
I always use this sort of silly little phrase, 'What's that like? That's an experience I haven't had.' And that's where it started for me. Tom and I were in a workshop in New York City and we had to write a 10-minute musical (Feeling Electric) as a final project. We were looking for something interesting that was out of the ordinary; that wasn't going to be the usual musical idea. I saw a television report about a woman who had to undergo shock therapy, which I didn't know was still practiced at the time, and it opened my eyes. This woman had struggled with things for so many years and was still battling them. And I went, huh -- what's that like? I had known friends who had struggled with bipolar disorder and anxiety. That's where it started -- asking myself how do I explore that experience? And the only way I know how to do that, is by writing about it.
How was the project originally received?
We thought we'd turn in the final project and people would be horrified, and tell us you can't write a musical about depression and shock therapy. But more people told us how they'd been moved by it and how their lives had been affected by depression, loss and grief. So, we realized two things -- one, that it was a viable idea, and two, we had a responsibility to do as much research as we could to get the story right.
How did you choose the songs?
It was a long process. We would imagine the conflicts or these people, and stories and songs would come out of us. We actually worked from a pile of 50 songs. We found so much to write about so we had to figure out a way to shape the songs into a narrative that is coherent; something that would tell the story. That process took years.
What do you love most about what you're doing? You're a playwright, too, but for this, writing the songs -- what was most fulfilling?
Good question. I love writing songs. I'm not a very good singer and I am not completely "unmusical," but I am close. To write lyrics and have Tom turn them into songs that are performed by some of the best singers, that's an amazing experience. And to turn those things into a show that keeps people's attention for a few hours, and... that they're a little different than when they came in, that's beyond anything.
What do you think people are really resonating with? Obviously, it's touching something within them.
One of things I learned in doing this, is that more families are touched by mental illness than we know -- depression, bipolar, and anxiety. For most part, people don't tend to share that. I think we realized that and that's what we wanted to show. An illness like that thrives in the dark, and light may not kill it, but it certainly helps to start the healing. I think that's what audiences are connecting to, and you don't have to have the experience of mental Illness to like the show. It's a story about a family that sucks the air out of the room. I think most of us can identify with one of the characters of the play. And it really is an intimate, honest story of a relatively average family. And those don't always get told.