A sarcastic yet smart name-generator website has surfaced recently, taking a stab at the biggest problem iPhone game developers face when crafting the next big thing: generating stupid, yet accurate names for iPhone games based on the standard naming convention trends we see polluting the App Store.
App-O-Tron is a simple yet effective tool, a clicky experience that does what every name generator has ever done, combining words and numbers to hit that app sweet-spot.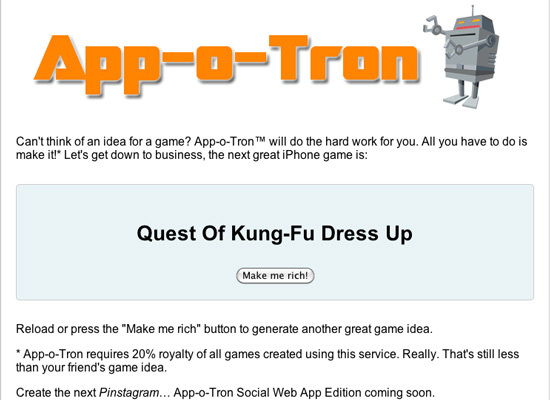 The "Make Me Rich" button sends you on your path of success -- because every iPhone game starts at the name, right? Right?
Some of my favorites include, but are not limited to:
Medieval Monkey Dress Up
Angry Chaos With Friends
Robot Unicorn Cheese Racing
Letters With Zombies Pocket Edition
Letters With Pirates Seasons
Photos With Trout Dress Up
The bare-bones website asks that once you become rich off of your iPhone game, "App-o-Tron requires 20 percent royalty of all games created using this service. Really. That's still less than your friend with a game idea."
Good luck with your next app!