October 14 would have been Coach John Wooden's 102nd birthday. He passed away on June 4, 2010 at age 99, having lived a masterpiece life and leaving behind a legacy second to none.
Indeed, the countless hearts touched by Coach carry forward his love and wisdom as he would have wished. We remember his Pyramid of Success; ten NCAA Men's Basketball Championships (including seven in a row); and adages as appropriate in life as in basketball such as "Be quick but don't hurry" and "It is amazing how much can be accomplished if no one cares who gets the credit."
My older sister Dallas and I also include a stuffed-animal gorilla in our tribute to Coach.
When I was seven-years-old, I spent an afternoon visiting with The Wizard of Westwood in his modest Encino condo. My dad is a sports columnist and had forged a friendship with Wooden over the years, and one day he took Dallas and me on a special trip to meet Coach.
Leading us inside his modest-but-immaculate condominium home in Encino, the first thing Wooden did was excuse himself to retrieve something from a shelf in the living room. One of his ten NCAA national championship trophies? A Coach of the Year or Hall of Fame plaque? Perhaps the John R. Wooden Award trophy that college basketball gives out to the player of the year? Or maybe one of the many humanitarian awards that have him sharing august company with the likes of Mother Teresa?
No, Wooden returned carrying a small, stuffed gorilla about the size of a teddy bear.
The gorilla was wearing a red vest and matching bow tie. And the fancy anthropoid spoke when you squeezed it.
"You're a genius!"
"Excellent!"
"You're grrreat!"
"Gooood idea!!"
"You're brilliant!!!"
My sister and I laughed. Coach smiled. Today, I have come to realize that what appeared to be a toy to others, Coach Wooden saw as a teaching tool.
"This is The Self-Esteem Ape," Wooden explained softly and with a warm smile. "When our self-esteem is a little low, we all need to be picked up a little."
Now, 15 years later, I barely remember the trophies Coach modestly kept hidden in a back-room study, but I do remember The Self-Esteem Ape. In fact, I think about it quite often.
You see, during that unforgettable four hour visit, Coach Wooden taught me that being a true leader is not about accolades or awards, but rather is manifested through our eagerness to help others -- and boost their self-esteem when they are feeling low.
To this point, in his book Wooden on Leadership, Coach writes:
"The joy and satisfaction I derived from leadership -- working with and teaching others, helping them reach their potential in contributing to the team's goals -- ultimately surpassed outscoring an opponent, the standings, even championships. [...] Ultimately, I believe that's what leadership is all about: helping others achieve their own greatness by helping the organization to succeed."
My experiences planning, conducting, and reflecting on Give Running's Pyramid Running Camps an other youth programs have provided me with the opportunity to revel in the joy and satisfaction of teaching others to bring forth the best of which they are capable. In turn, I have been further inspired to achieve my own personal best by the passionate people I work with as well as the kids we teach -- after all, being a leader goes both ways.
John Wooden was The Self-Esteem Wizard. As I have experienced in my own life and sought to expand through Give Running, Coach's lessons continue today through the example set by his inspiring deeds and kind words.
Escorting his three visitors back out to the front gate at the conclusion of our afternoon together, Coach Wooden shared with my sister and me one final lesson.
"Never forget," he told Dallas and me, "how special you are."
Looking through the colorful thank-you letters Give Running received from donating shoes to youth at the 32nd Street Elementary School in inner-city Los Angeles likewise reminds me how special and blessed I am to be able to give back to others in such a fulfilling way.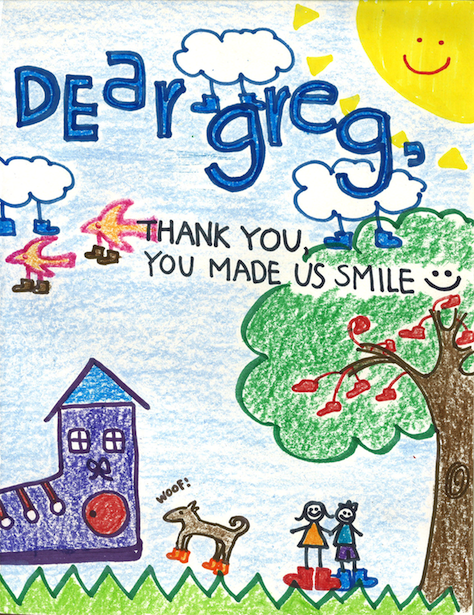 The memory of when 2012 WNBA MVP, Olympic gold medalist, and Give Running's "Saint in the Paint" Tina Charles volunteered to help us distribute shoes to disadvantaged kids at the Foshay Learning Center similarly warms my heart.
Three of the children we spent time with at Foshay had feet that were too tiny for even the smallest shoes we had brought; without hesitation, Tina wrote down each of their names and shoes sizes, and we set up plans for meeting with the three kids at recess the next day.
Tina then made time in her busy schedule (she was only in L.A. for three days) to buy new Nike Air Jordan sneakers and delivered the shoes to the kids the following morning.
To be certain, Tina's thoughtfulness and generosity echo Coach Wooden's teachings; each time the kids lace up their shoes, I think those Self-Esteem Sneakers remind them to never forget how special they are.