A few years ago I organized a dinner at the Plaza Hotel in New York City. I wanted to share my continued vision for the organization I founded, the Greek America Foundation, and talk about how the bridge between Greece can be further strengthened -- especially given the current economic conditions in the country at the time.
I took a long-shot and invited a man I didn't know well but had recently met. And George Logothetis took a long-shot by attending the small event, with people he didn't know -- good people like Peter and Paula Fasseas from Chicago who were friends and supporters; my three-decades friend John Pyrovolakis; and, Venetia Kontogouris, a philanthropist and giant in the venture capital world.
After a boisterous conversation of 14 people each sharing their views about how we can save the world, I sat idly by, looking at George -- my most important guest, wondering why he was so quiet. I was nervous that we had lost him in the shuffle. You only have one opportunity with these people, I thought, and I had blown mine.
George is the Chairman and CEO of the Libra Group, a global conglomerate he created-- built from a small shipping company in London that his father founded and now comprising a massive network of dozens of companies in more than 20 countries throughout the world. In laymen's terms -- billions of dollars in assets employing thousands of people in a wide range of industries including shipping, aviation, renewable energy and hospitality.
People like George don't come around too often. In addition to his massive success in business, his best quality (in my opinion) is his genuine concern for the world around him and for people -- especially young people. His second greatest quality is he implements his vision.
So much to my surprise at that fateful Plaza Hotel dinner -- he politely waited for his turn to speak -- and exploded with a passionate plea that we must turn our attention to helping the young people of our community by giving them opportunity and hope. This is what "being Greek" is all about -- our philotimo towards our fellow people.
George then rolled out a plan to create an internship program under the auspices of the Libra Group, and in conjunction with the Greek America Foundation-- a new movement that places young members of our community in the Libra Group's 25 locations across the world. In simple terms: hope and opportunity. This wasn't planned. He didn't have notes and he later told me that the plan was devised in his mind, at that very table, while everyone else was speaking.
A few weeks later, George and I were in the middle of a conversation about expanding the internship program's outreach to Greece -- where hope and opportunity were really needed and where youth had been most impacted by the financial crisis. I quickly thought of my friends and colleagues at the American College of Greece in Athens -- the school I attended as a study abroad student more than two decades ago and at which I had my own transformative experience. I arranged a meeting for the school's President Dr. David Horner and George. The rest, as they say, is history.
Today, the Libra Internship Program provides work experience internationally for 35-40 young people from Greece and the Greek diaspora each year. The Greek America Foundation provides 20 of these students and recent college graduates annually for the program which is now in its second successful and groundbreaking year.
The Greek division of the internship program is in full swing, working exclusively with students at the American College of Greece, sending them abroad for opportunities they never dreamed of having before.
Through George's vision, we are not only impacting individual lives -- but also families and entire communities. These students return from their experiences energized and ready to mobilize and begin impacting those around them.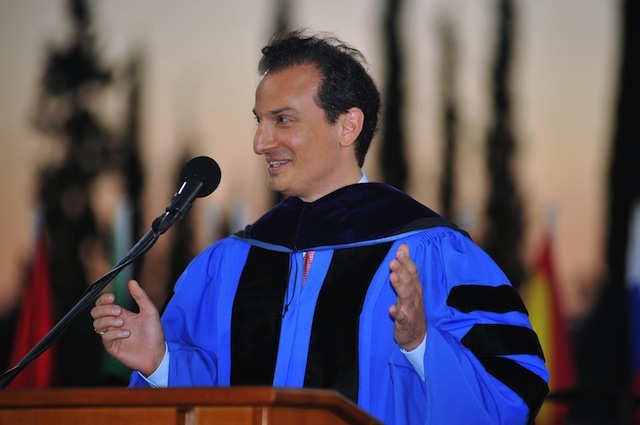 Last week, I had the honor of attending events at the American College of Greece where George received an honorary doctorate at the annual commencement ceremony. It was a fitting tribute for someone who himself didn't finish college. George's speech to the class of 2013 was one of the most inspirational messages I've heard in a long time. I watched kids cry -- many of them just having returned from internship experiences that he offered them and now ready to conquer the world.
No. People like George don't come around too often. But when they do, we must honor them, support them and encourage them.
At a conference in 2012 I heard Dr. Marie Bountrogianni speak where she said, "vision without implementation is just a hallucination." Thank God for people like George who don't just talk the talk, but walk the walk and implement their vision.
George -- onward and upward. We are with you.