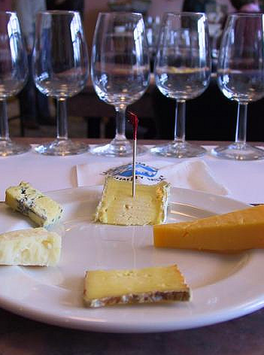 I can't tell you how many times I've been asked to match wines with cheese. The funny thing is I never thought about cheeses, just cheese. I recently asked my friend and Snooth contributor Levi Dalton a similar question about pairing wine and cheese and his answer, while so amazingly obvious, surprised me.
Levi is a sommelier in New York and as such he is often asked to pair wines with cheese. With very few exceptions, Arpege in France was his example, cheese in a restaurant means a cheese plate, and pairing wines with an assortment of cheeses changes the equation entirely. In truth, that's probably what most people mean when they ask about cheese and wine pairings: not a specific recommendation for a particular cheese, but rather a wine that is flexible enough to pair with many cheeses!
And here I've been going on and on and specific pairings for years! I'll follow up this article with some specific pairings. After all, there does come a time when you have a bottle of wine open throughout a meal and you want to finish off the meal with the last of the bottles and just a bite of cheese. For today, let's take a look at wines that work with cheese in a more general sense, beginning with Levi's recommendation: Marsala.
Photo courtesy of Vincent Ma via Flickr/cc
PHOTO GALLERY
The Key to Pairing Wine and Cheese
You might also like:
- 7 Mistakes Wine Drinkers Make
- Wineries Owned by Rockstars
- Weird Wine Pairings