U.S. Postmaster General and CEO of the USPS, Patrick Donahoe could be wearing stripes by years end.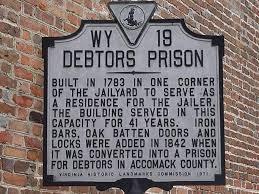 Well, not really since the US does not have a Debtors' Prison. But, rest assured if there was one he would be looking for a great defense lawyer to keep him out.
The USPS is broke with a capital B and there is no use in hoping it will be resurrected any time soon. Besides being stymied by Congress, the economy and the decline of mail volumes, the Post Office is exhausting its options. In terms of possibilities Donahoe says "the Postal Service is doing its part within the bounds of law to right size the organization." He goes further to say that the Post Office has had achievements in reducing costs and significantly growing its package business. That however is not nearly enough.
The downward creep of its main product ("mail") is killing the service percentage points at a time. Comparing 1st Quarter 14 to 1st Quarter 13, the numbers are significantly bad once again. 3.5 billion less pieces of mail, 4.6 % less First Class, 2.8% less Standard mail. Offset by the 10.3% increase in Shipping and Packaging the USPS lost $354 million in spite of an uptick in revenue of $334 million.
With liabilities at $63 Billion and assets of only $40 Billion, the USPS is bankrupt by any stretch of the ruler. Without legislation, the USPS will add another $5.7 Billion of defaulted retiree health benefits to the deficit on September 30,2104. And so it goes. Deeper and deeper into the hole.
At the direction of the Board of Governors, Donahoe has accelerated the Post Office's cost-cutting measures and financial adjustments as much as possible, within the constraints of Congress, by exercising a Voluntary Early Retirement and working towards increased efficiencies where they can be found.
Rep. Darrell Issa, has come out against the service adding non postal type lines to its offerings. "Rather than trying to find a new mission for an oversized agency, the goal should be to right size the agency to adjust to diminishing demand," Issa's statement continued. "There is no guarantee USPS will make a profit in any non-postal endeavor and gambling on a massive expansion of USPS's mission to support unnecessary infrastructure is irresponsible."
Issa, chairman of the House Oversight Committee, which has jurisdiction over the Postal Service, said H.R. 2748 would strengthen the statutory prohibition on nonpostal, nongovernmental activity that was put in place under the Postal Accountability and Enhancement Act of 2006. If passed, the bill would create a new regulatory framework requiring any new nonpostal activity to be specifically authorized by Congress to eliminate any possible ambiguity under current law. There in lies the Catch 22. Congress has done nothing to change the situation of the USPS and now wants more regulations preventing new products or services.
Maybe somewhere in H.R. 2748 is the new Debtors Prison that might be needed when the billions in debt become truly insurmountable. Dress the culprits in stripes and put them behind bars. You pick who.