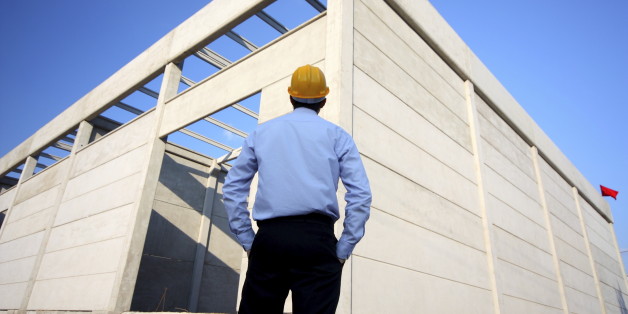 Fate sometimes injects itself into your life and puts you in places that you would not otherwise expect. Such was the case when I met Ali Ghahremani.
I was at his office to pitch our marketing and communication services to his company, Champion Metal and Glass, Inc., in Hauppauge, NY. At the meeting, Ali was accompanied by his wife, Cindy, who is the company's General Manager of Operations.
The meeting was one of those "get to know you" events -- very low key and probative into the needs of the company and the services I hoped to provide.
As meetings go it was pretty standard, except for one thing: I got to know the Ghahremanis, their story and the story of their award-winning national company. I was completely taken in by their long journey to achieve the success they now enjoy.
Both are quiet, unassuming people, hardworking and self-taught in many respects. Cindy, a former insurance claims adjuster and eventually a stay at home mom, has recently joined the family business, as have their son and daughter. Ali, the patriarch, is trim and young-looking, in his mid-50s, with a sprinkle of gray starting to show in his otherwise black hair. Ali's story is the American Dream -- filled with challenges overcome and achievements realized.
Ali, was born in Khomein, Iran in 1960 during the days of the Shah. At that time, the country was a growing, modernizing and westward-leaning beacon of hope in that part of the world. His family was poor and lived in a house too small to accommodate his Mom, Dad and brothers. Seeking a better life, the family moved to Tehran, where Ali grew up. Ali made many close friends among the Americans who lived in Tehran. In fact, the friendships were so meaningful that when the Islamic Revolution erupted in 1979, Ali was instrumental in helping his friends make a hasty exit.
Ali was studying architecture at the University of Tehran when the government shut down all schools for a period of time. At that point, he determined that Iran was not somewhere he wanted to be. He was opposed to the new regime's methods and regulations. Not wanting to abandon his education, Ali returned to the University when the school reopened. But he sought to go to America and join an older brother, who was enrolled in the engineering program at SUNY Stony Brook. This proved to be difficult, and it took almost a year for Ali to receive a visa to exit the country.
The visa came with strings attached. There was a price to pay in order to leave. The visa officer was skeptical that Ali was going to return and demanded that a bond be posted and his college credits not be awarded until he returned. His father sold family assets, called in loans he had made and borrowed from other family members to raise the money. This was an important lesson for Ali: The family unit, and the well-being of all its members, were the most important thing - no matter what. It has had a lasting effect on so many of the decisions he's made through his life's journey.
Ali arrived in the United States on July 2, 1983. Without his credits from Tehran University, he was forced to start college over again at SUNY Stony Brook. Even so, being in the US and free to follow his own path was a dream come true. Working a series of menial jobs, he paid his way through school. His older brother was working as an engineer. A younger brother of high school age arrived in 1984. Another brother, who had not been able to avoid service in the Iranian military, was also able to come to America in 1985 on a student visa.
So there were the four Ghahremani brothers together. One was working, and three were attending college. One salary could not support all of them. In keeping with the belief that the good of the family was the most important thing, Ali left school to assist in the support of the others. He hoped to return to complete his college education after his brothers completed theirs and his family was reunited. But that was not to be. There was still the matter of getting another brother, baby sister and mother and father out of Iran.
In anticipation of the family reunion, Ali's older brother bought a house as a home for the family. Rather than return to school, Ali took a job that enabled him to use his salary to help pay the mortgage. Working first at Lynbrook Glass and then at Cantor Brothers Glass, he used some of his architectural training and focused on learning as much as possible of the businesses.
Once again, fate stepped in and changed Ali's path. As a new husband to Cindy and a brand new father to Jessi, he witnessed the Cantor Brothers Glass business begin to falter. Paychecks were coming late, and the future was uncertain. While searching for a new job, one of Cantor Brothers' customers asked Ali to supervise a new project as a consultant. The family discussed the opportunity, and in December 1993, Champion Metal and Glass was born.
Now he was facing the challenge of his lifetime -- new house, new child, very limited resources and a brand new business. Failure was not an option. The first Champion Metal and Glass headquarters was a converted bedroom. The first real job was a project for the Developmental Disabilities Institute, a nonprofit in Smithtown, NY. Georgette Filgate has the distinction of being the first employee. She would arrive at the bedroom headquarters in Ali and Cindy's house once a week to take care of the bookkeeping tasks. By 1994, Champion had a small office in Deer Park, and the first installer was hired.
The story now shifts to the maturing of the company and Ali's leadership. The one man consulting evolved into doing jobs for Godiva Chocolates and CitiBank. These were parlayed into a growing list of customers and more significant projects. The company began to win more jobs through competition and creativity, and more and more assignments were completed. The growth curve was substantial.
On September 11, 2001, a tragedy was visited on the world and with it a concern for the company and the Ghahremani family. In the aftermath of the horrific attack, how would the Ghahremani's be perceived by society and the New York business world? It was Ali's response to the tragedy that gives us a glimpse into his soul. As a proud US citizen he was determined to help heal the city, and vowed to be part of the rebuilding of Ground Zero. Champion has been a dedicated participant in the rebuilding at the site.
The company continued to grow in size and stature. A building was acquired in Deer Park, and the future seemed filled with promise. By 2008, Champion had outgrown that location and contracts were signed to move into a new facility. Fate can be so mean sometimes. With signed contracts in hand, and substantial money on the line, the economy entered the disastrous market collapse and the purchase of the new building was cancelled costing Ali $400,000. A potentially crippling blow, but eminently prudent, in light of the looming fiscal uncertainty.
Persevering through the downturn, the construction industry began to rebound and once again, Champion was on the move. The company's 100 plus employees are now housed in a 40,000 sq. ft. building in Hauppauge that was acquired in 2013. The company has been ranked among the top 50 architectural metal and glass companies in the country by US Glass Magazine for the past 12 years. The pedigree of projects done by Champion include the new Yankee Stadium, the Jet Blue Terminal at JFK, North Shore Long Island Jewish Medical Center, Bellevue Hospital, Rockefeller University, Cohen's Childrens' Hospital, The New York Times and New York Presbyterian Hospital.
But wait, the story is not complete unless we hear from Cindy. When she speaks of her husband, her eyes light up. They occasionally tear up when she describes the man he is, and the good things he has done for others. He has extended the lesson he learned about family being the most important thing to so many others. He has helped not only family, but friends, employees, acquaintances and even strangers in need.
In her eyes, Ali is the equivalent of George Bailey, the legendary character played by Jimmy Stewart in "It's a Wonderful Life." For those who haven't seen the classic movie, please do. It's the story of a small town banker who, when faced with a banking crisis, doubts his worth and is given the opportunity by an angel to see what the town would be like had he not lived. Of course his world would be a much different place -- for the worse. Cindy Ghahremani says about her husband, "He is the best man I know."
If anyone asks what the American Dream is, the answer is simple.... Ali Ghahremani and Champion Metal and Glass.
If you would like to read more of Greg's published articles please visit the Lorraine Gregory Communications Group website
This blogger graduated from Goldman Sachs' 10,000 Small Businesses program. Goldman Sachs is a partner of the What Is Working: Small Businesses section.