A young woman's life is the most fascinating thing on Earth -- or, at least, after war, the most popular thing. Young, middling and old, female, male and other, we all obsess (consciously or unconsciously) over what it means to be feminine and evolving -- via love, lust, idolatry, fashion, media, exploitation, worship, inspiration, and a million other modes. Why? Because therein lies the dream: life as beauty, pleasure, wonder, joy. Everyone is mad about the girl. But who is the girl?
The answer to that question is as complex and subjective as the study of space or quantum physics, but hey, I'm here, so I'll give you one good answer worth pondering: Audrey Tautou. Actress, yes. Frenchwoman, oui. Global celebrity, true dat. But also, in just over a decade -- and due to some focused and illuminating choices in selecting rôles -- Mlle. Tautou has afforded us cineastes a compact yet rich treasure trove of feminine archetypes. As today, the 9th of August, is her birthday, let us consider her fine work.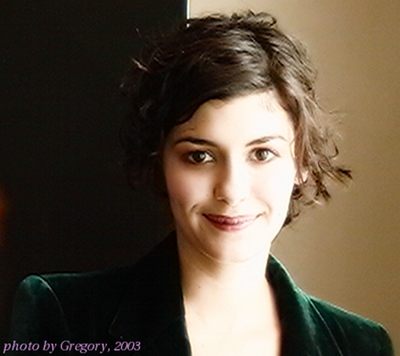 The Eternal Audrey
Of course we must begin with Amélie (a.k.a. Le Fabuleux Destin d'Amélie Poulain), Jean-Pierre Jeunet's universally-adored masterpiece of romantic whimsy -- wherein Mlle. Tautou delivers unto us the ultimate ingénue. While not her first film, this is the one that made the girl an institution a decade ago, and deservedly so. There are all kinds of movies about what it feels like to be a young lady in love, but none so indelible and big-hearted as Amélie. She would follow this with variations on the formula of Ingénue-Pines-for-Nebbish, including Dieu est grand, je suis toute petite (religious obsession), He Loves Me... He Loves Me Not (cute but stalkery), and L'Auberge Espagnole (maybe not the greatest girlfriend after all).
2002/03 brought another very high standard via Stephen Frears' Dirty Pretty Things, with Mlle. Tautou ramping up to join an esteemed international cast (Chiwetel Ejiofor, Sophie Okonedo, Benedict Wong) in a tale of London's severely persecuted immigrant workers. As a Turkish hotel maid embroiled in messy business, she toes the line of martyrdom, and doesn't quite "grow up," but instead imbues her rôle with the perilous edges of youth. It's a smashing film.
Some of Mlle. Tautou's films Français have eluded me on these shores, but certainly not her big-budget 2004 reunion with Jeunet, in the masterful A Very Long Engagement (Un long dimanche de fiançailles). This World War I/mystery/epic/romance weds Artistry with Significance, and Mlle. Tautou steps up another level as a bereaved young lover who refuses to abandon hope. At the time of its release, I was denied review privileges by some bozo in Cleveland who idiotically dismissed the film as a "chick flick." Hardly. Tautou's depiction of devotion in this film is a male dream made manifest (well, a smart male, anyway -- my hand is up). Along with Amélie, it's one of the best films of this century, so far.
Weirdness not being solely male turf, Mlle. Tautou double-whammied us with weirdness in 2006, via Ron Howard's great-big adaptation of The Da Vinci Code, plus Pierre Salvadori's Priceless (Hors de prix). In the former (spoiler alert?), after a whole bunch of creepy Catholic hoo-hah, it turns out that she's the descendant of Jesus Christ and his honey, Mary Magdalene. (Talk about leaving the ingénue behind.) But Priceless -- Priceless merely made me sad: here we find her back on the nebbish-hunt, a deceitful tart ostensibly retracing the steps of that other Audrey (Hepburn) in Breakfast at Tiffany's, except (very unlike Amélie), she's merely a shallow grifter, falling in and out of "love" with same, based entirely on materialism. I wouldn't mind if Mlle. Tautou slapped on a fake moustache and played Stalin -- but in these two very different films, detachment, confusion and peculiar limitations on her otherwise effortless charm reveal, let us say, growing pains.
Mlle. Tautou's excellence resumes full force in Anne Fontaine's gorgeous and astute Coco Before Chanel (2009), for here we find the next significant transition in the Audrey archetype: the strong and sullen, not-quite-so-young woman afflicted with what could be called, most generously, a reasonable cynicism. ("The only thing interesting in love is making love," she bemoans to her likewise-orphaned sister. "Too bad you need a guy for that.") Essentially all of Mlle. Tautou's major films (except perhaps The Da Vinci Code) concern romantic relationships, but here, subtly and brilliantly tackling the challenge of becoming Gabrielle "Coco" Chanel, she's directly told she's "charming, but lacking in frivolity," as well as, "too old to be an ingénue." The romance this time is textbook sugar-daddy/horses/beauhunk/loss/renewal stuff (I've beheld such messes in real life) -- and the notion that chain-smoking and resolute joylessness beget stylistic elegance is somewhat tough to swallow. Nonetheless, here amidst struggle and sorrow, Audrey Tautou the cutie-pie becomes Audrey Tautou the world-class actress. The ever-present poetry of her face now conveys a startling new element: wisdom.
Well, I for one am grateful -- for Mlle. Tautou's high-quality films (along with those wizarding movies from across the Channel) help me to reconstruct a difficult and peculiar decade. (I'm also proud to be included amongst the snapshots in her interviewer scrapbook.) So here's to you, Audrey Tautou! Joyeux anniversaire! Bonheur et succès à toi. Et merci de nous aider à comprendre la fille.
FIN.