Beautiful Creatures is wonderfully wrought, funny, smart and enchanting, the best film I've seen thus far this year. Indeed, it's a tale of young love set in a milieu torn between the status quo and the supernatural. And if comparisons to this or that get you interested (I was pondering "Tennessee Rowling") then swell, because you're in for a fresh and surprising experience. It was my great pleasure to speak with its writer-director Richard LaGravenese (and, supplementing, his brilliant cast) about life, cinema, writing and this fine new film.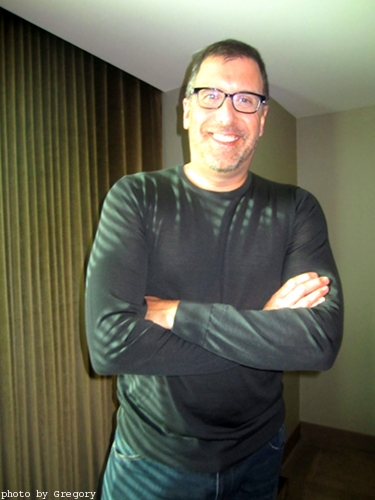 Richard LaGravenese
Mr. LaGravenese has steadily built an impressive career since his launch with the screenplay for 1991's The Fisher King (notably, my answer to the "What's your favorite film?" question) -- writing and directing Living Out Loud, P.S. I Love You and Freedom Writers. His screenplay credits (original and adapted) include The Ref, A Little Princess, The Horse Whisperer and Beloved. His writing is so good, his characters so alive, immediately one can tell it's a LaGravenese film. He has a voice. It's good to be hearing that voice in person. I ask how he connected with Kami Garcia & Margaret Stohl's young-adult novel Beautiful Creatures.
"The industry right now, these are the kind of movies that they're looking to make, and I wanted to work," Richard matter-of-factly reveals. "I hadn't written an original, and just straight dramas are getting more and more difficult to make. Literally, the studios don't even want them. So I was looking for something that was within a genre -- to see if I could take the genre and do something interesting with it.
"This book I thought had interesting things in it: this idea of a 'Claiming,' and being 16, and facing your life when you're not really fully formed, and having all these feelings and desires and confusions, and questions about yourself and your identity. Having to face being 'Claimed' one way or another -- versus claiming yourself: I just loved that idea. I loved the Romeo and Juliet idea. The character of Ethan (played by Alden Ehrenreich) was someone I related to very much: wanting to get out of his small town, that small-minded environment, and being that age, and reading books, and getting excited about authors and ideas! -- because you're still trapped being a teenager, so you're not at the point where you can experience your life yet, you're waiting for your life to start.
"And I liked the idea of these supernaturals being hidden in this very conservative, fundamentalist small town. There's something interesting about that, with where our country is right now. This is a genre book, but there's a lot of interesting ideas in here to mine: I said, 'I'd like to do this!'"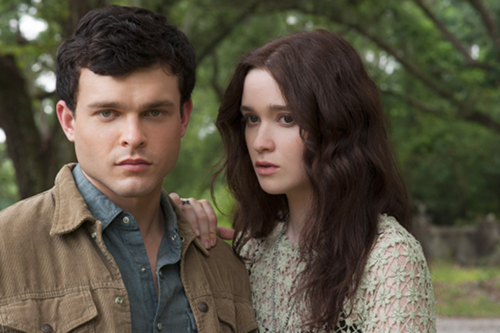 Alden Ehrenreich, Alice Englert
Mr. LaGravenese praises the creativity afforded him by Alcon Entertainment and Warner Bros., and explains: "I don't believe it ever came up in our discussions that we were alienating any particular group. Because I felt that there was a balance in there. I'm not attacking religion or church. I'm attacking small-minded people who are intolerant and fearful of things they don't know -- and they have to condemn, instead of try to understand."
I express my amazement at Mr. LaGravense's gift for giving voice to a wide range of multigenerational and multicultural characters. I ask about his uncanny knack for character authenticity.
"Well, I guess I wouldn't have wanted to do it, unless, when I read it, I felt some connection to the characters, and felt that I could do their voices. I'm 53 years old, and I've had many experiences in my life. I've been a teenager. I even feel like I've been a 16-year-old girl. So I have a lot of voices inside my head!"
I mention that his vast cranial populace comes across very well in his films.
"I hope! I don't want to be a writer where all the characters sound the same. There's a facility in that kind of writing. I wanted to write a variety of characters that are surprising, with different aspects of human beings. I love Noël Coward and that kind of wit and timing, and I love old movies that have that kind of banter. I do love writing that kind of thing. Putting that into teenagers -- I wanted them to be smart, and witty with each other."
Success there. Mr. LaGravenese also praises the wit of Joss Whedon's Buffy the Vampire Slayer, adding: "I love the idea of using the supernatural as an allegorical device, to tell a story about what it is to be human."
I ask if the American South -- Beautiful Creatures is set in South Carolina, filmed in Louisiana -- is also an allegory.
"The South is like a foreign country to me! I'd never really gone -- I mean, I can't count Florida. This was, to me, the South: the moss trees, and that atmosphere, and the swamps! Southern Gothic!"
Prior to writing, Richard's research included meeting "the girls" (Beautiful Creatures' authors) on a book tour, exploring the bayou terrain with the Louisiana Film Commission, and taking "a ton of pictures."
Would he want to explore more?
"Well, yeah! One of the great things about this job is that you get to use it to travel, and meet different people, and different cultures. It's one of the great aspects of this."
I mention my thrill, up at Universal City in '91, seeing The Fisher King, and just knowing that I loved this writer. It's a relief, actually, when Richard laughs (some might scowl) as I praise his inclusion of both Jungian psychologist Robert Johnson and (I went there) "Mork" (Robin Williams). Mr. LaGravenese hands the credit to director Terry Gilliam ("a god"), and I strive to hand half of it back.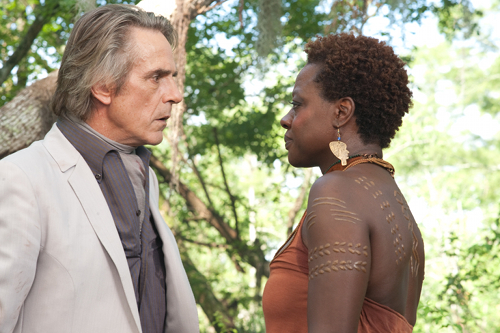 Jeremy Irons, Viola Davis
These days, Mr. LaGravenese is at the helm. I ask how he directs a multigenerational ensemble including Viola Davis, Jeremy Irons, Emma Thompson ("royalty," he proclaims) as well as these great kids.
"It was such a fortuitous thing! Because Emma and Jeremy and Viola so respected the younger actors. These kids, whether it's instinctual or they've studied their craft, they're really honest actors! And they, in turn, were really absorbing everything from the royalty. We were all like a team in that."
Separately, the esteemed Jeremy Irons (currently the Pope to watch!) praises Richard's abilities in the "exhausting" task of both writing and directing (and receiving fresh ideas from the also-esteemed Emma Thompson). "I found Richard delightful, very open to ideas -- both the cameraman's and the actors' -- and a very pleasant, happy leader. And he's a wonderful writer, a wonderful writer."
Richard and I share a great laugh, courtesy of the esteemed Viola Davis. There's a push-in shot in the third act of Beautiful Creatures which is incredibly moving, all focused on Ms. Davis' extraordinary expression. I ask her how she achieved this. With a wave of her hand and a say-no-more grin, she divulges: "Juilliard." That's it! She's that great.
Alice Englert plays the "Juliet" here -- Lena, niece to Jeremy Irons' character -- and she surely holds her own. "I don't know what it would have been like to not be able to have that kind of relationship with Richard," she explains of the cast's happy chemistry, "where we could contribute, and feel comfortable in contributing." (As an aside, Richard recalls a moment of Jeremy whispering to him on set, of Alice: "She's really good!")
Our time is tight, but we briefly discuss working with epic special (on-set) and visual (CG) effects ("I learned a lot on this one," states Richard), and in closing, we focus on one of the glorious aspects of Beautiful Creatures: the book's innately literary spirit, transposed to film.
"Vonnegut -- Ethan is reading that, but he doesn't talk about it. I made it a bigger deal. And Bukowski is just a reference. Those are the things that interested me, so I expanded it." I mention that this is how some (lucky, literate) teenagers really are, and Richard agrees: "Avid readers! Absolutely! What is in the book, that I loved, is his map with the books on it. Which, again, was one of the things where I went: 'I dig this character!'"
Beautiful Creatures features several characters to dig. Dig the soundtrack, too: by THENEWNO2! I loved it and shall go again. Check it out. It's now playing.
Photos courtesy of AP and Warner Bros. unless otherwise noted.