So I walk into the studio, and suddenly I'm in the presence of a rock god. Joe Perry is sitting on a big black leather sofa, casually strumming a sweet Guild, which he promptly sets aside so we can talk business.
The current business is the legendary Aerosmith guitarist's blazing new cover of "Man of Peace" -- one of Bob Dylan's babies, as are all 76 tracks (!) on the new four-disc set, Chimes of Freedom, which simultaneously celebrates both 50 years of Bob Dylan and 50 years of the human-rights organization, Amnesty International. The rangy and rollicking collection (which arrives in stores and online today) features an astounding musical cast, spanning Dylan's many styles via interpretations from youngsters Miley Cyrus and Ke$ha to Amnesty veterans Pete Townshend (who broke ground in 1979 by being the first rock musician to play an Amnesty benefit show, The Secret Policeman's Ball) and Bob's former flame, the eternally awesome Joan Baez (who devoted her whole year in 1972 to playing gigs and starting up Amnesty groups up and down America's West Coast).
It's a very, very big album.
For a very, very good cause.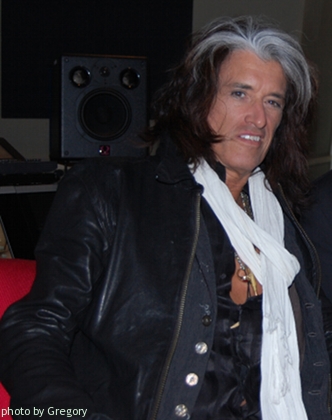 Joe Perry
I ask Mr. Perry exactly how one goes about the seemingly daunting task of covering a Dylan song, and the rock god responds with disarming gentleness and verve:
"I did it in the comfort of my home studio. Jack Douglas, who produced some of the earliest recordings that I've ever done, was there. And once you make the decision to try it, you've just got to go for it. Dylan's style of songwriting comes from such a long history of the traditional folk-blues -- the songs are basically simple in their construction, so there's so much room for interpretation in there, by the performer, that the only thing you're really up against is Bob's performance of the song. Because the way he performs his music, it's so iconic that his versions become the song. So you kind of have to throw that out of your mind, and just see where it goes."
This notion organically evolves into Mr. Perry's natural affinity for the blues: "There's something about that primal rhythm that I just gravitated toward -- and the blues that I liked was the real, electric, Chicago blues, and it kind of went hand-in-hand with the guitar. And any kind of music that deviated from that -- I was a real rock snob, you know what I mean?" (God. Snob. We mince with words.) "So that's always been the bedrock for me. I mean, obviously my musical tastes have expanded, but if I had to boil it down, it's still about Howlin' Wolf, and John Lee Hooker, Muddy, and Slim Harpo, and Jimmy Reed -- then the white guys just started interpreting it."
We discuss the amazing entity that is Aerosmith -- then and now (Mr. Perry, who has also long cultivated The Joe Perry Project, recorded "Man of Peace" amidst sessions for the new 2012 Aerosmith album) -- and then return to Dylan. How does an artist narrow down that huge catalogue to one song?
"I figured that everybody would go for the first electric record -- with all those great songs that are on there -- and I wanted to do something a little more...in my Dylan catalogue, the Infidels record is one of my favorites, and on that record, "Man of Peace" is the one that comes to mind first. I know that this one's a little more esoteric, so it was like, 'This is the one I wanna do.' I didn't even ask about 'Rolling Stone' or 'Highway 61' -- which would have been great for me with my slide playing, and that's right up my alley -- and then there was 'Broke Down Engine,' but that's really not a Bob Dylan song."
Next we broach the topic of philanthropy. Amnesty International has toiled for five decades on behalf of political prisoners, prisoners of conscience, for human rights, and for rights of expression. Does Mr. Perry approach his work differently if it's for freedom on top of fun?
"Every time I get in front of an audience, I do the best I can. I really don't look at it like, you know, 'this is gonna be this crowd, or that crowd.' If anything, I think about the demographics only because of what songs will entertain more than others." He gives the concept sincere consideration. "Obviously, if I get asked to play at a show that has something to do with Amnesty International, I'll probably play this song, 'Man of Peace,' but other than that," Mr. Perry laughs good-naturedly, "we'll see."
Here some modesty is detected, for in 2007 Mr. Perry, his groovy wife Billie and Steven Tyler brought together Aerosmith and the Sierra Leone Refugee All-Stars, for Instant Karma: The Amnesty International Campaign to Save Darfur -- an also-very-big compilation album of John Lennon covers (rights donated by Yoko Ono) -- on which they joyously covered "Give Peace a Chance."
"We've all read some pretty horrible things about history and about man's inhumanity to man," he reveals, "and these guys lived through some of the worst stuff I'd ever heard of." A documentary led to Joe and Billie helping to fund a U.S. tour for the SLRA, followed by a jam with himself and Steven in Nashville, and then the recording. The rock god -- who is also a very nice man -- concludes: "It all worked out. The synergy was incredible, and a lot of people benefitted from that. You know, every once in a while we'll get a call -- I mean, we get a lot of calls -- but every once in a while something will happen, and we can adjust it to our schedule, and we'll do it. I love doing things like that. It's important. It's important to give back."
With a bow to Mr. Perry, here I should mention that we're tucked away in the lovely film-scoring studios of Hans Zimmer and his company, Remote Control Productions (another generous Amnesty benefactor), and very nearby I encounter another axe-deity in the form of musician-activist Tom Morello -- who has promoted and toured for Amnesty for years. He's also eloquent, if perhaps more intense! How'd he pick his track?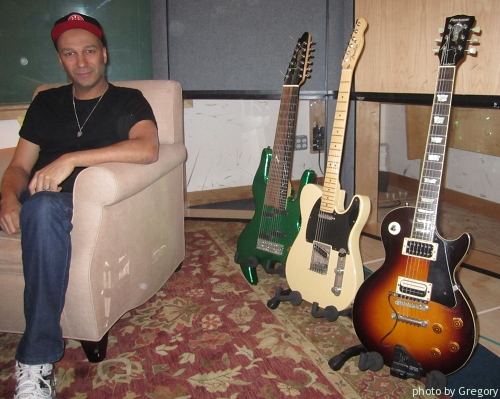 Tom Morello (w/some guitars he didn't build)
"Blind Willie McTell is my favorite Bob Dylan song. And it's one of the lesser-known songs, but it's a brilliant, dark, poetic indictment of the way that racism is inextricably wound up in the DNA of the United States." And does Mr. Morello think that this is still the condition as when Mr. Dylan wrote the song? Or have things evolved? "Well, things certainly have evolved -- in some ways in positive directions, in some ways less so. But when Dylan turns his poetic powers to an issue like that, there's the chance for it to become something really special, and 'Blind Willie McTell' is a very special song. My reinterpretation of it is dramatic -- the last thing I wanted to do was strum the same chords, and sing in my baritone voice," he laughs, "sort of note for note. So I made mine -- the idea was 'Massive Attack Meets Leonard Cohen.'"
And what about the Arts and Philanthropy. How do they complement one another? Do they complement one another?
"Well, throughout the two decades of my career, my activist work has been inextricably linked with my music, so I may be the wrong one to ask that question! They're wholly inseparable, in that regard. With regard to artists other than myself, I waste no time waiting for other artists to contribute their abilities to causes. When they do, it's fantastic! But I don't look at the musical community as something that's ghettoized: It's important that people support Amnesty International -- not that guitar-players support Amnesty International, though they're welcome, of course."
I ask Mr. Morello more specifically about musicians' roles as catalysts or provocateurs for change: are they doing enough, or could the methods of communication be improved?
"Certainly one of the reasons Amnesty International is as renowned a human-rights brand as it is, was due to the interaction of Amnesty and the Conspiracy of Hope tour [1986], which really put it, not just on the map, but in the minds of high school and college students across the globe, in a way that we're still seeing repercussions today. Honestly, it's not important to me if artists do more. What is important to me is that if they have convictions, that they follow those convictions, and that they're not cowed into sublimating them because they're afraid of career repercussions.
"On the other hand, we don't want musicians with no convictions to all-of-a-sudden pretend they have them!" he laughs. "I was listening today to some forty or so snippets from the album. It was very interesting and eclectic, and a couple of my favorites were: I really loved the Ke$ha song. She's someone that I might not have thought would be on the record, but hers was definitely one of the highlights." What about it impressed him? "It's a very sharp juxtaposition to the music of hers that I'm familiar with, which is largely big, produced, pop sex-anthems. And it seems like her unaltered voice singing beautifully alone into a microphone, it's one of my favorites."
In fact, Mr. Morello has prepared his list of favorites from Chimes of Freedom on his portable electronic thingie. His list, as follows: Steve Earle; Silversun Pickups; Gaslight Anthem; Rise Against; Flogging Molly; Joe Perry; and Pete Seeger. And then he gets back to activism:
"One of the reasons I've been a member of Amnesty International, and I hope this CD helps expose yet another generation to the good work that Amnesty does, is Amnesty is an organization where it's ordinary people who have accomplished extraordinary things in the world of human rights. It's high school kids standing up to the worst butchers and dictators on the planet -- and they've achieved great successes in that realm. Also, one of the reasons Amnesty is attractive is it's non-denominational in its politics; Amnesty holds Iran's feet to the fire, and the United States' feet to the fire. Amnesty criticizes the human rights records of North Korea and of Spain: if you step out of bounds, Amnesty International is gonna be on your ass -- and that's why I as the Night Watchman have been an avid supporter."
Okay, so can you believe this so far? Two rock gods? Snazzy! And now we turn to, let us say (though surely he can rock), a reggae god. One of my peers I've admired through the years: Ziggy Marley is in the house. While he explores the studio, quietly crooning his track, "Blowin' in the Wind," he notes that Hans Zimmer scored Shark Tale -- in which Mr. Marley voices Ernie the Jellyfish. But no mere jellyfish is he in this real, non-CG world. Mellow, yes, but even with a compellng Barcelona match on the big-screen before us, he is focused -- and, as you'll see below as this article concludes, he simply yet brilliantly explains what it's all about.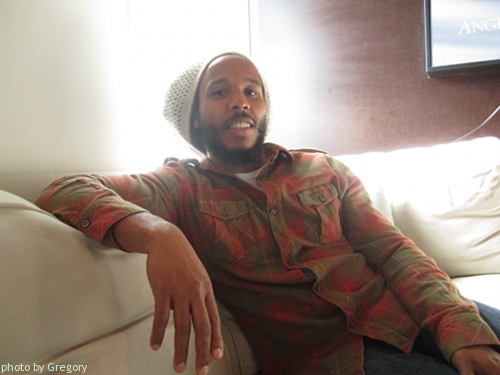 Ziggy Marley
Reprising a journalist's theme, I ask how music and philanthropy intersect. "Giving this song to Amnesty International -- from my part, from my little world -- doing this, and showing it to my people, hopefully gives more support to what Amnesty does." [To clarify, Mr. Marley has spearheaded U.R.G.E. -- Unlimited Resources Giving Enlightenment -- a philanthropic outreach organization helping with health, environmental, and human rights causes.] "More support to the ideas of human rights, and secondly it gives recognition and exposure to Bob Dylan's music. Even the people that are in my little circle, you know?"
Perchance foolishly, I further attempt to define via intellect that to which joyously dancing feet might be more appropriate: Are entertaining people and informing people different approaches? "Yeah, I'm not so good at the entertaining part," he laughs in a fit of inaccurate modesty. I remind him of the hugely entertaining parking-lot concert he put on behind the Jimmy Kimmel show in Hollywood, and he kindly lends me some understanding: "Yeah, the thing is, it's not something that I -- it happens! I hope it happens. But it's not something that I have an idea of, 'How do I make a song that entertains people?' There's not a formula! I don't know."
Oh, I've put my foot in it, haven't I? And I really love this guy's work, too. Hm. I struggle slightly with phrasing concepts of joy in playing and also being socially conscious. Are they, uh, triggered in different parts of the brain? (Yes, I actually asked this of Ziggy Marley. Face-palm?)
"No, not that I know of," Mr. Marley answers, literally melodically. "I just see it as a part of who I am, as a whole. Everything I do, I do it because it's who I am." So why "Blowin' in the Wind"? "It's a track that I knew. It seemed like something I could recreate in a short period of time, and do it in such a way that I didn't have to think about it too much. It was a very organic thing that I could just do -- without too much thinking, and manipulating, you know?" (He recorded the track whilst creating his recent album, Wild and Free.)
And did Ziggy's father or family ever cross paths with Bob Dylan?
"Not that I know of. You know, we had our own thing happening in Jamaica -- during that time, before I was born, and while I was living in Jamaica, as a young kid, growing up. There were a lot of political issues going on, and social issues, and I think we were focused on that. But I think my father knew of Bob Dylan, because he was very open-minded, and knew about the music scene that was happening all over."
Mr. Marley continues, explaining that he feels his shows in recent years are some of the best in his career (so far), that once they start the music any presumed expectations cease, and (back to the cause), that he'd like for more people to become aware of human rights issues, not only around the world but also here in the U.S.:
"What I want is, America promotes itself as the land of the free -- so we need America to be active. I hope that this project is something that helps to support that activism, and the idea of the reawakening of the people, because the people have been asleep for a long time now. Since the '60s there hasn't really been any cause that has drawn people together in a massive way -- and there has been reason for it, but there just wasn't the activism or the motivation for people to say something or do something. There have been opportunities -- a sprinkling of it -- but what we need, and this album may play a part, is that it doesn't be just a flash in the pan, it doesn't just be a fad. That it can be something that can sustain, that can sustain as long as the other side does, meaning that -- I mean, corruption and injustice have been going on for lifetimes. We need the stance of the people to go on for lifetimes, too. Not just for a year or two years. We need it continually. We need vigilance continually, on people who are in power, to make sure they are doing right by the people. We need a continuous vigilance, and continuous activity by the people. And I hope this album can be a part of that, reawakening that idea."
I offer Mr. Marley the chance to name two or three things he'd like to see change, and he responds: "One thing. I don't need three things, I need just one." And that is? He laughs kindly. "I guess it's the spiritual issue."
Like (his song) "Love Is My Religion"?
Ziggy Marley smiles. "Yeah. It's love. We need people to love each other. That's what I'd like to change: People love each other. If people love each other, then everything'll solve itself. If people love each other, there's less injustice, there's less corruption, because it's not a selfish world, we care about each other. I can't do something that's gonna hurt you -- because I care: That's love.
"So that would be the one thing, really. But if I get two, then: Less division between people. Because people are manipulated by the organizations that would have control over them, be they religious or political or a social thing or whatever. I see a lot of political division, and a lot of religious division, and these things are what keep the truth from being the common denominator for all of us. This division keeps the truth from being something that all of us know and accept. Instead, the truth is skewed by ideologies or political notions, so the people have to realize that we are being taken advantage of. Because they know that, 'We can get Republicans and Democrats to fight each other and not like each other, then we can do anything to them!' You know? It's known. I think it's in The Art of War," he laughs. "It's a strategy that is continually being used on the people, and they continually divide us, because we can be controlled more. So that's the second thing: More unity for people!
"Yeah, love and unity is the key."