Friends and heroes, let us celebrate a truly great man of American letters: the one and only Stan Lee. Friday, the 28th of December, 2012, Stan Lee turns 90 years old -- and he doesn't look a day over 72! POW! Happy birthday!
But ladies first: We interrupt this article about Stan Lee to wish a gloriously happy birthday to another brilliant artist in the field of the fantastic: the singing, dancing, acting, activist, NASA-recruiting Grand Dame of Outer Space: Nichelle Nichols! Same day, Nichelle finally turns 39! Live long and prosper!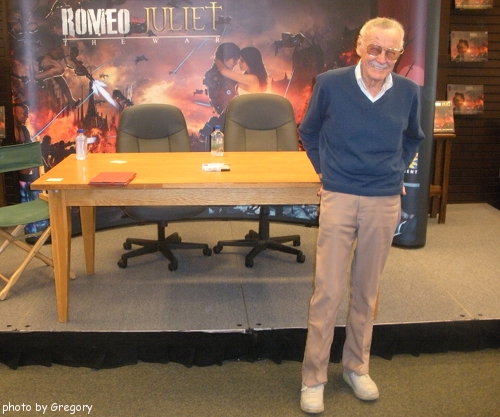 Stan. The Man.
Returning to our superheroic senior scribe, I admit in awe that during my synapse-slammin' year, somehow I attended a thrilling three big Stan Lee events! Stan really is The Man. I wasn't a Marvel kid (I moped around the sandbox with Proust and the Bhagavad Gita), but recently, upon leafing through a friend's vintage X-Men and Amazing Spider-Man comics, I was delighted to find Stan's wonderful and witty voice permeating every pulpy page. Love 'em, love him. (Sure, Ditko, Kirby, Romita, applause. But it's not their birthday.) And today of course some of our top movie directors work Stan's oeuvre: Bryan Singer (X-Men); Jon Favreau (Iron Man); Sam Raimi (Spider-Man); Kenneth Branagh, for crying out loud (Thor); Joss Whedon (The Avengers); etc. Indeed, Stan's world is a lot to process! May I share a bit? Thank you!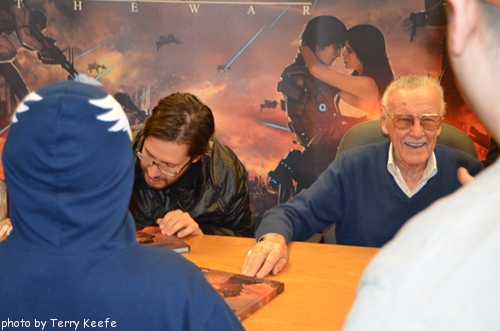 Terry Dougas and Stan Lee sign for the people!
First this year came a fun book-signing at the L.A. Grove's Barnes & Noble. Two legends of letters united to unleash Romeo and Juliet: The War (1812 Comics and POW! Entertainment), a masterful new epic bridging epochs Elizabethan and... let us say, "cyberiffic." Comic-book hero and master of media Stan Lee created the updated/upgraded story with producer Terry Dougas, as writer Max Work and artist Skan Srisuwan brought it to magnificent form. It's badass, poetic, romantic and thrilling, and I haven't been this excited about a graphic novel since Frank Miller's The Dark Knight Returns. This New York Times Bestseller also set a Guinness World Record (details below). I ask the legendary Stan Lee where he found this other legend, a pretty good writer called William Shakespeare.
"Shakespeare?" Mr. Lee wryly grins. "I looked around, I read a few of his things, and I said, 'The boy has promise.'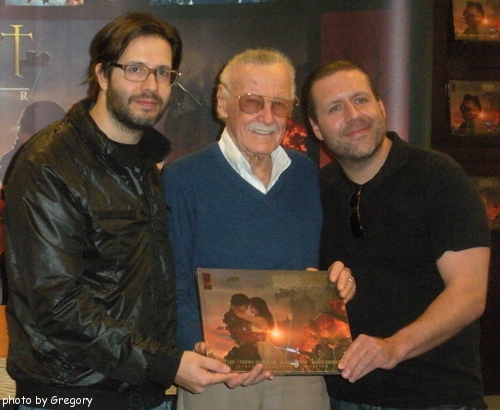 Terry, Stan, and writer Max Work
"Now the funny thing," he continues, "when I was young, believe it or not, I loved Shakespeare. I probably didn't understand most of what I was reading. But the language! I loved the, 'What ho! Horatio!' type of thing, always loved it. I love his sonnets, his speeches, Mark Antony's speech. You probably aren't familiar with Brutus' speech," Stan gently suggests, "which doesn't go, 'Friends, Romans, countrymen...' -- but 'Romans, countrymen, and lovers, hear me for my cause, and be silent...' It's as good as Mark Antony's, and nobody ever studies it!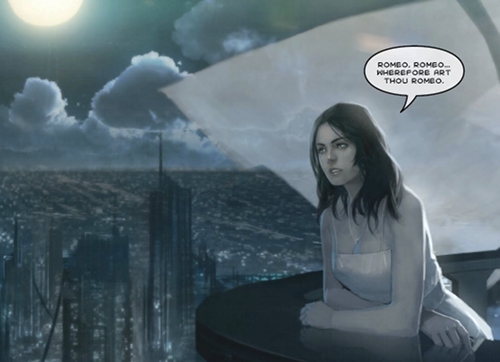 Juliet. Forever.
"But anyway, Shakespeare is wonderful," he further opines, returning to Romeo and Juliet. "He did the greatest romance story ever written, and we figured why not put it 200 years into the future? Give the Montagues and the Capulets each different superpowers, play up the war without losing the romance? We'll have the greatest story ever written!"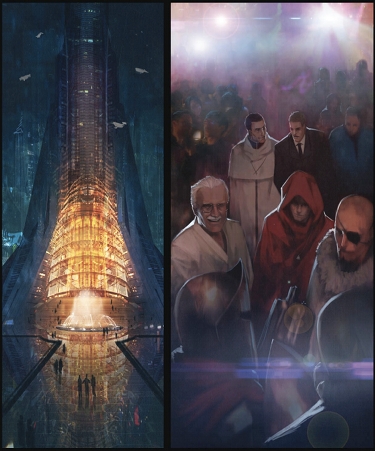 Party chez Capulet! (Note cameo.)
I ask Terry Dougas, an enthusiastic creative force in Hollywood (he co-produced Ricky Gervais' amazing The Invention of Lying), about the genesis of their sleek action-romance.
"With this one," he responds, "we were saying, basically, 'What is the ultimate love story?' We said, 'Why don't we go back to the absolute original, that everybody loves?' I love it! I've been to Verona. I know I'm a dude, but I'm romantic, I went to Verona, I saw the balcony!"
Dudes have to be romantic too, I concur -- or there'd be no species.
Mr. Dougas laughs and continues: "What we said is why don't we take the #1 love story of all time, set it in an environment that's very fun for a younger audience -- for all audiences, but especially for the Avatar audience, you know? So let's set it a few hundred years in the future, be very respectful to the original source material, and have fun with the sequences: it's in the future, so the science has to be there, the background of the story, what's happened in this world. And then amp up the battles, amp up the love story, amp up everything you can to make it really different and fun.
"And Stan Lee is a really amazing creator -- put the humor in it and all that stuff, then get a really amazing artist, print it in a great way, and there you go."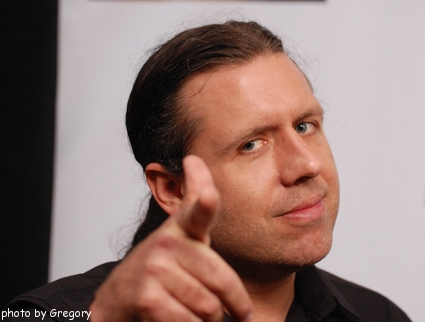 The mighty Max Work
Writer Max Work joins Mr. Dougas and myself. We discuss further, and I learn that while the wordsmith yearned to heave in even more Shakespearean dialogue, his co-creators deemed it a tad unwieldy, so they found a happy compromise between the poetry and the POW!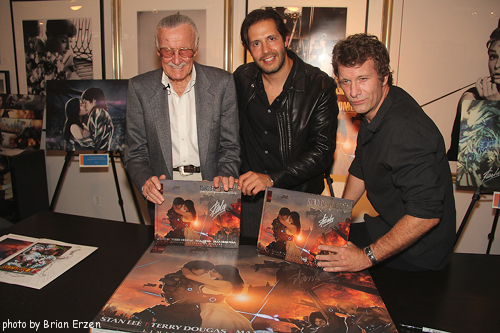 Stan and Terry with their BIG book, and Thomas Jane
The book carries over into another event, the official Guinness Book World Records celebration of Romeo & Juliet: The War, at the super-snazzy Vault gallery in Culver City. Dig: World's Largest Graphic Novel Ever Published. (At about two feet by three feet, the amazing limited-edition is huge! And heavy!) A terrific party ensues, and there are Stan, Terry and Max again, emceed by actor Thomas Jane, all hosted by gallery owner Regina Carpinelli.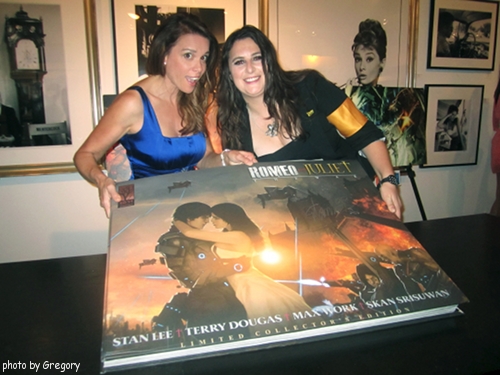 Multihyphenates Chase Masterson and Regina Carpinelli
Regina really takes pop art to a high yet accessible new level, as she founded the L.A. convention Comikaze, which succeeded so grandly in its first year that it caught Stan's interest, and is now officially Stan Lee's Comikaze. Truly exciting and fun for all.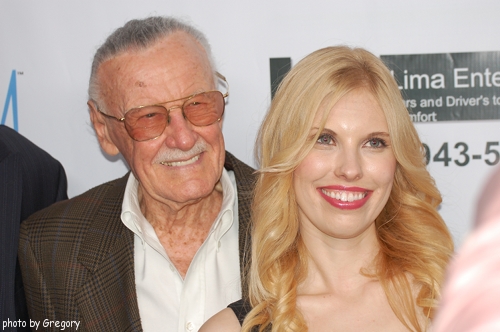 Stan Lee and producer Nikki Frakes première their Great Power!
And then there is the movie. I saw a lot of films this year, and after lots of fine-tuning, With Great Power: The Stan Lee Story made its official premiere at the lovely iPic Cinemas in Pasadena, and easily became one of the best of 2012. The project exudes warmth, charm, creativity and good vibes (and cool music! by Kostas Christides and Minos Matsas), and Stan's story is a must for anyone exploring work in the vast fields of arts and/or letters.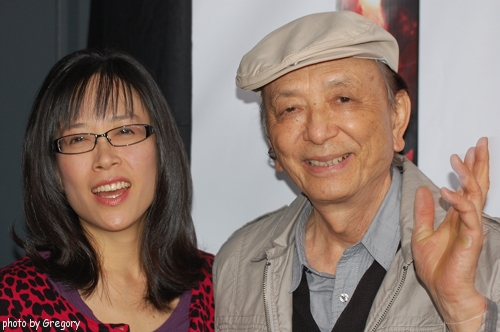 April Hong and her dad James Hong walk Stan's red carpet.
Speaking with triple-threat writer-producer-director Nikki Frakes, I note that many glorious things come from happenstance, and she confirms just that, as fellow producer William Hess got things rolling with a USC short to which he invited Stan: "It was originally going to be something short, something fun. We didn't go into this planning for it to be a feature -- so much so that our edit suite, most have a nice RAID (hard-drive) in them; we would buy a 1-terabyte drive at a time, and at the end we had 12 of them. So it really snowballed," says the Minnesota native (who knows from snow).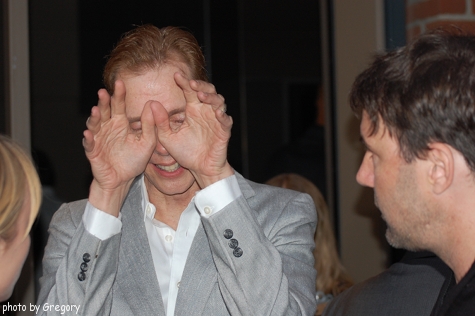 Doug "Silver Surfer" Jones shows fans how he does that Pan's Labyrinth thing.
"None of us came from the comic-book world," Nikki also notes, "so when I would talk to my friends, I'd say, 'I'm thinking of doing a project on Stan Lee.' I wanted to pull in a larger audience, not only comic fans, and I felt like the historical thread would do that, because it makes it so relevant for anyone."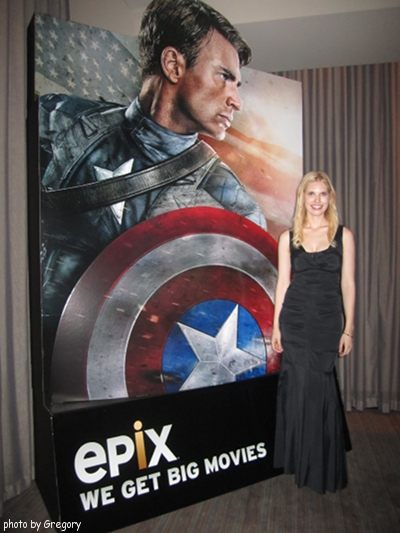 Captain America lets Nikki Frakes protect him.
Very true. Whether you love superheroes or just a great story (about the 20th century and beyond!), With Great Power rocks. Personally, I love Stan's grinning admission that he feigned "sacrifice" to bring his family from New York out west to sunny L.A. to helm the then-fledgling Marvel shop. It's a fun, funny, cameo-rich, wonderful movie, from the Purveyor of Wonder (thus: POW!) and his fine team.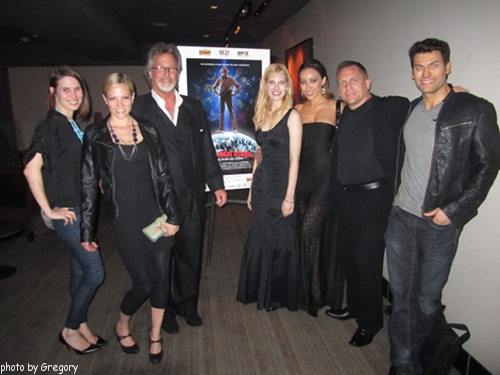 Hipsters hangin' With Great Power
Mr. Lee was classified a playwright in the army. Fascinating. I ask him how this came to be. He laughs and smiles.
"I wrote training films. I'm the least technical guy in the world, and they kept giving me technical things! One of them I remember writing: 'Operations and Nomenclature of the 16mm Imal Camera for Combat Use'. Things like that! I read a manual, and then I would do the script based on it. And I also did cartoons and posters." Then he reveals something which I have no cause to doubt:
"We won the war because of my efforts, training the troops."
Ha! That's our birthday boy!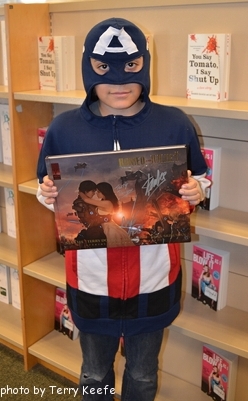 The severely rebooted new Captain America
I ask Stan about his most famous catchphrase.
"I used to write a lot of columns," he reflects, "'Stan Lee's Soapbox,' for the books. And I'd end up by saying something like, 'Wherever you go, whatever you do, hang loose!' or 'Face front!' or 'Nuff said!' -- and I found that the competition was imitating, and copying, my expressions. So I said, I gotta think of an expression: a) They won't know what it means; and b) They won't know how to spell it. And I noticed that the word on the coat of arms of the state of New York is 'Excelsior.' And I looked it up, and it's an old English phrase, meaning, 'Upward and onward to greater glory.'
Precisely.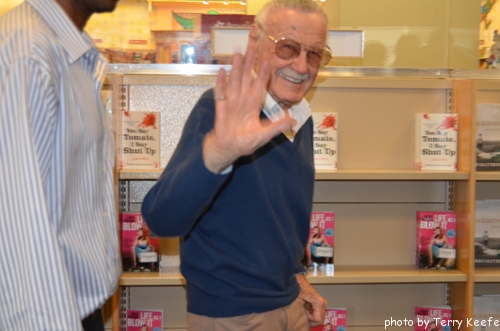 Stan Lee. He's waving 'hello'.
Excelsior! Stan is a legendary American writer -- but not only: he's the one man who most diligently delivered a uniquely American modern mythology to the whole world. And he continues to make it fun. (Married 65 years, too! In L.A.? Is that also a world record?) A grand salute then, to our Global Master of Letters: Stan "The Man" Lee! Happy birthday! And many mooooore...