Public education in America. Hello! Gets the synapses firing, eh?
Fortunately, caring, experienced, determined individuals are on the case. One such person is Randy Barth, a successful stockbroker turned philanthropist and education reformer who walks his talk in subtle yet effective ways. Via THINK Together, the nonprofit organization he founded in 1994 -- which has become a brand-new and highly comprehensive book, THINK Together: How You Can Play a Role in Improving Education in America, co-written with former Los Angeles Times reporter Jennifer Delson -- Mr. Barth both illustrates and delivers real improvement.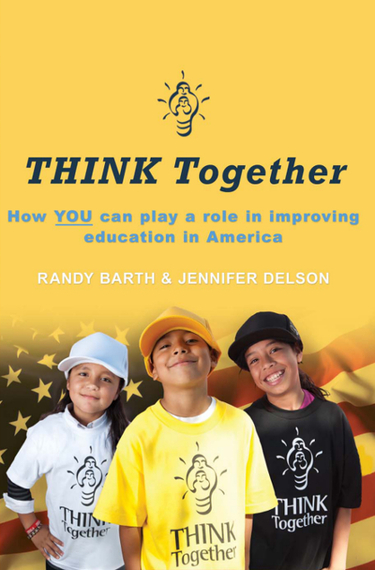 Photo courtesy of Randy Barth / THINK Together
THINK Together, the organization, brings together businesspeople and educators, administrators and investors, working in partnership with more than 400 American public schools in 42 school districts (and expanding). Focusing especially on low-income and immigrant students who might easily get lost in the shuffle (or worse), Mr. Barth has designed systems that provably enhance academic performance, with the rather pleasing side effect of strengthening communities and improving the odds for potentially at-risk youths residing in them.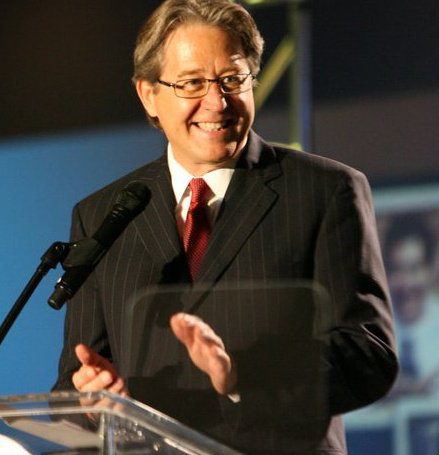 Randy Barth (Photo courtesy of Randy Barth / THINK Together)
While his journey and the respective journeys of the many students he's helped could fill volumes (his own tome is bursting with both hard facts and inspirational stories), I recently spoke with Mr. Barth and strove to hone in on a few of the key factors of THINK Together ("THINK" being an acronym for "teaching, helping, inspiring and nurturing kids"). We began by addressing the origin of the organization -- and, as is often the case in stupid and dangerous scenarios, it was fed-up mothers who first took action.
"There was a gang shooting in the Shalimar neighborhood [of Costa Mesa, California]," explains Mr. Barth, "and the mothers from the neighborhood organized to take the neighborhood back from the gangs. I read about it in the local paper. I also happened to be the head of the committee of a large, wealthy church that was looking not just to write checks but to mobilize people to get more involved in the community. And a friend of mine was a Catholic priest whose parish also encompassed this neighborhood. After I read this article, I called him up and said, 'Is there something we could be doing in [your] churches to help these mothers?' So we went and met with them, and what they said was, 'We need a quiet place for kids to study after school in the neighborhood.'
Learning: People dig it! (Photo courtesy of Randy Barth / THINK Together)
"In that particular neighborhood, kids were bused to school and dropped back in the neighborhood after school. So we rented an apartment, thinking we'd have 30 kids, and a handful of tutors from the church -- and the first day, we had a hundred kids at our door! We had about a dozen women that had been teachers when they were younger and then were empty-nester housewives, and those volunteer tutors took that apartment and made it into a little school. What we learned was that these kids, with the right support system, they could achieve the same levels as any other kids did.
"And so, from that one street, we've been doing it 20 years. The last seven years, 100 percent of those kids in that neighborhood, in the program -- it's an opt-in program -- but 100 percent of our high-school seniors have gone to college, and we've sent over 400 kids to college, from that one street. First-generation immigrants -- their parents speak Spanish. That's about a six-times-higher college-going rate than their peers. And so, from that one street, we've got an Emmy-Award-winning TV producer, we've got an architect, an engineer, a teacher, social workers, and we have our first med-school student, and this spring we have our first kid that got into Harvard. And so, what we say is, 'Any street in America would be proud to have these outcomes.'"
Randy elaborates:
"If we can help change the conversation and start building these support systems for kids, we can boost achievement. And it's also a way to engage communities. I mean, a lot of disparate parts of the community came together to support this. You look at situations like Ferguson, and all the mistrust, and everybody's in their own camps, and there's finger pointing and blame. When you're actually in relations with others and working on something and it's something as compelling as kids' education -- and the future of our country, in a way -- it's sort of an antidote to Ferguson. It's been exciting and compelling."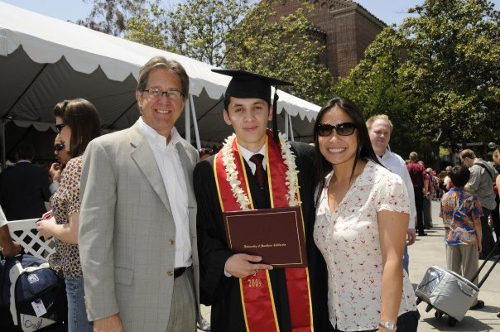 THINK Together success story Paolo Leon: from the street to a USC Architecture degree -- to a great job! (Photo courtesy of Randy Barth / THINK Together)
Mr. Barth makes a point of the rise of suburban poverty in America and how most emphasis in education reform is nonetheless focused on urban centers. With the THINK Together book he hopes to reveal the potential in regions outside the media spotlight.
"Part of the reason for the book is: Hey, we're seeing some good things happening, and nobody's talking about them! There's this small teacher's group that's working, kind of word-of-mouth, on the street, and it's got no visibility. So we're trying to shine a light onto that and kind of change the conversation so the conversation becomes more solution-oriented, and say, 'Hey, where are the things that are working?' Because the conversation is so dominated by the major media markets -- what happens in L.A., New York, Chicago, and D.C. -- and actually we see innovation happening in places outside of that, and it doesn't get the visibility. That's part of the reason for the book. I think that's the hopefulness, as we have this spread of suburban poverty, and even the inner-city stuff. I do think there's promising solutions, and we have to get the conversation to be more solution-oriented."
One chapter in the book is named after Michael Jackson's "Man in the Mirror." Not a bad run, really, for a kid from Gary, Indiana.
I ask Mr. Barth about the methodology of THINK Together, in contrast with the No Child Left Behind Act.
"I think what was good about No Child Left Behind was it introduced accountability in the system," notes Randy. "And a lot of people didn't like that; a lot of people don't necessarily like being held accountable. But it gave us a way to measure the performance of the kids and how kids had suffered. So, for example, in a lot of mixed-income scenarios, with moderate-income kids with some low-income kids, you've got high-performing white and Asian kids, statistically, and then perhaps lower academic performances from African-American and Latino kids, and No Child Left Behind shined a spotlight on those gaps.
"But the downfall of No Child Left Behind was there wasn't the funding or the remedies to actually do something about it. And we have this kind of conversation nationally, between state governments and federal government, on who should be driving this education stuff. So, traditionally in the U.S., education has been a state and local issue. No Child Left Behind said, 'OK, here's the proficiency rates of students.' And what some states did in reaction, they knocked down their proficiency rates for students to make their results look better that they really were. Some of the states had dumbed down the standards during the No Child Left Behind era. So we like the accountability of No Child Left Behind, but the second part of that is: How do we support students? And how do we support teachers in the classroom, and administrators, and the system?"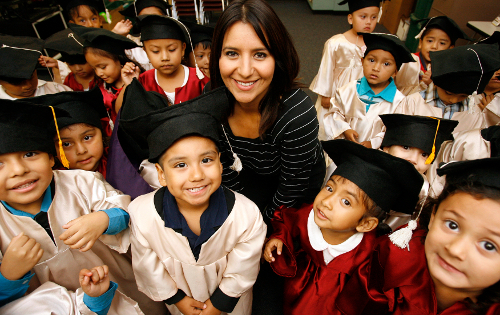 THINK Together: It's working (Photo courtesy of Randy Barth / THINK Together)
Bringing private investors into the equation for the public good -- this is what THINK Together means by "support."
"What we're able to do via our connections," Randy continues, "is to bring in private investors to provide matching dollars to the public dollars. And we like that model, because it's part of the community engagement: They have a stake in it, and they're literally invested. It engages folks, and it gives people a way to support their education system."
THINK Together puts laptops in students' hands, tutors in their faces, and -- perhaps most importantly -- the space and peace of mind to pursue their studies. Their process is working, provably. I ask Mr. Barth where he'd like to see U.S. public education in 50 years.
"Well, I would like to see us in the top five countries in the world. And I'd like to see the achievement gaps close. I'd like to see the fact that you're white, or Asian, or African-American, or Latino, that none of that matters, that you can achieve your full potential. One of the main points of the book is that schools reside in communities, and there are these complex factors -- both in schools, in the systems, and outside of school, in the community -- and, you know, good communities have good schools, and weaker communities have weaker schools. But I think even if there's poverty, I think there's still ways that we can kind of come around and bring communities together and build a support system.
"So we just want to change the conversation so we can get to strong schools for everybody. And that really underpins the American dream. In many ways this book's about: How do we build the next generation of the American dream, not just for our kids, but how do we tap into that sense of volunteerism and a high-minded civic spirit for all of us -- communities coming together? And that creates hope for kids. Kids are invested, and it makes the whole system better. So my dream would be for education of all of our children to be the catalyst for building a stronger country."
Indeed. Live long and prosper.
Visit the official website of THINK Together at thinktogether.org.