The heart of America beats hard, fast and true in LUV, the debut feature by Sheldon Candis. Part spiritual autobiography, part crumpled Valentine to Baltimore, all coming-of-age saga, LUV presents a breakout performance by young Michael Rainey, Jr. -- a lad on the line who takes a day off with his streetwise, paroled uncle (performer Common: sharp and truly "edgy") to make some decisions on what makes a man. The astute film also features poignant turns from Meagan Good, Charles S. Dutton, Danny Glover, and Dannis Haysbert. I spoke with Messrs. Candis and Haysbert, respectively, about their ways and means.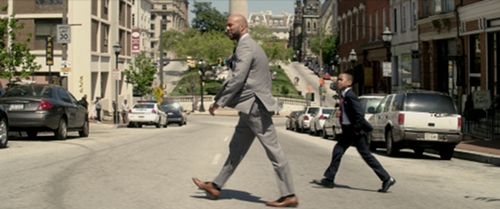 Common and Michael Rainey, Jr. roam their own mean streets in LUV.
Mr. Candis is understandably enthusiastic, as touring festivals with LUV took him from Panama to Paris, plus all over the U.S. "For me it's great that you get to have an immediate engagement with audiences. And they're real people. Don't get me wrong -- I love L.A. completely, and I defend L.A. But this isn't reality, in a sense. So it's great when you get to go to places like Nashville, or Savannah, and you meet real people who have a genuine connection with your movie! -- something I've been working on for a really long time."
I congratulate the USC School of Cinematic Arts grad, and ask how personal LUV is to him.
"I would say LUV is a fictional story inspired by a true relationship," Sheldon divulges. "When I was a little kid growing up in Baltimore, I had an uncle who loved me wholeheartedly -- he was my hero! -- he just unfortunately was one of the city's most feared drug dealers. And one of the co-creators of The Wire is the person solely responsible, to this day, for my uncle still being in prison. Since 1987.
"For me, at a young age -- I was nine years old at the time; Woody (Rainey) in the movie is eleven -- I was exposed to some really emotionally intense things. While I never directly experienced my uncle killing someone, he had allegedly killed all these people! There were many nights I would spend with him, some places I could go into, many places I would just fall asleep in the car. And it wasn't until many years later, when I met Ed Burns, the former Baltimore City Police Detective, co-creator of The Wire, that he told me that, 'Your uncle was the Great Manipulator: he could use anyone or anything to get what he wanted.'" Summing up: young Sheldon in his uncle's car could have been one hell of an innocent-looking cover.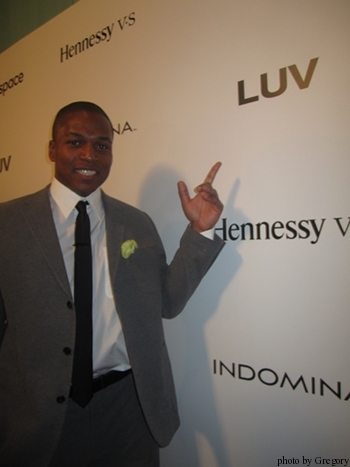 Writer-Director Sheldon Candis: All you need is LUV.
Fascinating connections occur at USC. Sheldon explains that The Wire's other co-creator, David Simon, spoke there at a TV class when the two met, and discovered they had Sheldon's uncle in common (ooh, pardon pun). LUV began to take shape. But Sheldon carefully defines his work:
"I don't want this in any way, shape or form to be misconstrued that I'm telling some 'Based on a True Story' depiction. This is a completely cinematic world that I created from a true relationship."
I ask if the feelings he experienced have been transcribed into a fictional story, and Mr. Candis is comfortable with this appraisal.
Mr. Haysbert, meanwhile, is wonderfully congenial. The seasoned star of all kinds of film and television (President David Palmer on 24, and Jonas Blane on The Unit, to name but two) had previously worked in Baltimore (Major League II), but LUV brought him a new, raw perspective on the city and its denizens.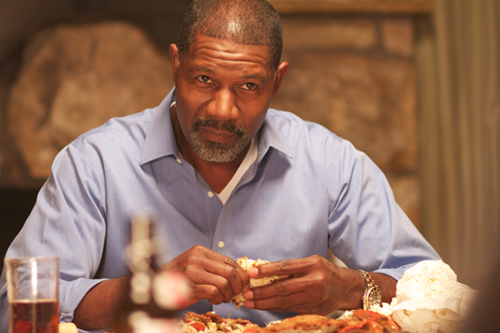 Dennis Haysbert invites you to crack crabs with Mr. Fish -- if you dare.
"It's a role I've not played before," Mr. Haysbert reveals, "which is one of the main reasons I did it: to explore the functioning of a kind of mob boss -- a guy that would probably be at least a senior executive at a Fortune 500 company." He laughs good-naturedly, and concedes that he quickly "got" the character, "which is a tribute to the writing. Apparently he's been writing this for a number of years."
Dennis likens the guerrilla-esque shoot to only one previous experience, playing a renegade out on the Montana prairie in Return to Lonesome Dove, working with the mobile second unit. "You show up with your tripod, and your camera, and a truck full of props and lights, and you run into a location, shoot something, and then get out!" He laughs. "I'm pleasantly challenged by doing that. It's kind of like a roving theatre troupe. Actors are gypsies anyway. That kind of filmmaking is fun for me. But I'm equally comfortable with the big-budgets. Whatever you have to do, to get the project done."
Sage advice! Regardless of scale, Mr. Haysbert likes an efficient set. "That's why I love working with Clint Eastwood. You have to come in prepared, because he'll give you maybe one or two takes, per setup. And these are relatively high-budget movies." I reflect on Mr. Eastwood speaking at Santa Monica's Aero Theatre, about how he can't stand workers yelling on his set.
"There's no need for it," concurs Mr. Haysbert. "It's a work environment. The first thing that comes to my mind is: doctors, doctors in an operating room. When you're on set, you're operating. Instead of scalpels and clamps and sutures, you're using your imagination, your voice, your eyes -- in a large part, your heart."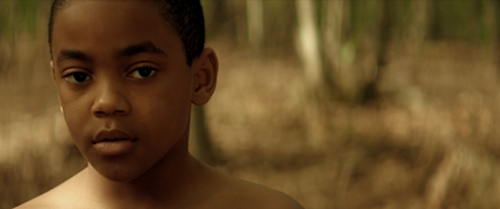 Only a lad: Michael Rainey, Jr. in LUV
This delicacy, this gravitas, powerfully emerges in LUV -- including the heart's more shadowy side. Which adds to the complexity. I ask Sheldon about crafting his story -- and he too goes straight for the heart.
"I immediately called my writing partner, Justin Wilson, and I said, 'Justin, I've just had the most amazing phone call with Ed Burns,' and I said, "'Now, this is what makes the story special. This is what makes the story interesting within that genre, which is typically crime drama. But we can truly infuse heart into it. And you can have a boy's rite of passage -- how a boy literally becomes a man, or at least takes the steps toward owning his own life -- through a crumbling relationship with someone he considers his hero.
"And how interesting is that, if in fact, when I was with my uncle, what if I had experienced him killing someone? How would that have shaped me as a young boy? Being exposed to violence for the first time. And that's when I felt like, 'Oh, we're really onto something.'"
Hey: Urban bang-bang is not my thing. (Any bang-bang is not my thing.) However, LUV undeniably transcends its trappings (emphasis on trap), and gets at something essential, something vital, in the contemporary American experience. Plus the film bears an independent spirit, but from its moving script to its stellar cast to its poetic delivery, the production is all pro, very moving, and more than a little shocking.
LUV leads Dennis Haysbert and Tracey Heggins
"He had a wealth of experienced actors on the set. Charles Dutton. Danny Glover. Myself. Lonette McKee," says Dennis. "And we all saw something compelling in the script, that we were willing to, basically, give our time. Films like this, you're not really getting paid -- what is it Sheldon said? 'A dollar and a chicken sandwich.'"
It was "turkey" when he told me, I note.
"I'm paraphrasing," Mr. Haysbert laughs. "It was fowl!"
We concur.
Future offerings from the infinitely diverse Mr. Haysbert are currently in cultivation, including Omaha Street (a strong drama of life, love and breaking boundaries from co-producers Nichelle Nichols and Gilbert Bell) and many others. "I have some projects that are going to rock," Dennis states. I believe him.
Likewise I believe Sheldon, as he posits that the traumas of his youth empower the emotions of his art today. "At the end of the day, my voice as a filmmaker is about boys searching for father-figures -- or about children, or individuals, searching for family."
LUV is a strong debut, and evidence that Mr. Candis can have a long and fruitful career as a director. And since LUV is such intimate portraiture -- of the boy, but also of a culture (and to some extent a crisis), I ask Dennis what he brings with him to such a project.
"Truth," he replies. "Truth and reality. Honesty."
Photos courtesy of Indomina Media unless otherwise noted.
LUV opens this Friday across America in these theatres.
Video: Charles Dutton & Dennis Haysbert discuss LUV and gun-control in America. (via BlackTree Media)