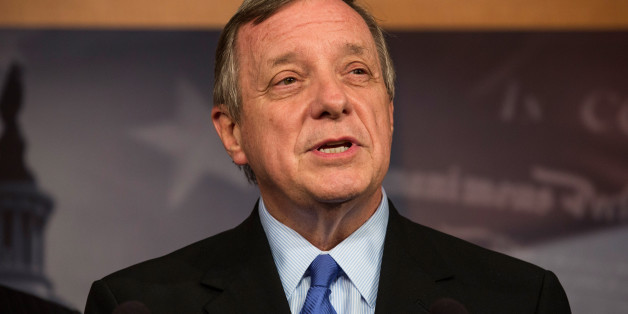 As I sat on the set last night right before we hit air on ON THE RECORD at 7pm, I received an email note from my FNC colleague Chad Pergram about the closed door briefing on Capitol Hill that included this:
"... [Senator] Durbin also says some of what was reported in the press has not been accurate...." [Senator Durbin had just exited the classified briefing about Sgt Bergdahl.]
In reading Chad's email I thought, really? He says it has not been accurate? Does he know why it might not be accurate? I do. If any reporting on Sgt. Bergdahl is not accurate for any reason, it is not because of the media not wanting to get it right. We do want to get it right and that means everyone in every news organization.
Any inaccurate reporting on Sgt. Bergdahl is because of our political leaders:
1. Congress (historically and now) and administrations like to cozy up with each other and meet behind closed doors to keep the American people out. It is politically safe -- to protect their political hides. Way too much gets labeled "classified" in DC so that all information, even non-national security, gets kept from the American people. That is wrong. It is also lazy. It is hard for the media to get everything right when our leaders force us into an absurd 'cat and mouse' game to get information that should not be classified.
I posted on GretaWire last night at 8:09pm my interview with Ranking Intelligence Committee Member Senator Chambliss. He had just walked out of that classified briefing on Sgt. Bergdahl. I asked him how much of last night's classified briefing should be classified. Watch the interview. You will be shocked by what he said.
2. President Obama is not taking questions on Sgt. Bergdahl. Yes, he is overseas but he didn't leave until Monday night. There was plenty of time on US soil between Saturday morning and wheels up from Andrews to take questions at a press conference. He didn't want to.
3. And then there is Susan Rice! Susan Rice, on behalf of the Administration, went to the Sunday talk shows and she can't get the facts right (e.g. on CNN she told Candy Crowley that Sgt. Bergdahl had acute health problems ... flip to another channel and you would have heard her tell ABC's George Stephanopoulos he is in good condition ... which is it? Rice also said Bergdahl was captured on the battlefield ... that's not right ... and she said he served with distinction and honor, which is not a description she would have used if she just Googled Bergdahl before either TV appearances. And if you don't think she got it all wrong -- accidentally or deliberately -- on the Sunday shows, why did the White House, from Europe say, 'what Rice really meant...' )
So Senator Durbin, inaccurate? How about 'quit playing us?' Quit playing the American media which means quit playing the American people. Why not instead be a champion for open government? If there is something truly sensitive and crucial to national security (and that does happen), you can then turn off the cameras, shut the doors ... talk ... and then the minute that national security topic ends ... open the doors, bring in the cameras and invite the American people back in. That's an open government.
PS: Note to Members of Congress: stop speaking to us and asking to be kept anonymous in our reporting about the conversations. Step up! Courage and leadership!