In Fairfield, Iowa, Caterina Bacal Titus looks forward to a unique celebration in the month of March each year. "We meet in the park in the late morning, usually about 20 families -- young children, parents, teenagers, in our casual clothes and with a playful demeanor. Someone brings the packets of color powder and we joyfully splash each other with every color of the rainbow. By the end, we are all so covered in colors, laughing, and just embracing the joy and love of the community."
The Festival of Colors, known as Holi, is now celebrated across American cities and towns from Boston to Los Angeles, from Salt Lake City to Houston. While the festival originates in the religious tradition of Hinduism, all parts of society are welcomed regardless of spiritual affiliation. As played out in America, entire families show up in white or light-colored clothes and sprinkle, spray or smear one another with bright red, pink, green, yellow, purple, magenta and blue colors. Colors cover not only the clothes, but the faces, arms and hair in a bacchanalian burst of boundless delight. Upbeat Holi songs from Bollywood movies and high-calorie foods from India's diverse ethnic regions are the backdrop of everyone hugging one another.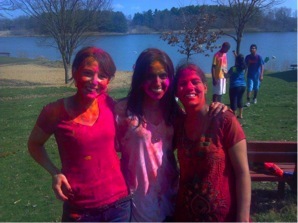 Celebrating in Iowa (photo: Caterina Bacal Titus)
Many Americans are familiar with Purim, the ancient Jewish festival celebrated on a full moon in the beginning of spring as recorded in the Bible's Book of Esther. On the same day (March 17 this year), over a billion people, largely Hindus, celebrate the festival of Holi. While the stories of Purim and Holi are different, both festivals celebrate the triumph of good over evil and both permit some degree of intoxication in otherwise conservative religions.
Hinduism can be playful and mischievous and Americans often enjoy the romantic anecdote about the colors behind Holi. As a boy, the divine cowherd, Krishna, was enamored with the gorgeous but slightly older maiden Radha. Young Krishna felt that ravishing Radha was much fairer than him. Krishna's adoptive mom playfully suggested that he smear Radha's cheeks with color to make them look more alike. Radha enjoyed the outreach and responded gleefully along with her girlfriends (known as gopis, or cowgirls). All of them danced and frolicked for the entire day, coloring another and enjoying the festivities. Mom was right. To this day, the colors of Holi serve as the great equalizer, bringing old and young, rich and poor, male and female together under a rainbow of hues.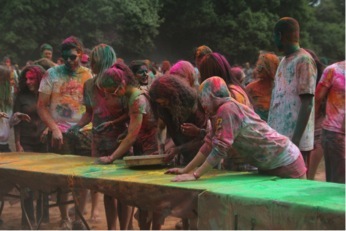 All colors and ethnicities play Holi at Stanford ((Avi Bagla/ASHA Stanford)
Here is a more traditional explanation of the festival that likely predates the story above. Like many festivals in India, celebrations of Holi vary by region and can extend over multiple days. The full moon in the lunar month of Phalgun (usually in March) marks the beginning of spring and the first event of Holi is an evening bonfire to mark the destruction of the demoness Holika. According to legend, Holika's nephew Prahlad was a young prince devoted to the god Vishnu. Prahlad's father was a megalomaniac ruler who believed in his own divinity and was furious that his own son refused to acknowledge this. Holika, the evil aunt, had the power to survive fire and stepped into a burning pyre with young Prahlad to destroy the disobedient prince. But the fine print in her super power contract made her vulnerable if she was not alone in the pyre, while Prahlad's devotion enabled him to survive the flames. Good triumphed over evil and the next day the citizenry celebrated heartily with a carnival of color.
Since town square bonfires are generally regulated in most American cities, Indian Americans celebrate the second part of Holi as the festival of colors. Rather than the day after the full moon, revelries are moved to a convenient weekend and in the colder, northern latitudes may occur as late as May. Since the colors of Holi tend to stain the carpets and drapes of modern American homes, many celebrations are held in large grassy parks (or on beaches) and are more accessible to the general public.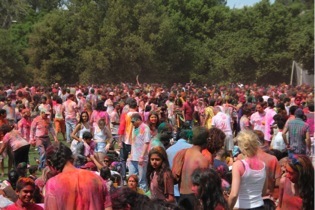 Holi Extravaganza at Stanford University (Avi Bagla/ASHA Stanford)
Bollywood movies often depict a musical Holi interlude and many of these videos have acquired a fabled status on you tube. You can celebrate Holi vicariously by watching Balam Pichkari (Darling with a Water Pistol) from the 2013 movie, The Craziness of Youth. For a more classical, but equally joyful and flirtatious rendering, take a look at Rang Barse (The Downpour of Colors) from the 1981 love triangle classic The Chain of Events.
Hinduism, being a syncretic religion, invites adherents and non-believers alike to partake of whatever they enjoy from the various traditions around this happy and spirited commemoration. Perhaps it is the coming together of diverse ages, classes and interests that makes for the special appeal of Holi in America. Or maybe as Caterina Bacal Titus, who is married to an Indian American, says: "It is a celebration of spring in all of its life and spontaneity -- a childlike rebirth that we often don't get to experience in our daily lives."
Some Forthcoming Celebrations of Holi across America

Here is a national series inspired by the colors of Holi (this is run by a for profit company)
https://thecolorrun.com/events/