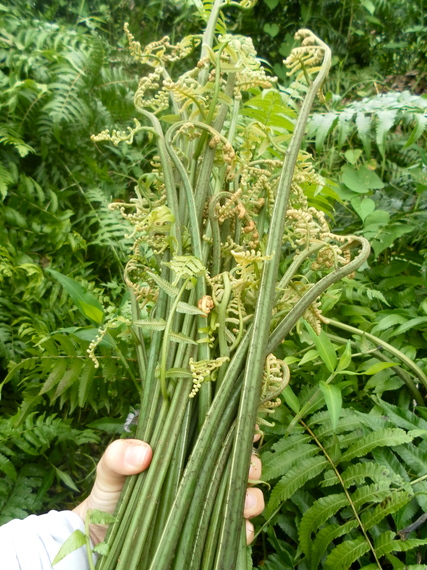 When we first moved to Hawaii in 2006 I wanted to go everywhere and see everything. We've traversed razor sharp lava rock roads, hiked barely visible trails, and splashed across slippery streams in search of some sort of hidden Hawaiian rainbow waterfall treasure. The thing about hidden Hawaiian rainbow waterfall treasures is that they'll be found when they're good and ready. You can go ahead and drive every back road and visit every beach but you'll never satiate your need to find the MOST special the MOST secret the MOST real Hawaiian experience of all time.
What draws us to Hawaii is the very thing that eludes us. Because the most special, secret, real Hawaiian experience of all time cannot be had by all. There is a sacredness here, and it is our responsibility, no matter who we are and where we come from, to honor that.
I spent a weekend about a year ago in Waipio Valley on the Big Island with a group of fellow teachers. I had been participating in a program called Kahua that has been specially designed for new teachers to help us implement culturally relevant teaching practices in our classrooms. Part of Kahua has been visiting and learning about significant places on the island. I had been looking forward to the Waipio trip for over a year as it is such a special place.
The best part of the trip was gathering food for our dinner. Ho'i'o ferns grow wild in massive boggy clumps that extend 8 feet or more upwards. Once you know how to spot a shoot, they are easy to gather. The shoots, when blanched, are similar in texture to asparagus and taste something like cucumber. Some call it fiddlehead fern, Maui folks call it pohole, and still more call it warabi. Whatever you call it, this very special foraged green is delicious.
I recently snagged some at the Hilo farmer's market and promptly made a zesty salad. If you can find some near you, buy stalks that are firm and green, avoid the wilted ones with tops that have opened considerably. Prepare it like you would asparagus, but be sure rinse well and blanch no matter how you decide to eat them, this helps to remove the little hairs that cover the stalks. My recipe is below, ff you like green papaya salad, you'll love this recipe.
The message I want to bring back to you after being so lucky as to enjoy the sacredness of Waipio is that although I understand the need to seek out the best Hawaiian experience of all time, there are places that are better left alone. Tread lightly.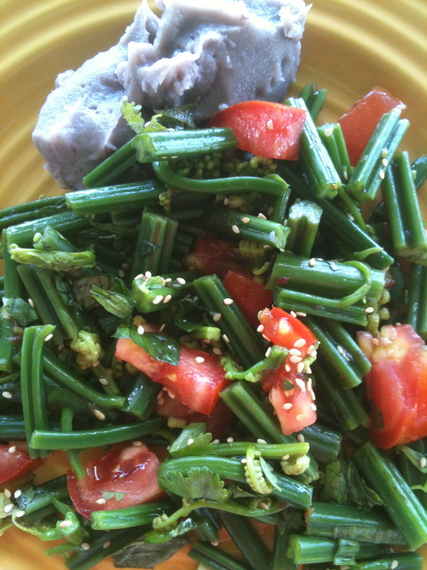 Zesty Ho'i'o Salad
serves 4-6
1 bunch ho'i'o ferns, about 3 lbs (can also be called pohole, warabi, fiddlehead fern, or pako)
2 green onion, chopped
1 tomato, chopped
sesame seeds, for garnish
For the dressing:
4 TBL fish sauce
4 TBL lime juice
2 TBL agave or honey
1 tsp chili garlic paste, if desired
Chop ferns into two inch pieces, discarding about 2 inches of the ends as you would asparagus. Rinch ferns well in cold water. Bring a large pot of water to boil. Blanch the ferns in the boiling water for no more than 3 minutes, or until they turn bright green. Strain into a colander and immediately run cold water over them to stop the cooking process until cool to the touch.
In a large bowl mix together dressing ingredients with a fork. Add cooled ferns, chopped green onion, and chopped tomato to the bowl and toss well. It's best if you can allow it to sit for 15 minutes or so, but is also good kept in the fridge for up to 5 days. Top with sesame seeds for garnish. Enjoy!