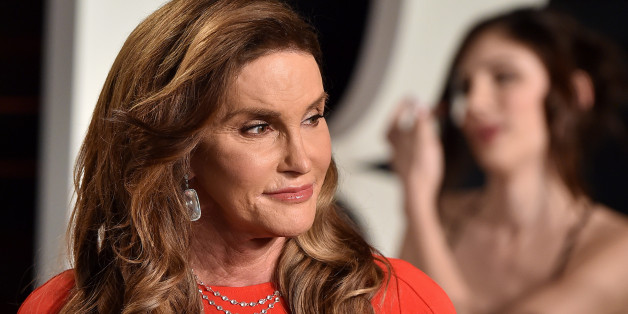 First and foremost, if you once viewed Caitlyn Jenner as an icon, but now see her as an outcast, then you never truly admired her in the first place.
You, like so many people to the left of center, place more emphasis on fearing Republicans than all the good Ms. Jenner has done for LGBT communities around the world. Caitlyn Jenner will never be an outcast for her political beliefs, because she held those political beliefs when she graced the cover of Vanity Fair, two years after Hillary Clinton finally supported gay marriage.
As The Atlantic writes, "Until 2013, she held a position that lots of Democratic voters now regard as deeply wrongheaded."
As for Ms. Jenner's role in American history, her acceptance speech winning the Arthur Ashe Award in 2015 is highlighted in a Queerty.com piece titled "Caitlyn Jenner's Beautiful, Courageous Acceptance Speech Is Required Viewing."
The Guardian stated, "Caitlyn Jenner showed true courage. She fully deserves the world's praise." There's no doubt, Ms. Jenner will always remain a hero, regardless of the vapid outrage over her choice for president.
In terms of her choice for president, I disagree with Ms. Jenner regarding Ted Cruz or Trump, as evident by an Eco Watch piece I wrote in 2014 titled "Congress Should Listen to Stephen Hawking, Not Ted Cruz, on Climate Change." Since I'm the biggest Bernie Sanders booster on the internet, and especially since I called Trump a "clown" and "buffoon" during my latest appearance on CNN, I am not aligned with Ms. Jenner on most political issues.
However, the woman is absolutely right about one thing.
Unlike Bernie Sanders, who is honest and answers questions concisely (see Hillary's answer to a simple question on fracking), Clinton always tried "to tell the truth."
Quoted in an Advocate piece titled "Caitlyn Jenner: 'Liar' Hillary Clinton Will Ruin America," Ms. Jenner states "I would never, ever, ever vote for Hillary. ... If Hillary becomes president, the country is over."
I agree with her to a great extent, in that our two-party system is finished (if Clinton merges both parties on war and foreign policy, then we cease to be a democracy) pertaining to war and foreign policy. When a Democrat named Hillary Clinton is the favorite choice of the same neoconservatives who pushed for Iraq and advised Cheney and Rumsfeld, then Caitlyn Jenner is right.
Caitlyn Jenner is also quoted in The Advocate calling Hillary Clinton "a f'ing liar," and "a political hack," and I'll just comment on the first observation, since in terms of politics, Clinton manipulates the meaning of words as masterfully as her friend and adviser Henry Kissinger. Below is a list of 10 statements from Hillary Clinton that are either lies, deception through omission, or blatant attempts at obfuscation.
1. In 2008, Hillary Clinton stated "I remember landing under sniper fire."
According to The New York Times in 2008, Clinton stated she remembered dodging Bosnian sniper fire:
"I certainly do remember that trip to Bosnia," she said, in remarks that aides described Monday as not being part of her prepared speech. "I remember landing under sniper fire. There was supposed to be some kind of a greeting ceremony at the airport, but instead we just ran with our heads down to get into the vehicles to get to our base."
This account never happened, ever, and there's even video footage showing Clinton being welcomed upon landing. As stated in The Washington Post, "As has now been conclusively established by video film and news photographs, Hillary Clinton did NOT come under sniper fire in Bosnia in March 1996 when she made a morale-boosting visit to U.S. troops enforcing the 1995 Dayton Peace Agreement."
In terms of the Bosnian sniper story, Ms. Jenner is absolutely right.
2. Hilary Clinton never used a State.gov email address, opting for exclusive use of a private server "for convenience."
What was the political utility, or motive, in being the first Secretary of State to use a private server exclusively? I challenge Hillary supporters with this question in the following YouTube segment.
Sure, setting up a private server to circumvent U.S. government networks was convenient for Clinton, but why was there a need for this convenience?
3. The Clinton campaign says there's nothing to worry about regarding the FBI's investigation. However, the FBI is indeed investigating possible criminal indictments.
As former U.S. Attorney General Michael B. Mukasey writes in a Wall Street Journal piece titled Clinton's Emails: A Criminal Charge Is Justified, "The FBI's criminal investigation of messages on the server initially related solely to Mrs. Clinton's possibly unlawful mishandling of classified information."
So yes, the FBI investigation is a criminal investigation, since as former Attorney General Mukasey points out, the FBI doesn't conduct civil investigations.
4. In regards to her predecessors at the State Department using private emails, Clinton states they "did the same thing." However, this statement is not true.
POLITIFACT rates the notion that former secretaries of state did the same thing as Clinton, in terms of her emails, as "Mostly False."
5. Clinton states she didn't send or receive classified information on her server, but 22 of her emails were deemed "Top Secret."
Simply put, if Clinton's claim is correct, then all of America should be able to see these 22 "Top Secret" emails. These emails were classified from the start and the State Department won't allow the public to view them.
6. The Clinton campaign's "retroactive classification" email excuse.
Many Clinton emails were born classified (classified from the start) and never needed to be retroactively classified by any agency. Again, the 22 "Top Secret" emails were born classified as well.
7. In 2005, Hillary Clinton visited Iraq with John McCain and is quoted in USA Today saying the Iraqi insurgency is failing and parts of Iraq are "functioning quite well."
First, the Iraqi insurgency was rampant by 2005 and Iraq had already witnessed a raging civil war. Second, Clinton's comments were quoted in the following context by USA Today:
As 55 people died in Iraq on Saturday, the holiest day on the Shiite Muslim religious calendar, Sen. Hillary Clinton said that much of Iraq was "functioning quite well" and that the rash of suicide attacks was a sign that the insurgency was failing.
When commenting about Clinton's role in Middle Eastern affairs, Caitlyn Jenner is correct.
8. Hillary Clinton accepted money from prison lobbyists, but Clinton's website claims that she'll "End the era of mass incarceration."
According to Lee Fang of The Intercept, Private Prison Lobbyists Are Raising Cash for Hillary Clinton. I explain how Clinton is bending the truth with her prison lobbyist ties in the following YouTube segment.
9. Hillary Clinton claims she was duped by Bush's intelligence and calls her Iraq Vote a mistake. In 2004, however, Clinton had "no regret" on her Iraq Vote and didn't evolve until shortly before the 2008 campaign against Obama.
As stated in a 2004 CNN piece titled Hillary Clinton: No regret on Iraq vote, Clinton cited Bush's WMD claim as a reason she voted for Iraq:
"No, I don't regret giving the president authority because at the time it was in the context of weapons of mass destruction, grave threats to the United States, and clearly, Saddam Hussein had been a real problem for the international community for more than a decade."
Therefore, Ms. Jenner's comments regarding Clinton's role in Middle Eastern affairs are bolstered by both Clinton's WMD references, and also by her refusal to even regret siding with Bush, Rumsfeld, and Cheney.
10. Hillary Clinton once said the Clinton's were "dead broke" after leaving the White House.
POLITIFACT rates this statement as "Mostly False."
Caitlyn Jenner has done more for LGBT communities around the world than Clinton has ever done in her political career. If you can forgive Hillary Clinton for rewriting history regarding the Reagans and the AIDS epidemic, then you should still be able to view Ms. Jenner as an icon. Although I disagree with Ms. Jenner on many issues, her viewpoint of Hillary Clinton is shared by a great many progressives.
For the record, I'm only voting for Bernie Sanders, and I explain why in this YouTube segment.