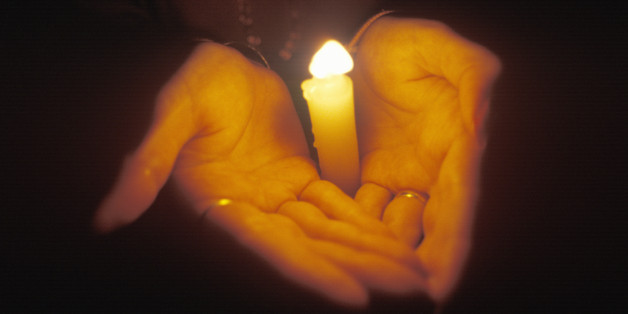 When I first became a Christian as a very young adult, I was taught that Jesus' words in what Christians call the Lord's prayer in the Gospels of Matthew (6:9-13) and Luke (11:1-4) were based on a traditional Jewish prayer for the dead called the Kaddish. The practice of Jewish prayer became very meaningful to me, though I recognize that as a Christian I can only be an outsider and admirer and not any sort of expert. As we observe the International Transgender Day of Remembrance, my heart is drawn back to the Kaddish prayer, traditionally recited on the anniversary of the death of a loved one. Though those who were killed in transphobic acts of violence in the past year may not have been known to us personally, many of us hold their memories in our minds and hearts as fallen brothers and sisters, so the recitation of the Kaddish seems especially fitting. Some even believe that when the living recite this prayer together with others in community, this loving act of remembrance helps in some way to release a struggling soul to rise to meet God, dwelling at last in perfect peace. This can be a beautiful way to think of how the living tenderly think of our lost sisters and brothers at candlelit vigils held around the world on the Transgender Day of Remembrance.
Traditionally, the first verse of the Kaddish (like the first few words of the Christian Lord's prayer) praise God's very name itself ("I am" as revealed to Moses) as holy for the whole world, acknowledge God's creation of the world and all in it (implicitly including the deceased and challenging the reign of human violence). God's name, according to biblical scholars, indicates not so much that God is (the internal essence of God) as God's being present with us actively involved in human history, so that praising God's name affirms God's continued living presence among us in spite of the violence and death we're mourning. As the Kaddish continues, we then pray for God's just and peaceful reign to be established in this world during our own lifetime, as soon as possible (just as at the end of the Christian Lord's prayer). Even as we are grieving, we then bless God's name again and adore God's being, acknowledging the limitations of our human language in prayer as we try to express this praise. Finally we ask God to grant abundant peace and life for all, especially (but not exclusively) those mourners who are reciting the prayer.
With reverent respect for the deep roots and practice of this prayer in the covenant of the people of Israel, I hope that those of us who are not Jewish may yet learn from the pattern of this prayer how to pray as survivors of slain loved ones, how to vigilantly remember each year both those who have died and God's will that peace (not violence) come to rule our world and lives -- and soon. In the spirit of peace and with respect, I hope that together we might pray with guidance from this tradition in light of the International Transgender Day of Remembrance and offer these words as one possibility for interfaith observance:
May God's great name grow and be blessed in this world, which is created as God willed.
May God reign in our lives, in these days, in the lives of all people, swiftly and soon. Amen.
May God, the Holy One, be blessed, praised, glorified, raised up and worshiped.
Blessed is God, beyond any blessing and song, beyond any praise, beyond any words of consolation that anyone in the world can ever speak. Amen.
May God grant abundant peace and life to us and to all. Amen.
May the One who creates peace make peace for us and for all people. Amen.