Like last week, this week we learned more about the underlying structure of the US economy. More and more little pieces are coming together indicating the worst is probably over.
The Conference Board LEI for the U.S. increased for the third consecutive month in June. Most of the components contributed positively to the index this month except real money supply* and manufacturers' new orders for nondefense capital goods*. The six-month change in the index has risen to 2.0 percent (a 4.1 percent annual rate) in the period through June, up substantially from - 3.1 percent (a -6.2 percent annual rate) for the previous six months, and the strengths among the leading indicators have remained balanced with the weaknesses in recent months.
Let's highlight why these numbers are so important. There are three types of economic indicators -- leading, coincident and lagging. Leading indicators happen before anything happens. The amount of advance time can vary, but the important point to remember is they typically happen first. A three month rise in leading indicators is a strong economic development that indicates we have a strong prospects of growth in the next few quarters.
The 4-week moving average of jobless claims continues to drop:
This number has been decreasing for several months and has now moved below the 600,000, currently standing at 566,000. While the seasonally adjusted number increased 30,000 this week, the unadjusted number decreased by 90,298. There has been some debate in economic circles regarding statistical adjustments to the seasonally adjusted numbers that was caused by auto industry lay-offs. However, the drop of 90,298 in the unadjusted numbers gives a strong indication that traditional seasonal factors are in play.
Existing home sales increased last month by 3.6%. However, the best part of the news is a possible bottoming in the pace of existing home sales. Here's the chart:
Notice there are two relevant time periods. The first is from (roughly) October 2007 to September/October 2008. This period saw a strong level of sales consistency. Then sales dropped again, largely caused by the financial problems of last fall. However, sales appear to have hit a bottoming level from that event and are stabilizing. It's important to note this only deals with the pace of sales. There are still big issues in the housing market that indicates we'll probably have a two bottoms -- a bottom in sales and a bottom in prices -- and Prices are nowhere near bottom right now. But, there are increasing signs of hope.
As I originally pointed out on Thursday all the major averages have broken through resistance and are moving higher.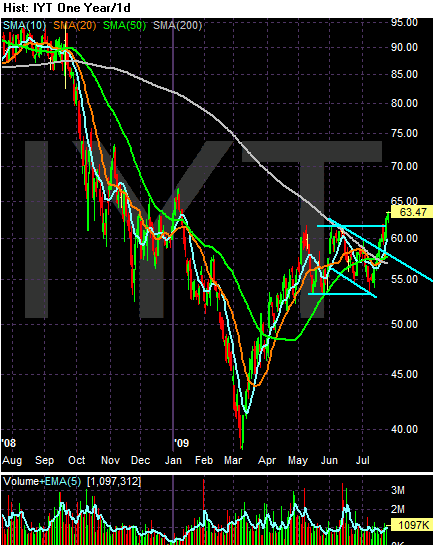 This is important for several reasons.
1.) This is an indication that investors' risk appetite is returning. That bodes will for the future.
2.) Stock indexes are a leading economic indicator, indicating there is growing confidence in future earnings prospects.
The one bad piece of news was a drop in consumer sentiment: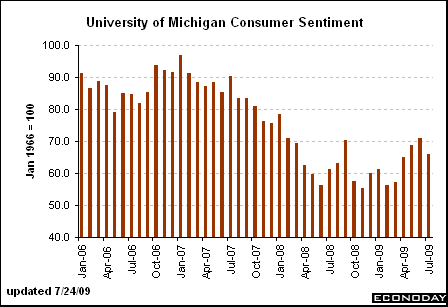 Confidence among U.S. consumers fell in July for the first time in five months as mounting unemployment and stagnant wages shook households.

The Reuters/University of Michigan final index of consumer sentiment decreased to 66, in line with forecasts, from 70.8 in June. A preliminary report for July showed a reading of 64.6.

The biggest employment slump of any recession in the last eight decades is making Americans less secure, which is likely to restrain spending and lift savings. Amazon.com Inc. cut prices last quarter to boost sales and American Express Co. said more cardholders fell behind on payments, resulting in lower- than-anticipated earnings.
So, we have more information from the underlying data that the economy is bottoming.