This entry is part of a contest by HuffPost Books and The Buried Life. Click here to read more about it.
My freshman year when I began college at Denison University in Granville, Ohio, I lived in the freshman service learning residence hall on campus. One of the requirements to live in that hall is that the students must participate in the Lunch Buddies program through Newark's Big Brothers Big Sisters program. Basically in the program, each student "big" is assigned a "little" that attends one of the elementary schools in the area, and once a week they eat lunch together, play games on the playground, and the big acts as a role model and mentor for the little.
When I entered the school the first day I had no idea what to except. Would my little like me? Would she talk to me? I had no idea that I'd meet a second grader that would change my life and that I'd change hers. I've had the privilege of meeting and now knowing for almost two years one of the brightest, most energetic and caring kids I've ever met. Mary* is now a third grader and I'm still her big and she's still my little. We have a community match; so I'm able to take her to the movies, bring her to the dining hall, and more.
The idea for this item on my bucket list surfaced after one of our outings. After picking her up, we headed to campus to eat in the dining hall and then go down to Granville to eat some tasty Whit's custard. Mary has never sounded terribly excited about school when we talk about it, so I was surprised when she brought up college (especially being a third grader!). On the way to campus, she mentioned how she had told her parents that she wants to go to Denison when she's older because I go there. I was shocked--previously when we had talked about college she had said she didn't want to go, and it seems that I'm the one that caused this spark in her. She talked about how it's a good size for her because she doesn't want to go to a big college like Ohio State and how Denison seems like a really good college.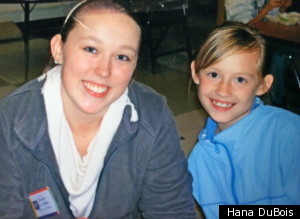 As thrilled as I was to hear her so excited about going to college, I was also a little worried. College, especially a private liberal arts college, can be fairly expensive and I know that money is somewhat tight for her family (like a lot of families right now). Growing up I've been fortunate enough to always know that I would go to college and that my family would be able to make it work financially, and now I'm continuing my education at a great university.
The purpose of my entering this contest isn't to make sure that Mary is able to go to Denison. As fantastic as that would be, a lot can change between now and when she graduates high school. I want to ensure that she can go to college without having to worry about taking out loans, without worrying about going to the cheapest school so she can afford it. So, if I win this contest, I want to start a college fund for Mary and to continue to put money into it until the time that she graduates high school. My hope is that by doing so that her enthusiasm for school will continue and that although she might not enjoy third grade math that she'll be able to look to her bright future.