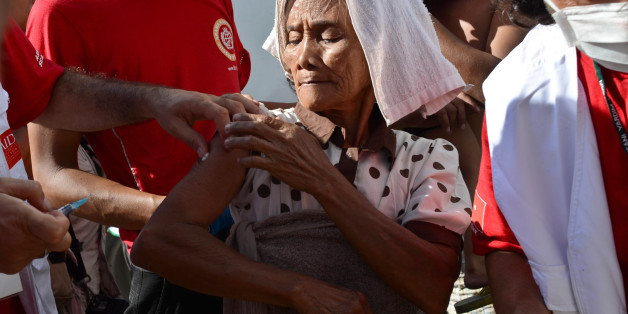 I so vividly remember one of my earliest encounters with viral hepatitis. I was working in Hacettepe University Hospital in Turkey when a seriously ill old woman was admitted. Her belly was swollen -- the size of a full-term pregnancy -- but there was no baby. Her abdomen was full of fluids because her liver had stopped functioning properly. She was dying from chronic liver disease due to viral hepatitis.
Viral hepatitis -- a group of infectious diseases caused by hepatitis A, B, C, D and E viruses -- can lead to liver cirrhosis and cancer, both horrible diseases to have -- and to die from.
It was years before I learned quite how many people there are in the world living with chronic hepatitis. By comparison, there are 34 million people living with HIV, while there are 390 million people living with chronic hepatitis.
I was stunned when I learned that hepatitis kills 1.4 million people every year, making it one of the world's top-10 killers along with ischemic heart disease, HIV/AIDS and lung cancer.
One reason for this is that most people do not develop hepatitis symptoms until it is too late, when liver disease has already set in - and they have already passed on the virus to others. That's why, on World Hepatitis Day, the World Health Organization (WHO) is urging people to "think again" about how they live their lives, so they are better able to avoid the different hepatitis viruses, and know what to do if they think they may be infected. Key things to avoid are unsterile medical equipment -- particularly for injections -- and unprotected sex, as well as unsafe water and food.
It is important to get tested if you have had a blood transfusion somewhere where blood is not screened for hepatitis, if you have shared syringes or needles or if you had unprotected sex. Get tested so you can be treated if need be.
The good news is that we are beginning to see a new momentum around hepatitis. Politicians are starting to take it seriously: at the World Health Assembly this May, 194 governments agreed to a new resolution to improve prevention, diagnosis and treatment of viral hepatitis.
New medicines are appearing. Earlier this month, the Government of Egypt reached agreement with a company producing new oral medicines to treat hepatitis C. The new drugs promise higher cure rates, are less toxic and have fewer side effects than existing medications. But prices are high. This agreement enables Egypt, where at least 1 in 10 of the population aged 15 to 59 is infected with hepatitis C, to purchase the treatments at significantly reduced cost.
And just this week, WHO has released a new manual to help health workers tackle outbreaks of Hepatitis E. This virus can cause large outbreaks in locations that lack safe water, for example, in refugee camps. Hepatitis E is particularly dangerous for pregnant women: it can provoke pregnancy and birth-related complications -- killing one in five women who become ill with the virus, especially in the last three months of pregnancy
World Hepatitis Day is an opportunity for the global community to respond to the call to action issued at a WHO-organized meeting of people working on and affected by hepatitis. Representatives of all participating organizations signed up to a call for immediate and concerted action to scale up the global hepatitis response. There is something each one of us can do -- at the very minimum by adding our voices to those raising awareness about the disease so more people know how to avoid becoming infected and to encourage policy makers to do more to tackle it -- and to end this "silent killer" once and for all.
To learn more about hepatitis worldwide and what you can do to help, please visit here.