At age 13, Bobby Bajram became diagnosed with severe multiple sclerosis. Today 35 years later, he is acting on his childhood dream: to walk to the top of the world.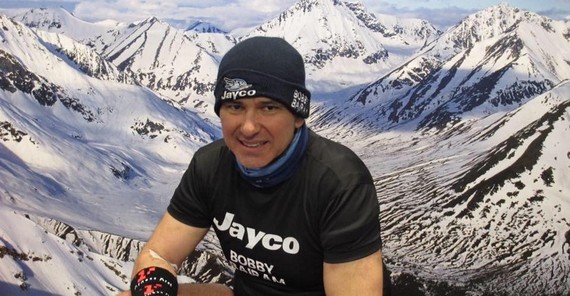 There are currently an estimated 1 Billion people living with a disability. Today as we celebrate the UN World Disability Day, Bobby Bajram is on a mission to spark hope and make a difference for those living with a disability and those who care for them. He does this in an extraordinary way.
"You know M.S. are just two ordinary letters. If you flip them you might as well define them as SuperMan powers" Bobby laughed "It just depends how you look at life". Bobby Bajram was the youngest Australian to have been diagnosed with severe multiple sclerosis at the age of thirteen. He has since gone blind for five years and has spent fifteen years confined to a wheelchair, yet he wont allow himself to live life bound by the challenge of his disability.
This is not a story about a special gift. It is a story about an ordinary man with an extraordinary outlook on life one who has never given up hope. The truth is, Bobby lives in excruciating pain and during his MS attacks, half of his body becomes paralyzed. "It feels like a hangover times 100" he shares. "Walking is like you are walking through thick mud. The pain that I experience is one that goes on 24/7, from the top of my head down to the tips of my toes." When asked about his secret of dealing with this, his surprising response was laughter. "I deal with it by locking it in the back of my head and my coping mechanism is laughter and joking around, laughter is the coolest and best medicine -- it really works!".
"When I first got diagnosed with MS I was only 13 years old. That was when I promised myself that one day I would walk to the top of the world" -- Bobby Bahram
Bobby, born with a jovial positive attitude will never stop challenging people's existing perceptions of what life should look like when coping with MS. "I am not a cowboy, I know that climbing Mt. Everest is a huge challenge even for an athlete and requires the right preparation".
A few years ago, Bobby -- who at that time was weighing 148 kg and unfit -- started training with one of his sponsors, Fitness First. They designed a specially customized training program for Bobby, and with their support Bobby transformed his body to that of an athlete's. With a huge infusion of determination and hard work he was training five hours a day and lost 65 kg. "I was at the gym most of the time, doing squats, leg presses and walking in rooms where it felt as it I was working out at an altitude of 4500 meters". Sometimes during his training he would suffer from an MS attack. Hospital visits often interrupted his training schedule, but nothing stopped him -- the moment he was allowed to leave he would just keep going.
Bobby's determination and hard work has already paid off. In preparation for his climb, Bobby broke a world record: he is the first man with severe MS to climb 300,000 steps to conquer Mt Kala Patthar.
Every day he pushes the limits of what everyone thought could be achieved. When asked what gives him the strength and the internal motivation driving him to keep going, he shared that this is not just about his childhood dream. He feels he has a certain responsibility to fulfill to the 1 billion people who are currently living with a disability and lack hope for a brighter future.
"I am a global ambassador for people with disabilities, no one has done what I am doing, I can spark hope and while doing so I want to raise 100 million USD fund for people with disabilities and their carers throughout the world".
Bobby also advocates for technological solutions to global mobility challenges. He recently became appointed as an ambassador for Bionik Laboratories -- a medical device and robotics company focused on developing transformational technologies and solutions for individuals with neurological disorders. Bobby's dream is to make this technology available to ordinary people and hopes that his personal story will spark hope and empower disabled people to look beyond their disability and achieve their full potential.
Bobby will be training on Mt.Everest next year and will start his climb to the summit in January 2017. You can follow Bobby's story here .