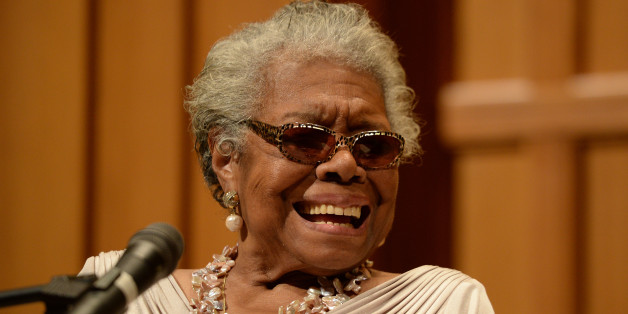 I spent the morning huddled in the corner of a local Barnes & Noble sitting in the story lines of other writers. Their words sat surrounding me like a fortress. I had three solid stacks of books lined up. I was combing through each one. That's always been me at the moment when I don't know how to say something -- I look for inspiration and wisdom in the words of the ones who have gone before me. I look to see if I can make some sort of sense out of the way they've described heavy footsteps, and doors slamming, and hearts bursting at the seams. I look for the point in other people's writing when I can nod my head and say, "Me too... Me too..."
I sat off to the side of the Science Fiction section, cradling the spine of Maya Angelou's most famous work, I Know Why the Caged Bird Sings. I've read that one too many times. I kept reading and rereading certain lines. It felt like I held that book for a long time. And then the text came through. As I was holding that book in my hands and mouthing "thank you" to the ceiling, a text came through. It was from one of my friends back home in Connecticut. She thought it was entirely too sad to say through a text but she wanted me to know that Maya Angelou had passed away before I heard the news elsewhere.
The positioning of everything in that moment was strange. How I was sitting there on the floor holding Maya's words. How I got to spend a good solid 20-minutes remembering her just as she was before the tweets and the articles and commentary started bombarding all my screens. It was like this silent, nearly-sacred moment to just appreciate her and say "thank you" for all she had given me. It was just her and I, right before the world started what I know will be a long and triumphant process of memorializing one of the strongest lights our history books will ever know.
It feels quite impossible to lift my hand and say so long to a woman who taught me how to be okay with my place in the world. I guess it's always in these moments -- when someone slips away quietly, in a way that feels so seamless -- that you start to wonder what you would say if you had the chance. I'll be honest in saying that I haven't even ever met Maya. I don't get to say that I've stood just three feet away from her or heard her laughter flood a room. But I know this: she tread life-giving footprints all over me in a way she'll never know. She sung a spirit of resilience into me for years upon years in a way that makes me think there is not much more I can say than "thank you."
Just thank you. Just thank you for the light you brought. Just thank you for the way you pushed all of us to be better versions of ourselves, even when we couldn't always count on what pushing forward would look like in a life that often throws us off balance.
Just thank you for putting massive pieces of your heart right on the page for us. Thank you for talking about it, even when you didn't fully understand it. It was through your vulnerability that we were able to inch closer to our own humanity. Just thank for showing up for the ones who us who read and reread countless transcripts of interviews you gave just to hear you tell us that nothing -- not a single thing -- can dim the light that shines from within.
Just thank you for being there -- as solid of a voice as my own mother's -- on the day I decided that I would become whatever the world needed me to be. I didn't know who that was yet. I'm still figuring it out. But your words and your wisdom, cradled in my hands, have always been enough to convince me that I am not alone in this. You are right there alongside me, pumping your fist in the air, clapping your hands together tightly, and whispering, "Go ahead, girl. Go right on ahead."
Most of all, just thank you for reminding us not to waste our words on things that will never matter in the next day or things that belittle another and make them feel smaller. Rather, you found the stronger words -- the ones that taught us all that we were never as alone as we thought ourselves to be. And so we should be good to one other, and we should be honest, and we should show up for each other because each other is all we really get or have for the moment and -- even that -- slips quickly and unexpectedly.
Today I know I am just one of thousands and millions of silent and not-so-silent forms of "thank you"s being whispered around the world. I'm just one who carried Maya into the ring with me to fight through some of the most major milestones of my life. That first heartbreak, the ones with the yellow lines in the middle of the road. That first discovery of the sharpness of criticism. That first moment when my knees hit the ground and my cheek the felt coolness of the adobe tile floor beneath me.
And what a legacy that is -- to be a woman who showed up for millions of us, all in different walks of life, when we needed strong words to act as a light and guide us on home to ourselves.