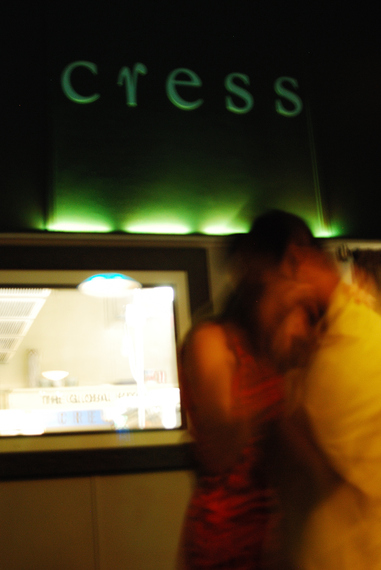 As chefs, we are inspired by a myriad of elements. But, perhaps, the greatest one of all is love. The love we may share for someone in our lives inspires us to express our deepest feelings for them in creative and imaginative ways. During dinner service, I sometimes offer my wife a taste of a sauce created on a whim to both impress and satisfy. At home, on the rare occasion that we share a quiet meal together, the preparation is always simple, but never thoughtless. In a small way, I am expressing my love. And, she does the same for me.
The love we have for one of the greatest professions of all should be evident in our constant and tireless attempts to please our guests. It takes only one look at a guest's facial expression when tasting something we made to know whether or not our love for our craft has been received as warmly as we intended. And when it is, it takes all the pain away of our aching joints and muscles and numbs every cut and bruise. Because it means that our love for what we do is appreciated.
I love being able to visit my farmer friends and hear about their passion for their occupation and happiness with the week's harvest or the season in general. Their bounty is clear evidence of the love they share for their work and in turn, they have trusted me to not just purchase, but showcase and celebrate the fruit of their labor. It is imperative that as chefs, we do not take their love for what they do, lightly.
When we dig deep and preserve family recipes or childhood memories of food, we are clearly trying to immortalize memories of love and joy. Food centered around holidays and family dining is as much about our love for the way the times made us feel as it is about the actual taste of it all.
During the holidays, we are drawn to being more hospitable and giving freely to others who don't have as much. We consider sharing our wealth to feed those who cannot afford to because inherently, we wish that everyone could feel what it is like to have access to food prepared with love.
I also teach mathematics for a living. I love teaching and I love mathematics. The joy I receive when a student "gets it" or lights up with interest and enthusiasm after I've helped them understand something better or at a deeper level rivals the satisfaction I receive when something I cook brings a smile to a guest. The only difference is that the frequency of the former pales in comparison to the latter. But, I'm not entirely certain that I am a better cook than I am a teacher. And I am certainly not willing to concede that food is more beautiful than mathematics. It's just that food is more palatable and accessible to the general audience than mathematics. But, you don't hear too much about mathematics insecurity. I think future generations could benefit from decreasing mathematics insecurity as much as they could do the same for food insecurity. Some things are best done by doing it simply for the love of it all.