Do you know the symbol for happy face that you put into text messages? If you're not familiar with this cultural emoticon, it looks like this: :) The smiley face emoticon is exactly how I feel inside when I'm shooting photos with the newly released Sony a57 DSLR camera.
This fine piece of photography equipment brings pro-level performance to the masses with translucent mirror technology, 12 frames per second shooting, improved auto-focus system, enhanced object-tracking. and a set of advanced features that would make any SLR-user stand up on top of their school desk in excitement -- like it were the closing scene of the movie, Dead Poets Society.
(Note: If you need a mental image of what this would be like, see the movie still here.)
Wait, there's more. The Sony a57 comes packing an interchangeable lens (out of the box it has an 18-55mm kit). The camera offers full HD (60p) Video Capture and a nifty high-resolution Tru-Finder electronic viewfinder. The Sony a57 gives such competitors as the Nikon D3200 a run for their money. The a57 is the direct successor to its little cousin, the Sony a55 camera (edging out the former with 12 frames per second compared to 10 frames). Sure, I could blab on more about the merits of the Sony a57 -- but the proof is in the photographic pudding.
Let's take this amazing DSLR camera out for a road test on the streets of New York City. Ready? Let's go!
The camera packs a 16.1 megapixel punch. That's a damn good amount of megapixels! Check out the rich hues and color saturation and luminance when photographing one of the numerous murals on Bedford Avenue in Brooklyn. The Exmor APS HD CMOS sensor achieves high resolution with reduced sensor noise. What that means in layman terms: It takes goddamn pretty pictures! (Swearing added for emphasis.)

These were a creepy set of old-timey dolls I saw at an outdoor flea market by the East River. Sometimes you need a pair of creepy old-timey dolls to demonstrate a camera's Auto Portrait Framing mode. How does it work? The Auto Portrait Framing mode is a nifty way to create a balanced, perfectly-composed portrait. By combining the rule of thirds with advanced imaging technologies the camera creates an additional, optimally-framed image of your subject. My that portrait of dolls is creepy.
Side note: The Mexican food in New York City basically sucks. The only decent eatery is called Benny's Burritos in the East Village. It's run by a pair of guys from Berkeley -- who relocated to NYC. This burrito joint was a perfect place to test the Sony a57's 15-point AF system; which gives the user TTL phase detection autofocus. The burrito ended up being not that bad -- and I was able to focus a shot on my napkin in a second's notice.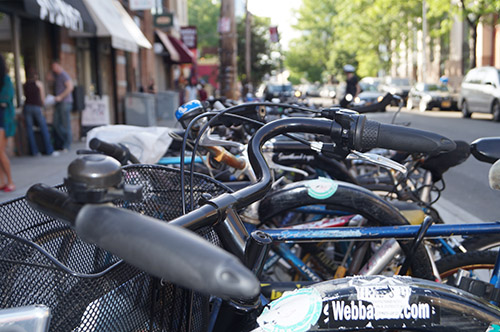 Check out how nicely the TTL phase detection autofocus worked on a huge rack of hipster bikes in Williamsburg. (Why do all hipsters look alike?) The Sony a57 also provided a great depth of field when using the 18mm lens. Damn, how many hipster bikes do they have in Williamsburg?
A very attractive feature was the 12 frames per second shooting speed. Again, this is a two frames per second increase from the previous Sony model. Compared to my last camera (I won't mention the Canon model), this was like sprinting without 20 pound weights wrapped around my ankles. Check this out: Here's a shot of a speeding car on the Williamsburg Bridge. I snapped away as fast as I could. The very next shot after this was the following photo:

I was able to capture the speeding vehicle mere feet away from the last shot. (Note pedestrians in the background of each photo as proof that I'm not lying.) Cool huh?

BOTTOM LINE: The Sony a57 DSLR camera allows the consumer to shoot like a pro. The translucent mirror technology, 12 frames per second shooting, an improved auto-focus system, enhanced object-tracking, and a set of advanced features makes it hard to take a bad shot. All that aside, running around New York City with the Sony a57 in hand is as fun as being a crazed monkey swinging from a tree. Damn -- great camera! I give the Sony a57 camera 5 emoticon happy faces:
:) :) :) :) :)
THE SKINNY ON THE SONY A57 DSLR CAMERA:
16.1 megapixels
Exmor APS HD CMOS Sensor
Translucent Mirror Technology
High-speed 12 fps continuous shooting
AVCHD Version 2.0 (Progressive) Full HD Movie at 60p (50p)
Optical Sensor Resolution: 16.1 MP
Optical zoom: 8 x
Price: $699